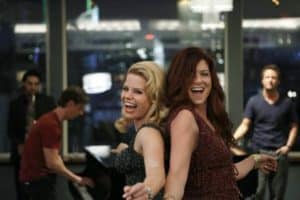 This week's all new episode of Smash was a perfect example of the fact that this show is at its best when it focuses on the makings of a Broadway show and not on adoption or affair drama. Sure, we're pretty certain that Julia will likely rekindle her affair with her former lover somewhere along the way, but as long as they focus on how that could affect the show, I think we'll be fine.
This week, Smash was all about rivalry. The first day of the workshop had arrived and Ivy was shocked (SHOCKED!) to learn that Derek had cast Karen in the ensemble. Immediately, Ivy's hackles were up. Sure, she may be sleeping with the director, but he failed to tell her that he had offered a part to her biggest rival. But that was only one of the reasons that Ivy felt threatened. The other is that Karen is very, very good. During the various song and dance numbers performed during the episode, Karen's voice always shone through. In some cases, she literally out-sang Ivy (at least in terms of vocal impact).
So what's a girl to do? Well, Ivy subtly reached out to her good friend Tom, telling him to pay attention to Karen during the workshop, lest she overshadow the star. Tom spoke to both Derek and some of the other pros on the team and Karen got kicked off two of the numbers. Ivy is gleeful, but Karen is pissed.
This is, perhaps, a bit of a sticking point for me, albeit a minor one. I get that Smash is trying to tell us that Karen could very well end up with the Marilyn role at some point during the workshop or before the show hits the stage, but if she's stronger than the entire ensemble, then what other choice is there than to put her in that spot? Frankly, I think Karen is excellent, but I also think that Ivy embodies Marilyn to a greater degree and is, therefore, a better choice for this particular role. Are there literally no other female roles in this musical that Karen could play? Is there no way to elevate Karen's role without putting her in the top spot?
If Ivy is just going to continue to act frightened all the time, trying to hang onto this role with both hands while Karen displays her musical chops, this could get old before the writers are willing to make a final decision. Plus, where would Ivy go if she lost the role of Marilyn? Into the ensemble? Please. That would be a horrible decision and, frankly, if I was her, I would walk away. But perhaps these concerns are premature. Let's see how long Smash plans on playing out this rivalry. Like I said, this is not a major sticking point, I'm just curious how it could play out.
Ivy may have been gleeful that Karen got the boot, but Karen was understandably upset. After all, she had offered to tone it down and she clearly understood what Ivy was trying to do, especially after she overheard that Derek and Ivy are sleeping together. She has to wonder if that's how Ivy got the part considering Derek made the same sexual overture to her. Plus, the rest of the ensemble kids (all of whom seem to be friends with Ivy) are being all mean to her! It's all so elementary school, isn't it? Karen finally blew up at one of the girls after getting thrown out of rehearsal for a second time, telling her that she and her pals were being horrible to Karen, who was just trying her best.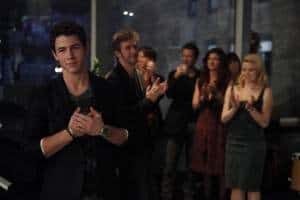 Well, the meangirls (and one guy) did an about-face and agreed they were being kind of childish. So they took Karen on a shopping spree and then headed over to her apartment with Dev to give her a dance lesson and teach her how to blend into the ensemble instead of trying to stand out all the time. It worked for a while, at least until Karen displayed her superior singing ability during a performance of Adele's "Rumor Has It" at a bar (watch it below).
Meanwhile, Nick Jonas guest starred as Lyle West, a sitcom star who was discovered by Derek or Tom (depending on who you ask). Newly flush with syndication money, Eileen decides to hit him up for some investment capital. During a birthday party for Lyle thrown by Derek (where little Lyle blatantly hit on Ivy), Eileen offered to sell him a Degas. He agreed to give her $175,000 for the painting, but he also wanted a stake in the show. Eileen rounded up Tom, Ivy and Julia and they all came together to perform "Howl" for Lyle (watch it below), showing him an example of the show he would be investing in. Lyle agreed to fund the workshop and the show seems safe…at least until Eileen needs more money.
This episode of Smash was a vast improvement over last week's episode and it will be interesting to see the rivalry between Karen and Ivy play out. But Ivy might want to rein in her diva tendencies. She insisted to her friend that she wasn't acting like a diva, but she should probably be a bit more subtle in her glee when Karen gets a talking to by the powers that be. Otherwise Karen is not only going to start to fight back, but the people in charge might not want to stand for Ivy's antics.
A new episode of Smash will air on Monday, March 5 at 10:00 p.m. EST on NBC.