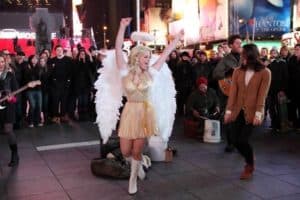 After a rather disappointing episode of Smash last week, I was pleasantly surprised by how much I enjoyed this week's episode, "Hell on Earth". I've said numerous times that Smash is at its best when it's focusing on the musical instead of the B-stories, but this week's episode was full of B-stories and somehow made it work.
Personally, I've thought that Julia's affair made her extremely unsympathetic and I hate that I didn't like her for a few episodes because of it, because I really do love Debra Messing. In this week's Smash, Julia's husband, Frank, found a song Julia had written and deduced she was having an affair. He quickly realized that Michael was the other man and exploded at his wife. The first confrontation between Julia and Frank was terrific, if only because he refused to buy the nonsense she was trying to sell to everyone, including herself. To say that the affair basically meant nothing was to spit in the face of their marriage. After all, why risk 18 years of a relationship over something that's "nothing"? I thought Frank's response to Julia and Michael (who he punched after learning that this latest affair was a redux of an earlier one) was deserved. I did feel sympathy for Julia when Frank stormed out of the family home, but I thought it was time for Julia to face the consequences of what she did.
This week's Smash also focused on how they should retool the musical in order to keep it going. It seems like the brass are in agreement that a star is the way to go, at least for now. A lot of names were thrown around, but the one you knew was going to stick was Rebecca DuVall. Ellis got it in his head that he could secure Rebecca for the musical and earn himself a co-producing credit, so he set out to meet with Rebecca's agent and even slept with him to secure the actress. Then he confronted Eileen with his actions, demanding that she stop ordering him to answer phones and give him a promotion instead.
The good thing for us is that Eileen is about a thousand times more amazing than Ellis. She may have given him props for securing Rebecca as Marilyn, but she schooled him in exactly what a producer does and told him that he's definitely not up to filling the role yet. In the end, Ellis answered that phone just as Eileen had ordered and I shouted with joy that the little weasel had been put in his place. Eileen also managed to reign Derek back in after he had expressed an interest in leaving the musical to focus on other projects. But a dinner with another director and a "chance" meeting with a theater columnist ruffled Derek's feathers – and his pride – bringing him back into the fold.
Finally, the other big story this week revolved around both Karen and Ivy, who seem a bit directionless now that the workshop is done. They met by chance when they both auditioned for an orange juice commercial, but Karen secured the role, prompting Ivy to complain that Karen doesn't have to suffer enough for her good fortune. Frankly, Ivy's got a point. Smash has been fairly good to Karen, even when the show gave Ivy the role of Marilyn. While Karen was off filming a ridiculous commercial surrounded by green screen, Ivy was back in the chorus of "Heaven on Earth". But her lack of progress in her career caused her to go on a bit of a pill binge, which led to her being drugged while on stage.
Ivy ended up leaving the performance in disgrace, but Karen was in the wings, waiting to give her back her sunglasses that they had accidentally switched. While Ivy seemed intent on getting the drunk, the whole night turned into a bonding experience between the women when they started an impromptu performance in Times Square. For a few hours, they were friends, although they both told each other some harsh truths (Karen thinks Ivy got the part by sleeping with Derek and Ivy think Karen is undeserving of her accomplishments thus far). I really enjoyed seeing the two of them singing and hanging out. They don't need to be enemies, although they don't necessarily need to be friends either. But I think they both learned something from each other that could make them both better people.
Smash also delivered us the title of the Marilyn musical this week: "Bombshell". Very appropriate. A new episode of Smash will be airing on April 9 and Uma Thurman will be me making the first of several guest appearances as Rebecca DuVall and the show will be going back to the workshop. Watch a preview below for next week's episode.