Let's get it out of the way at the beginning: almost everything about the actual workshop presentation on this week's Smash worked. It was terrific to watch. Everything about the Julia and Michael storyline was so painful. So let's get all the bad out of the way first.
Michael and Julia continued their affair, but their attempts at keeping it secret were sub-par. They held hands outside the rehearsal space and were caught kissing in the hall by Tom (and by Ellis, who is not the kind of person you want knowing your secrets). I'm not entirely sure why these two are so drawn to one another, but the big problem started when Michael's wife and young son dropped by rehearsal. Julia was finally – FINALLY! – truly appalled at the situation. When she again tried to break things off with Michael, he bemoaned "don't do this to me again". It was that phrase that made me abhor Michael. What is his problem? How can he not see how terrible his actions are? At least Julia feels terrible guilt over this situation, but Michael seems to have no regard whatsoever for anyone but his own selfish needs. His only redeemable scene came when he belted out a new song during the workshop performance called "Lexington and 52nd" about Joe becoming increasingly upset at Marilyn's rising level of fame. It was his best performance to date. Too bad it might be his last.
Ivy, meanwhile, not only had the pressure of the workshop in this week's Smash, but she also had to deal with her former Broadway star mother, Leigh Conroy (played by guest star Bernadette Peters), who breezed into town just in time to quash Ivy's self-worth. It was clear that Leigh either didn't know or didn't really care how much her own grand-standing and digs affected Ivy's own insecurity. In the end, however, Ivy confronted her mother about her lack of support and Leigh did redeem herself by telling her daughter that she behaved this way because she knew how incredibly difficult Ivy's chosen career path is, and the rejection and heartache is not something she wants for her daughter. The two parted on a much happier note, when Leigh told her daughter that this business might be tough, but Ivy is so clearly talented that she knows she'll become a star.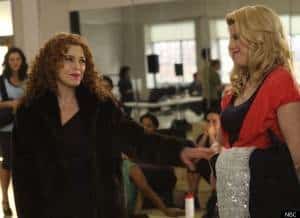 Which brings us to the workshop. Unfortunately for Eileen and the other powers that be, the building was suffering from extreme heat, a broken boiler, and a really terrible landlord. That situation certainly didn't help when the investors sat down to watch the show. But the cast was wonderful. The performances were primarily songs we've heard before, but they were all cut with Karen's own renditions of the songs and the performances with Ivy in the Marilyn costume from previous episodes. Karen impressed record mogul Bobby Raskin enough to get a callback, but she choose, instead, to be a part of the workshop performance. She didn't even regret her choice, telling the other ensemble members that she wouldn't have missed it for the world. Frankly, neither would I. This is when Smash is at its best…when it's focused on the show. I would watch a two hour episode that solely consisted of the finished Marilyn musical and call it amazing.
Unfortunately, the investors didn't really agree. Derek, Tom, Julia and Eileen read rather terrible reviews after the workshop. Derek pointed fingers at Ivy, telling the others that she simply didn't have the chops to cut it in the starring role, but Tom was furious that Derek was singling Ivy out as a scapegoat. Instead, he put forward Michael's name as the fall guy. Michael is certainly not the musicals problem – which Derek adamantly stated – but this was the perfect opportunity to get him out of Julia's life. This is obviously a good and bad decision. It's good because Michael is clearly a distraction for Julia and bad for the overall workplace. Getting rid of him could get her to focus more. But it's bad because I honestly have no idea whether he'll go quietly. Surely he'll see that his firing was due to the affair – or, at least, he'll interpret it as such. And if he refuses to go quietly, he can make a lot of trouble for this team.
In the end, Julia agreed to let him go, but the leaders still have a problem. How can they change the show to attract investors? Is getting rid of Ivy the real solution? A rep from CAA was in the audience during the workshop, leading some to believe he was there to cast one of his star clients in the role of Marilyn. Is that what the show needs?
A new episode of Smash will be airing on March 26. You can also watch two performances from this week's episode below.