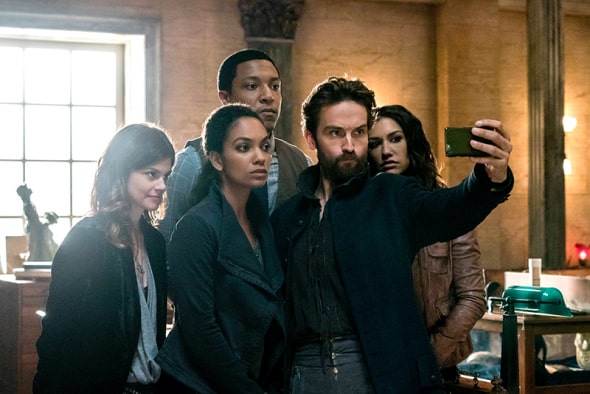 "There is more to life than amassing followers.". This quote from Ichabod couldn't be more ironic. On tonight's episode of Sleepy Hollow, Team Witness fight against a Fire Djinn. Yes, you heard right, a djinn that consumes people's lifeforce through its flames.
The hour began with Malcolm sitting in a chair on the White House lawn. A choir stands before him singing what I deduce as "American the Beautiful." I could be wrong so feel free to correct me. Then two men brought him a man in chains. The man in question turns out to be none other than Ichabod Crane. A bit older and ragged, but it's still the same Ichabod. At first, I thought it was some apocalyptic future, what with a worn down White House and whatnot, but it was nothing but a vision that Malcolm conjured up. Or is it?
Molly had the same vision (to some extent) later in the episode while she hangs out with Jenny. The girl saw Older Ichabod all chained up, but she doesn't know why. Though the idea that Molly now can see into the future like the Oracles did in ancient times fascinates me. Wish I had that kind of power, but I digress. Sure would make my life a little easier. Then again, if I learned anything from watching shows like The Flash and Legends of Tomorrow, it's that time, in any shape or form, should not be messed with.
It was interesting to find out more about American History in true Sleepy Hollow fashion. Ichabod explained that Samuel Wilson (aka the infamous Uncle Sam), Davey Crockett, Paul Jennings and Sacajawea were part of Agency 355. It's like a version of Men in Black except without the fancy gadgets and the suits in a way. Sorry, I watch way too much television and movies.
Back to the mission at hand, after Alex got infected with the Fire Flu when her Tinder date went south, Jake channeled his inner Walter O'Brien (the TV version). He invoked the greater good concept and told Ichabod that no matter what happens to him, he should save Alex. Maybe he and Alex should end up together instead? They did hug a la Deckerstar if you know what I mean. I totally applauded Ichabod for using the server cables to electrocute the djinn. I was disappointed that there wasn't an indoor thunderstorm. Would've been nice to see another version of the storm that saved Washington.
The scene where Ichabod tried to warn people to switch off their phones was both funny and awkward. It's funny because no one listened to him and went about their business which then made the entire situation awkward. So much for your Paul Revere moment, eh, Ichabod? I also enjoyed the part towards the end of the episode where Ichabod took a celebratory group selfie with the new Team Witness. #Prunes. Shame Molly couldn't be part of the picture. She's a Witness too, you know!
The end of the episode made my eyes went wide with shock. Malcolm recruited Logan MacDonald, the Internet celebrity that Molly follows. It seems that the young man has been given certain powers by Malcolm. The question is what kind of powers and why does Malcolm want to include him in his plans for world domination?
Photo via FOX
Sleepy Hollow Season 4 Episode 8 Review: "Sick Burn"
Summary
Ichabod and company fights against fire as Molly acquires a new skill in this week's episode of Sleepy Hollow.