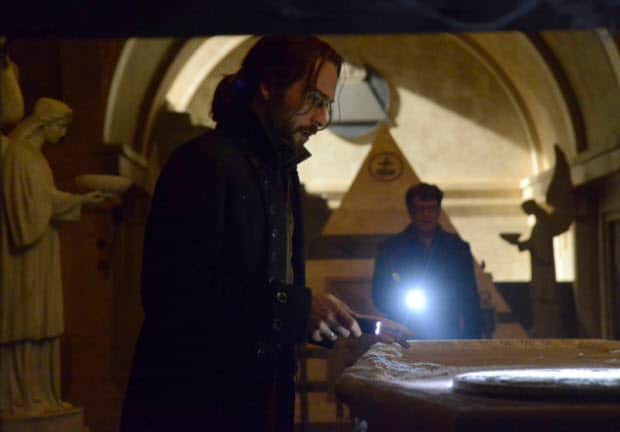 Despite the fact that "The Indispensable Man" and "Bad Blood" feel very much like two separate entities and not a two-part conclusion to the first season of Sleepy Hollow, getting back-to-back episodes of this show teaches us one thing: the more Sleepy Hollow, the better. That fact itself will become painfully obvious in its eight-month absence, partly because we'll be losing one of the most fun shows on television but more specifically because these episodes round out the first season spectacularly.
Everything that makes Sleepy Hollow so easy to root for is here in spades. On the lighter side of things, Ichabod is having a bunch of phone problems — auto-correct, GPS, voicemail, poor service and an outdated handset all give him an opportunity to capitalize on the humor of being a man out of time. The only moment that stands ahead of those is when, at the beginning of "Bad Blood," he wanders into a war reenactment, which he initially believes to be a dream from his past. If anything, there were probably more comedic moments in these episodes than in the average episode of Sleepy Hollow, but considering how dark the events that transpire become, it's for the better.
Before getting into the darkest of those, though, it's worth noting that — following a good boost in respectability from last week — Captain Irving shines again in "The Indispensable Man." The conclusion to his story this season, like every other major character, is left on an outrageous cliffhanger, but it's a credit to the writers for taking the time to make us care about him as a character as the season has winded down. In a show of sacrifice that feels completely in line with whom Ichabod and Abbie have shown themselves to be, Irving confesses to the murders of the two people his daughter killed while being possessed. Sleepy Hollow has played its selfless card several times already, but this is the first time Irving gets to do something as symbolically and thematically powerful. The storyline itself does feel a little out of place in an episode — and a series, for that matter — that focuses on much different things, but as long as the character development ties in to whatever Ichabod and Abbie are up to, it still works despite being a little disjointed.
What happens with our main characters, though, is what viewers tune in to see, and the stuff that happens in "Bad Blood" is five parts ridiculous and five parts awesome (which is a description that applies to this entire season, really). John Noble reprises his role as Parrish, the Sin Eater, but in a shocking and stupidly fun turn of events, he turns out to be Jeremy, Ichabod and Katrina's son. The whole reveal and series of exposition that accompany it are rather thin on the surface (so many questions: where did the second seal come from? What does it do? Why can Moloch not find Abbie's dollhouse in Purgatory? What has Jeremy been up to all these years in terms of helping set up the apocalypse? Was the elaborate ruse really that necessary?). But, while watching, those questions just don't matter. Maybe a lesser actor than John Noble wouldn't have demanded the viewer's attention as much, but the case with Sleepy Hollow is always that the details don't matter as long as the entertainment is flowing. Flow, it does.
We leave Ichabod locked in the grave that Jeremy (also now known as the second rider) was kept in, presumably to make the father feel the exact sting of the son's hatred. We leave Katrina back in the mortal realm in the hands of the Headless Horseman, presumably because he still loves her, even though the idea is weird, because he, you know, has no head? We leave Jenny in the middle of the road bleeding from a shotgun encounter with the Headless Horseman, presumably because the Horseman has acclimated to the modern versions of technologies faster than Ichabod. And we leave Abbie trapped in Purgatory, presumably to help provide the early stages of season two with a lot of creepy material. It's a frantic endpoint for everyone, and it's a major loss in the battle against Evil for our protagonists. That withholding of victory, though, creates so many opportunities for the next season, and the story is so littered with events that need to occur before the series can return to its status quo that it must take more than a single episode to set things right and reunite Ichabod and Abbie. That is the key. If Sleepy Hollow managed to defy expectations by being a solid show in its first season, it needs to mix things up just enough in its second season to maintain that creative goodwill. Keeping the central dynamic — the Ichabod/Abbie relationship — complicated from the outset is a great way of tackling it, and while keeping those two away from each other for too long can just as easily have a very negative effect, these writers have proven that they know how to earn those emotional character moments.
In the wider scope of things, the conclusion to this season is also an invigorating sign for genre television. Sleepy Hollow premiered not only surrounded by other network shows with bigger buzz (Marvel's Agents of S.H.I.E.L.D.), but also around prestige shows with higher critical acclaim (Masters of Sex and The Returned). Whether or not Sleepy Hollow is "better" than those shows is up to the viewer, but one thing it absolutely has done is show how important the fun factor of a well-written show can be. It joins a few other series in this regard, like Arrow on The CW, that go against the antiquated idea that good storytelling is found in a certain kind of series. No one thought that Sleepy Hollow, a modern adaptation of the famous Washington Irving short story in which Ichabod Crane is a revolutionary transported centuries into the future to battle the evils of the world with a cop as his partner, was going to be something worth sticking with before seeing the premiere back in September. Those who did stick with it get to revel in just how wrong they were and how glad they are now because of it.
[Photo via Brownie Harris/FOX]