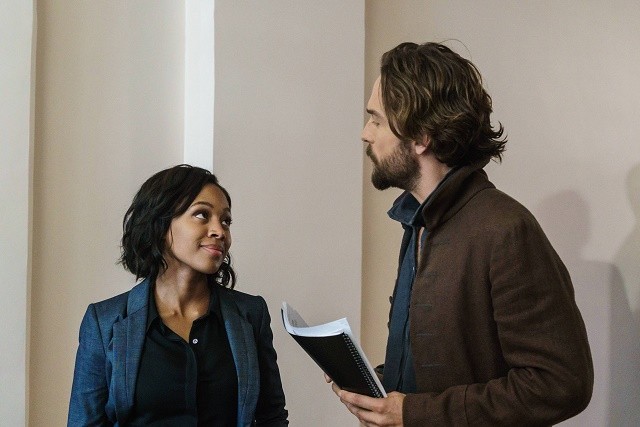 Ichabod Crane's greatest childhood fear becomes a reality in this week's episode of Sleepy Hollow. Pandora has conjured up a knife that transforms the person who wields it into a Ripper, making them lust for blood. Great, another non-impressive villain of the week to deal with. I have to give Pandora points, though, for transforming a geeky office nerd into Mr. Confident (even if he is a possessed killer). I also really liked Pandora's punky look that she dons while at the nightclub. It's very her: dark and mysterious, with a hint of evil.
The scene where Ichabod was ranting very loudly at the woman who works at the town bureaucracy in his attempt to make the archives into an official historic landmark made me a little nervous at first; however, I smiled at Abbie's patience with Ichabod as she murmured under her breath that the he was about to quote Thomas Jefferson.
After Ichabod's application was rejected again, Abbie offered to put her name on the application and Ichabod, inspired by the Leftenant's words about letting go of the past, decided to become an American citizen. I completely agreed with Abbie when she said "Ichabod Crane: American. I like the sound of that." I'm also glad that the lady, who was on the receiving end of Ichabod's awkward deep bow last episode, offered to help him become an American. All the luck to you, Mr. Crane!
My eyes went dinner plate-wide when I watched the scene where Ichabod tried to shoot the possessed Nelson with tainted blood. The moment where Ichabod stabbed himself with the malaria infected blood and letting Nelson/Jack the Ripper 2.0 stab him in the torso with the knife made me gasp in horror. It's quite heroic (and stupid at the same time) of Ichabod to sacrifice himself for the greater good, but he shouldn't scare Abbie like that.
The one thing I didn't understand while watching the episode was why Abbie has yet to tell Jenny about their father, but I guess it might be because he left them when they were young, leaving their mother to raise them. Jenny might have some resentment toward him with regards to this. On the other hand, Abbie has to tell her sister about this sometime soon, because as we have learned from the last episode, it's never good to keep secrets from those that truly care about you.
The mystery girl who stole the Anubis Shard from Randall also befuddled me when Jenny said that the former used a lot of the late Sheriff Corbin's tricks. It might be a possibility that the mystery girl might have worked for Corbin when he was still alive, but it's still unclear which side she is on. Hopefully, with Joe's help, they can get to the bottom of this.
I loved the heart-warming scene with Ichabod lying on the couch, with his right arm attached to an I.V, as he tells Abbie that he's content that they have found each other again and initiated a fist bump as the hour drew to a close. However, Abbie's worried expression tells me that although Team Witness/Demon Fighters are back together, they need all the help they can get to face the evils that Pandora will unleash upon Sleepy Hollow.
[Photo credit: Tina Rowden/FOX]