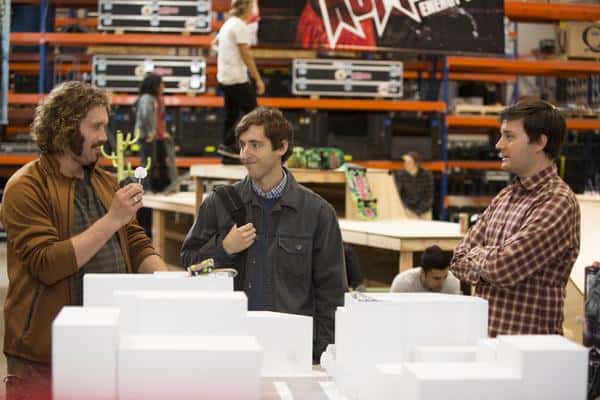 Throughout its past couple of episodes, Silicon Valley has added some much needed depth to the friendship between Richard and Erlich. During much of the show's first season, it was hard to really see what either of them got out of their friendship, other than the potential to make money, or (in Richard's case) a place to live. However, these recent weeks have proven that, even if they constantly butt heads and argue over certain aspects of the business, there's a real bond between Richard and Erlich; they each want the best for each other, even if they're not exactly sure how to express that desire.
This focus on Richard and Erlich continues in this week's Silicon Valley, "Homicide," an episode that somehow reaches new comedic heights after last week's lunacy, all thanks to Richard's name-calling and a fantastic extended joke involving Dinesh and Gilfoyle, as they consider whether or not to let a jerky stuntman know that the calculations for his jump are incorrect, a mistake that would most likely cost him his life. Yet while this half hour certainly had me applauding at particularly moments and nearly tearing up due to laughter, what I found most interesting and impressive is this continued examination of friendship, of the bond that these two characters share, especially when so many of the individuals on Silicon Valley seem disinterested at best to have connections with one another.
By devoting more attention to the Richard and Erlich relationship, Silicon is doing a terrific job at deepening the story it's telling. While the show is still most certainly about an underdog company going up against the giant that is Hooli, digging deeper and providing more character-centered stories only enriches Silicon Valley; it gives the show more stakes (emotional ones) than simply which company will succeed or not. Instead, we are now more invested in how these coworkers and friends will make it through the stress and pressure that they are dealing with at this moment.
And the best way that Silicon Valley is doing this is by not letting Erlich Bachman be the almighty persona that he believes (and we sometimes wish) he is. Erlich has been humanized a great deal in the show's last couple of episodes, but "Homicide" may do an even better job than the installments that precede it, as it not only shows that the whole world isn't as in love with Erlich as he would believe they are, but illustrates that point through a "friend" from Erlich's past, Aaron "Double A" Anderson (played by True Blood's Michael McMillian). An Elrlich that is confronted by how rude and crass and jerky he can be is one that I'm much more interested in following, and TJ Miller is doing a great job of balancing the character's larger-than-life qualities with his inner turmoil.
Ultimately, I hope Silicon Valley continues to delve more into the good, bad, or just plain weird relationships between its characters, engaging with them on a smaller, more intimate level. However, with Hooli struggling to up its game and End Frame, who stole many of Pied Piper's central ideas, now entering the race as well, it's more likely that Silicon Valley is setting up for bigger things. And yes, while I do have some concerns, if the episodes to come are as anywhere near as good as "Homicide," Season 2 should end on an ever higher note than the one on which it began.
Other thoughts:
– While I really loved everything involving Richard and Erlich, there's no denying that the best part of this episode is Dinesh and Gilfoyle and their SWOT analysis of whether or not to help Blaine. That may have been the funniest thing I've seen on TV this year.
– It's also really nice to see Gavin Belson, who has been so smug for so long, dealing with his team's failures at Hooli, as Nucleus is unable to live-stream the UFC fight. Just how bad was it? It was "Apple Maps" bad.
– Jared continues to make Carla feel uncomfortable in this episode, as he tries to pair her up with Monica, believing that simply since they're both women, the two are destined to become best friends.
– Let us never forget about the very important work that Erlich does for Pied Piper: "I'm prepared to brag out about it and release publicity."
What did everyone else think of this week's episode of Silicon Valley? Comment and let me know.
[Photo via HBO]