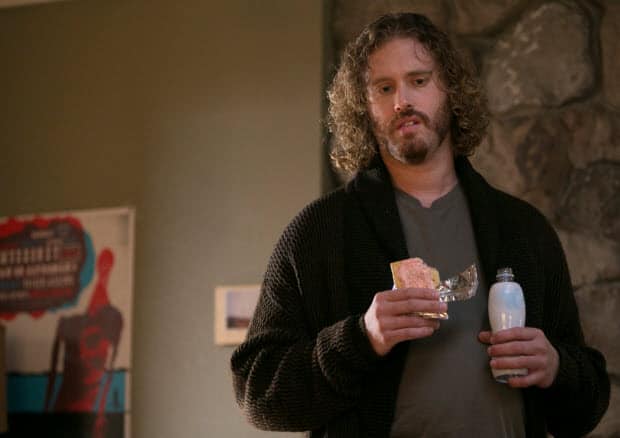 After a pretty excellent pilot, Silicon Valley actually improves upon itself in its second episode. "The Cap Table" features more laughs, more insight into characters, and more drama, as we begin to see how the professional expectations placed upon Richard impact his personal life.
The main conflict that Richard must deal with throughout "The Cap Table" is how to develop a business plan for Peter Gregory, which requires him to look to his friends (who are now his employees) and estimate their value to the company. Richard's attempts to figure out his business plan lead to many funny scenes involving Zach Woods' Jared, Martin Starr's Gilfoyle, and Kumail Nanjiani's Dinesh. However, the major problem occurs when he realizes that his best friend, Big Head, does not possess any of the high qualifications that his roommates do, thus making him not very valuable to the company, but Richard can't embrace his inner corporate cutthroat.
What Silicon Valley does super well in its second episode that it only hinted at in its pilot is show the vicious, ultra-determined atmosphere of the tech world. From Richard's tough choice about Big Head to Gavin Belson's idea of getting back at Richard by stealing Big Head, to the episode's fantastic conclusion, where Richards discovers that Hooli is taking his code apart and is going to make a version of his program as close to his as possible without getting sued, Mike Judge and the Silicon Valley team ensure that we understand that while this show will make our sides hurt with laughter, there are also real, legitimate stakes here.
Even though Richard wanted to do something new and different with his company at the end of Silicon Valley's first episode, he also must realize that he needs to learn the rules of the game before he can reinvent it. He must know how to create a business plan or deal with the IRS. He has to know not to trust certain people or to trim the fat when his company requires it.
And this journey of Richard discovering all the ins and outs of the business side of the tech world is what interests me the most about Silicon Valley. As I said in my initial review of the series' pilot, while the show is a satire, it's also a story about the underdogs and their attempt to do something their own way and succeed at doing it. While it's great when we get hilarious moments like Jared saying that his uncle always told him that he looked like someone "starved a virgin" or Gilfoyle being "one click away from starting another Iranian revolution," what will keep me rooting for these guys are the overall obstacles and challenges that they must overcome in order to be successful. Will they get there and how quickly they get there is still to be seen, but as long as Silicon Valley makes the threats real, the characters unique, and the jokes as funny as they have been, I'll be sitting in front of my TV every Sunday night to watch it all unfold.
Other thoughts:
– Gilofyle's entire speech to Richard and Jared was probably my favorite moment of the episode.
– The introduction of Mochaccino was pretty perfect with all of the guys essentially running away from her, and I loved how Big Head ended up at her house after finding out he wasn't going to be a part of the company.
– I'm really interested to see how Silicon Valley will keep Richard's awkward, good guy image in tact as the company continues to grow. I'm also interested to see how big of a role Big Head will have now that he's moving out of the house and has a bigger position at Hooli. Will he continue to spy for Richard?
– This exchange between Gilfoyle and Dinesh was pure perfection: "I didn't even shake a woman's hand until I was 17 years old." "Who was this woman you shook hands with for the first time?" "A postman lady." "A woman that was a man?" "No, not a post-man lady. A lady who was a postman."
What did everyone else think of tonight's episode of Silicon Valley?
[Photo via Jaimie Trueblood/HBO]