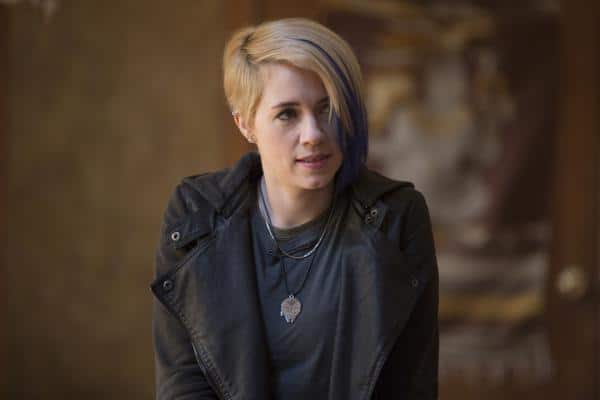 There's no denying that "The Lady" is a filler episode for Silicon Valley. After three strong installments to start off Season 2, last night's half hour was not necessarily a dip in quality for the HBO comedy (this was still a very funny episode of television); however, it lacked the sense of purpose that past few weeks of Silicon Valley have possessed. "The Lady" doesn't move Silicon Valley's story forward in any way, really, but it's filled with a lot of great jokes and one-liners, reminding us that, even when nothing is really happening, it's just a lot of fun to spend time with these characters.
The biggest development that occurs in "The Lady" is the introduction of Carla (Alice Wetterlund), who joins the Pied Piper team after being recommended by Dinesh and Gilfoyle. While she doesn't get a ton to do in the episode, Wetterlund makes the most of her time on screen, and Carla's screwing around with Dinesh and Gilfoyle over her salary and her manipulation of Jared (who struggles so hard to remain PC the whole time) are pretty fantastic.  Carla already fits well into this group of misfits.
Additionally, Carla's introduction also allows Silicon Valley to get a little meta about the largest complaint that was lobbied against it last season: its lack of female characters. Jared and Richard's conversation about how it would be in their interest to hire a woman, but that they shouldn't hire someone just because she's a woman, was a smart and funny way for the show to acknowledge its shortage of female representation. As Suzanne Cryer, who plays Laurie on the series, said in my interview with her back in April, Silicon Valley isn't being sexist in the way it represents the tech world–it's being realistic. The real Silicon Valley does not have many women in high-ranking positions–although, fortunately, we are beginning to see that more and more–and the show is organically presenting us with female characters in a way that feels real and authentic. Cryer's Laurie has already fit in quite well so far in Season 2, filling in the void of Christopher Evan Welch's Peter Gregory, and from her debut in this episode, Wetterlund should bring a fun, new dynamic to Silicon, especially due to the history she has with Dinesh and Gilfoyle.
Aside from adding Carla to the show's cast of characters, "The Lady" doesn't offer too much else that's compelling or dramatic. The seeds are planted for possible big fight between Erlich and Richard, but they mainly talk their issues out, before discovering that Russ poached one of their potential employees from them and that Jian Yang is burning garbage (a hilarious way to end the half hour). The episode does bring Erlich back down to earth a little bit, as he is the most larger-than-life (well, now with Russ, he's probably second most) personality on the show, but it doesn't really dig too deeply into his feelings about his role within the company, or, more importantly, his friendship with Richard.
Mainly, "The Lady" serves as another reminder of how erratic and potentially dangerous Russ is to Pied Piper, with his out of control marketing plans and complete disregard for ethics. He is the ticking time bomb that will eventually blow this whole thing up, and while last night's Silicon Valley didn't give us the explosion we're waiting for, it did show us that the seconds are quickly winding on this newfound partnership. The only question that remains is who will survive the destruction.
Other thoughts:
– Big Head (or should I say "BagHead"?) is given the position of co-head of Hooli XYZ, but he doesn't need to take on any new responsibilities. Instead, he gets to keep doing whatever he wants "but in a much more significant way," as Gavin Belson continues to use him to strengthen his lawsuit against Richard and Pied Piper.
– All of Jared's interactions with Carla in this episode were pure gold, although my favorite had to be when he told her that he loved The Girl With the Dragon Tattoo.
– Another great thing involving Jared: the group planning on calling him "Other Jared," or "OJ," if they hired Jared Pactium to join the team.
– One last great thing about Jared: he changes the meaning of "OJ" to from"Other Jared" to  "Original Jared."
– Russ Hanneman has a lime tree.  That look into his house was both hilarious and fascinating, especially getting to hear the titular "Lady" force his son to go bed. I wonder what would have happened if she had counted all the way down from 10.
– I apologize for the lateness of this review. My allergies have been acting up like crazy for the past few days, and it's kind of hard to write about an episode that you can't actually watch because of your red and itchy eyes.
What did everyone else think about last night's episode of Silicon Valley?
[Photo via HBO]