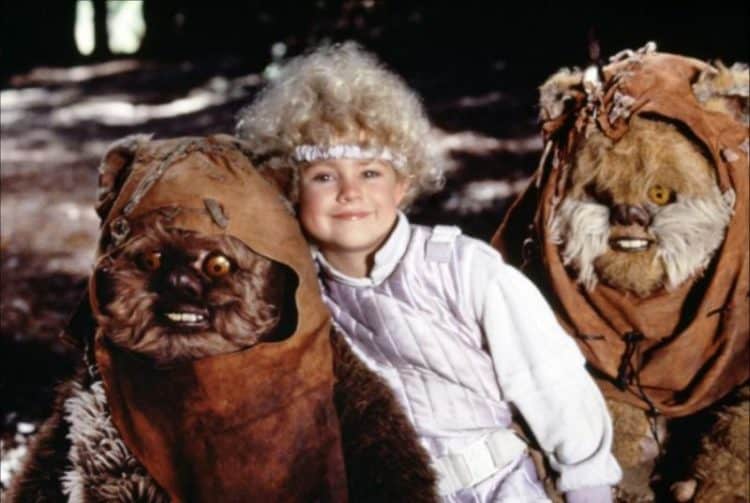 Warwick Davis is a name that a lot of people still somehow miss when talking about Star Wars despite the fact that he's shown up in a few places among the movies. If you're a casual fan it's easy to think that you might not have recognized him, unless you've seen Willow, in which case you might need to go back and look again. He's shown up in a couple of roles in The Phantom Menace, and as many people know just from hearing it so many times has taken on the role of Wicket in Return of the Jedi. He even had a cameo as the famed Ewok in Rise of Skywalker, with his actual son playing a younger Ewok that stood next to him. This obviously answers a couple of questions about how long Ewoks can live and whether or not Wicket actually survived to old age considering the length of time that exists between ROTJ and ROS. He even showed up in Solo at one point though his appearance wasn't one of the outstanding highlights, unless one counts the reaction of longtime fans. Lately though it does sound as though Warwick is thinking that a series based on one of his Star Wars characters might be a good idea, though it's not exactly the one that a lot of people might be thinking of. Here's what he had to say per Jessica Fisher of GeekTyrant:
"Another character I'd love to bring back would be more Weazel. I think he deserves a little bit more. The experience I had on Solo was so fantastic anyway, but I think there's sort of an intrigue to that character. I'd like to know what he got up to between Phantom Menace and Solo. Why did he take the path he took? Will it be something a novelist will come up with or will it be something we see in TV or a movie?"
If you're confused as to who this character is then go back and watch The Phantom Menace. Fast forward to the pod races and take note of who's standing next to Watto, Anakin's slave master, in the stands. Despite the wild hair and dirty look you should be able to recognize Warwick since he's a pretty distinctive character. Weazel is a minor character that worked for the Hutts and while the massive slugs own and operate a large number of people within their given sectors and throughout the galaxy this is one that might be interesting to see in another story, albeit as a supporting or minor character largely because despite what Davis is thinking the interest in his character might come from the association he has with other, more notable figures in the Star Wars universe. Plus, it might be better for TV since unless someone is found in the orbit of a major player it's usually best to keep the story accessible and easy for people to get into rather than entice them into a theater where the risk of disappointment is so high, particularly with Star Wars movies.
As far as seeing Wicket and the Ewoks in another movie it would likely need to happen in the same manner since the two Ewoks movies that were created years ago could be beefed up with a great deal of special effects and CGI, but the story would need to be attached to a greater part of the saga or relegated to TV largely because there's still a huge divide on whether the Ewoks are all that popular or if they're just big balls of fur that don't warrant that much attention. We've all seen how the Porgs were received, basically as a cute oddity that became kind of nonsensical after a while. In fact one of the funniest scenes with the Porgs comes when Chewbacca is about to eat one of them and the others look on with their sad, overly-large Disney eyes. In other words, Ewoks or Porgs, they're better left as ancillary ideas that can help and support the main story but don't BECOME the main story. With all respect to Warwick Davis, since the man has done so much to help the Star Wars universe, he's a great actor but until it happens that Weazel or Wicket is a part of the greater tale then it's not too likely that things are going to change.
Where he's about to shine the brightest though will come when the Willow series finally hits Disney+ since the movie is still a time-honored cult classic among many fans and a continuation of the story might be interesting if the writers can come up with an idea that's both gripping and somewhat sensible, such as Queen Bavmorda somehow coming back to life or some similar danger that threatens the land. Andrew Liptak of The Verge has more to say on this matter.