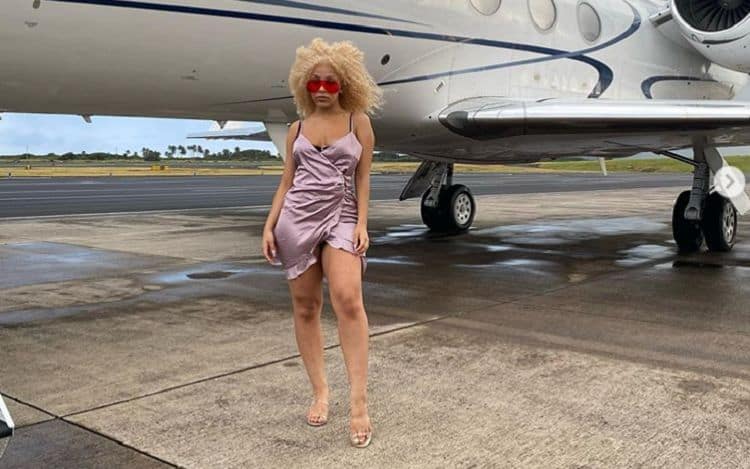 Doja Cat has been on everyone's radar, a lot, lately. Her success has become mainstream, and she seems to be breaking barriers in the music industry at a quite young age. She began her career back in 2013, and so far, the rapper appears to be breaking even. She is known for her raw sound that is rife with deep electronic and RnB influences. Doja came to the spotlight when she uploaded a song on SoundCloud and it became an instant hit. Since then, the young artist has not looked back. If curious to find more about her, here are 10 lesser known details about this gifted artist.
1. Doja Cat Is Her Stage Name
Part of being an artist involves the creativity that comes with the art. Several artists in the music industry use stage names as opposed to their real names. Some of these artists include Nicki Minaj, Cardi B, and Bebe Rexha, just to mention a few. Doja Cat has also not been left behind either. She was born on on October 21, 1995, as Amalatrana Zandile Dlamini or Amala for short.
2. Origin Of The Name Doja Cat
Most artists who use stage names have a background story as to how they settled on their names. She said that she came to the name Doja because she loved marijuana, and the name cat is from her furry friend.
3. She Is A Recovering Marijuana Addict
While giving the origin of her name, Doja Cat opened up about her marijuana addiction, in the past. She stated that she was doing her best to recover from the addiction. Additionally, she has been rumored to be a heroin and cocaine user for some time. According to Pop Buzz, fans noticed that Doja Cat was continually wiping her nose and slurring in her Instagram Live video. She, however, came forth and denied rumors of using any drugs. She added that the reason why she looked under the weather was because she had been on a drinking spree the previous night and had given herself alcohol poisoning.
4. She Comes From A Multi-Heritage
Doja Cat is African American. According to Wikipedia, her father, Dumisani Dlamini, is South African, while her mother Deborah Elizabeth Sawyer is Jewish-American.
5. She Comes From An Artistic Family
Doja Cat's family has contributed to her being the artist she is today. Her father is a composer, actor, and film producer. He is best known for the film Sarafina which got significant critical acclaim. Her mother is a painter. Also, she grew up listening to her brother rap, from which she eventually developed her writing and rapping skills.
6. She Is Multi-Talented
Doja Cat is a singer, songwriter, rapper, and record producer. She is also a decent piano player as she studied playing it. She is also a good dancer, as also grew up dancing much of her life.
7. Scandals And Controversies
Late 2018, Doja Cat received tremendous backlash as her Twitter history was put in the spotlight. It was revealed that she had used some homophobic slurs back in 2015. The tweets had referred to fellow artists Tyler the Creator and Earl Sweatshirt as 'faggots'. She at first denied being a homophobe and tried to defend her tweets, but this just worsened her situation. She was called out as a homophobe and received backlash even from actress Debra Messing, who called her ignorant for defending her behavior instead of apologizing. She later apologized after Twitter users, and the internet canceled support for her work.
8. Her Mentors
Aside from finding her inspiration from her artistic family, such as her brother. Doja Cat has also noted that Erykah Badu, Pharrell, Drake, and Party Next Door have played a big role in her music career.
9. Her Song 'Say So' Is A Tik Tok Challenge
'Say So' is the fifth song from Doja Cat's second studio album 'Hot Pink'. The song shot to fame after a Tik Tok user called Haley Sharpey performed the song. The song is ranked at Number 3 on the Billboard Hot 100. the This becomes Doja Cat's first Top 40 song.
10. She Has Worked With Dr. Luke
Most people know Dr. Luke from his sexual allegations scandal by singer Kesha. She filed a lawsuit against him, which has since been dismissed. Although most singers have shunned him and want nothing to do with the disgraced producer, Doja Cat has worked with him on her 'Hot Pink' album. He has produced quite a number of her songs from the album, including 'Juicy', 'Rules', and the famous 'Say So' hit.
More About her…
She released her single so high on SoundCloud in 2013 and signed on to RCA records. Later in 2017, she signed a joint deal with Kemosabe Records, which was headed by the controversial Dr. Luke at the time. She premiered the video for the song 'So High' in 2014, and it got featured in the film 'Empire' in its first season.
The single 'So High' was one of many from her debut EP 'Purr!', which was released in 2014. Afterward, she began releasing more music on YouTube and SoundCloud, and she got mainstream attention.
Marc 2018 Doja Cat released a self-titled album called 'Amala'. One of the songs on the album was released on her YouTube channel called 'Mooo!'. In the song, she fantasizes about being a cow. The song was made with the intention of serving as a meme.
True to its intentions, the song became a viral video. It garnered so many views and got praised by massive stars such as Katy Perry, Chance the Rapper, and Chris Brown. The single version of 'Mooo' has over 65 million views so far.
Final Thoughts
Doja Cat is among the fastest rising stars today, and she has managed to make a name for herself in an already flooded industry. Although she is not one to shy from controversy, her talent and creativity seem to be her saving grace.