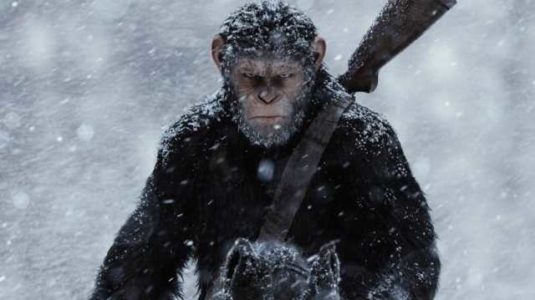 This is yet more proof that Disney has become less about the entertainment and all about the cash grab since really, the Planet of the Apes movies should be left alone at this point and time largely because they've hit a point in their arc where it's better to let people imagine for a while just what might happen between the death of Caesar and the liberation of the apes and the world as it would come to be under their rule. At the very least Disney needs to let some things rest as they are instead of trying to put its own stamp on them at every turn, no matter that they might find a way to make it work. Despite what Ryan Scott of MovieWeb states, that Disney has no reason to trust in any Fox properties it inherited seeing as how several of them have flopped, this is one that didn't suffer that same fate as people flocked to the theaters to see this continuation. In fact apart from the 2001 version starring Mark Wahlberg, the Planet of the Apes movies have been doing just fine since they were started up again. Hitting the reset button, as Disney apparently intends to do, is going to send the entire project back to the beginning and could possibly end up being yet another success that still has people shaking their heads and asking 'why?'.
The answer to the possible success is pretty obvious since anything with the Disney label on it is going to attract a mass number of fans if only out of curiosity to see what the Mouse House has done now and how they've made something 'better', which is an entirely subjective term since there are plenty of projects that they own now that could be dulled down around the edges once they have their way. This was unfortunately one of the things that many people were worried about when it came to Disney taking over certain properties, as they whole Disney-fication of various stories could lead toward an effect of having to watch something that was once as brutal as it could reasonably be on screen might come down to something akin to a shouting match between two differing parties. Obviously not all hope is lost since Disney does appear to have plans to develop a few of its properties well away from the family-friendly material that they normally put out. Hopefully that would be the case with the Planet of the Apes story line since if anyone remembers this particular tale might start out with a lot of hope but it gets dark pretty quickly and doesn't come up for air until the damage has already been done. Adam Holmes of CinemaBlend has more to say on the matter.
It's a bit arrogant of Disney to think that they could improve on the story at this point since the last few movies were actually very well done and presented a tale that was both gripping and at least somewhat within the bounds of rationality in a way that helped explain as well as continue the narrative in a manner that could easily be followed. Instead of being thrust into the world of the apes directly we were given a gradual procession over time to show what was happening and how the world of mankind would eventually give way to the apes, who were in many ways superior to humans and much more likely to live among their surroundings rather than continually altering and destroying them. In other words the movies became yet another warning to humanity about what hubris was all about and why it would be the eventual downfall of the human race. But thinking that these movies really need to be rebooted is kind of a head-scratcher since they progressed from the simplest beginning to an ending that was more than fitting for the story that had been told. Trying to wrap my head around why Disney is bound to do this isn't too hard really, but the rationale is still difficult since it's nothing more than a cash grab at this point as it is with anything they've done. Do they need the money? Probably not. Are they going to keep making the money? Certainly, it's a business after all, but like so many that climb so high and start believing that they're the authority on everything, Disney has come to the point where placing their stamp on anything they can is the only thing that matters. They know people will watch their movies, buy their merchandise, and make them even bigger since they've come through in the past and continue to do so now. Scott Mendelson of Forbes might be able to shine a little more light on this subject.
Let me be clear, painting Disney as the villain in this scenario is not the goal, not at all. But wondering why they can't leave at least one story alone, at least for a while, is still kind of hard to grasp.