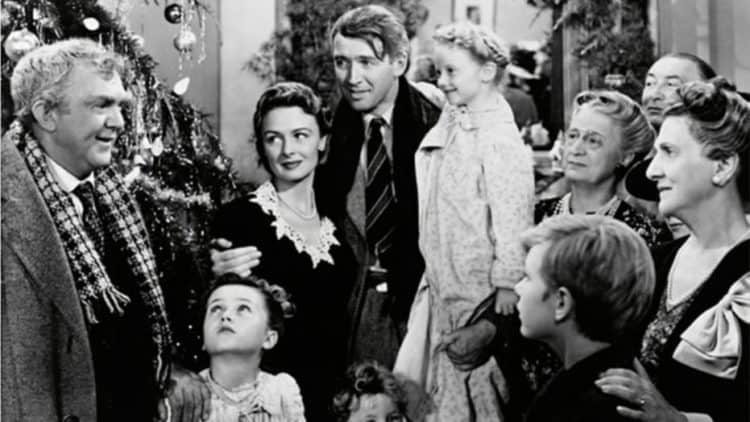 Whether a movie should be rebooted or not seems like a moot point at this time since like it or not a lot of movies are probably rattling through the minds of Hollywood writers that are for some reason being paid to further ideas that have been done so many times before. It's irritating, as a writer, to think that so many movies hitting the theaters have been taken from ideas that have been used over and over and have rarely, if ever, changed the formula are being accepted and even called 'innovative' by so many people. It's A Wonderful Life is one of the classic and most well-liked movies ever created, and as many people might state it should be left alone, but it's not likely that this will happen. In reality we've already seen this theme more than once throughout the years, and if you want a good example of this take a look at Scrooged.
Yes, Scrooged is more aligned with A Christmas Carol, but then again so is It's A Wonderful Life. Some would argue the point as to whether or not It's A Wonderful Life would even exist without A Christmas Carol since the similarities are nearly impossible to miss. Though separated by quite a length of time, the two productions are still bound by a central idea that is hard not to see. But what about the idea to remake this movie? Is it something that should even be considered?
In our opinion, no. There's no need to keep remaking movies since the hit and miss ratio is more capable of cooling someone off during a hot day than it is to slapping someone in the face and making them understand why reboots and remakes are so great. Michael Rothman of ABC News makes it pretty clear why we keep getting so many remakes and reboots, and its a comfort issue since we know the brands, the names, and the stories that are being touted around and introduced to upcoming generations. But the trouble with this is that the previous generations have seen these stories. They've seen the movies that inspired these remakes and reboots many upon many times and have become rather tired of the content that's been spun in so many different ways. Christmas movies have been done and redone throughout the years in only a handful of ways that it really seems as though someone might be willing to really try to be innovative instead of grabbing hold of an old idea to do something that others will see as 'new'. Reviving It's A Wonderful Life wouldn't just be subject to a great deal of criticism, which isn't a big deal really, but it would be subjected to the reality of flopping since it's an idea that many would go on to state is fine just the way it is.
That kind of answer would no doubt frustrated many people and invited a great deal deal of argument since it seems to spark the kind of thoughts that people can't help but share now and again since the idea that everything needs to be redone is something that tends to crop up again and again. Seeing the same thing over and over, changed only enough to be labeled differently and being given a new look, is not quite enough to mask it from those that have seen the movies, that have listened to the stories, and are ready for something new. It definitely feels like it's beyond time for filmmakers to take the chance and create something that's actually new and could easily be inspired about movies like It's A Wonderful Life but step well away from the main formula that made this movie so great. Taking a chance is after all how we discover what works and what doesn't. People in the film industry seem to have forgotten about this somewhere along the way as the cookie cutter movies were set up and the assembly line that continues to pump out slightly different images of the same thing has been running for a while. It's a harsh criticism of the film industry but it's also coming from an author that has grown tired, as so many have, of seeing the same old thing being rolled out again and again for those that are wanting to see new stories, new ideas, and a risk that needs to be taken to shake up the film industry.
So, in all honesty, remaking this movie would not only be a huge mistake, it would be a serious gaffe by the film industry that would no doubt be seen as an 'innovative' homage to an old classic that some just felt needed to be remade because it was time for it. Leave the classics alone, try something new for once.
Tell us what's wrong with this post? How could we improve it? :)
Let us improve this post!