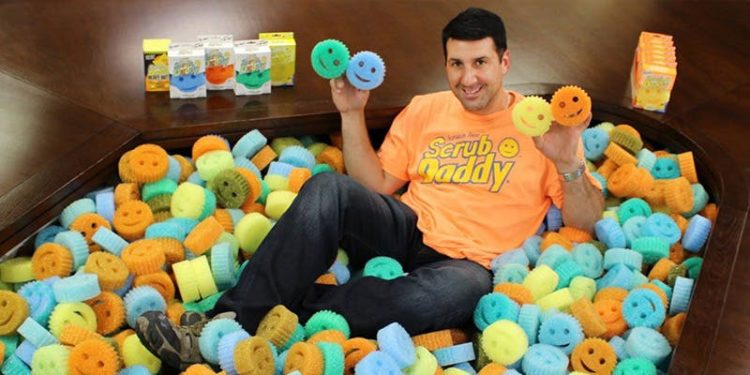 Scrub Daddy predominantly manufactures smiley face shaped sponges of the same name. The sponges are unique as they are made from a polymer that changes texture according to the temperature. So, they become soft when hot water is applied and hard when cold water is applied. In 2007, detailer Aaron Krause damaged a car while washing it and this led to him deciding to design his own line of polishing and buffing pads. He sold his company to 3M in August 2008, but they did not acquire his range of sponges. This meant that the sponges sat in Krause's factory for the next five years until he began using them at home to clean his lawn furniture and his dishes.
Krause has said that it was at this point that he realized his idea, which would become a multi-million dollar idea in the future. He had two patents on his sponge design. In 2012, he founded Scrub Daddy Inc. using grassroots funding. He decided to pitch for funding on Shark Tank. In an episode of Shark Tank that was aired in October 2012, viewers saw Kraus deliver a pitch that impressed the Sharks, especially Lori Greiner. The businesswoman made a deal with the entrepreneur to own a 20% equity stake in the business for $200,000.
The day after Greiner and Kraus struck this deal, they launched the product on QVC and they sold out their 42,000 sponges in under seven minutes. Therefore, the business showed huge potential for being massively profitable even at that early stage. Greiner then used her knowledge and experience of the retail industry to support Kraus in getting his product in retail stores. One of the biggest retailers that began selling their products was Bed, Bath & Beyond.
Kraus also expanded his line of products to include a range of scented sponges, heavy-duty sponges, and sponges in multiple colors. One of the most notable products that he added to the line is the Scrub Mummy. This is a sponge with one half made of foam sponge and the other half made of the same material as the Scrub Daddy. One of the most recent additions to the product range is the Scrub Daisy.
The product has been so successful as it is multifunctional and can be used on many surfaces and the option to have the sponge soft or hard by applying hot or cold water makes it versatile for everything from wiping down surfaces to removing stubborn stains. The smiley face design can be used to easily clean cups, glasses, and silverware. Although there have been many successful businesses that have received help from the Sharks in Shark Tank, Scrub Daddy has become the most successful company that has received funding following a pitch in Shark Tank of all-time. It had earned this accolade by May 2017. By that time, the company had sold more than 10 million units totaling $50 million in sales.
This high-level of sales and huge profits is something that Scrub Daddy Inc. is likely to continue enjoying as customers have given the products rave reviews. On Amazon alone, this company has over 2,000 reviews and has consistently achieved a rating of 4.5/5 or higher. This shows that the product really lives up to its hype. According to these reviews, customers are extremely happy with the product and love the FlexTexture material from which it is made. They like that they can wash the sponge after cleaning and it will not retain the residue of the surfaces you have cleaned. This makes it stand out against its competitors as other products are often difficult to clean and completely remove the grime from cleaning.
The low price of the product is another appealing feature of Scrub Daddy as customers can buy a pack of four for around $15. Customers think that this is a very reasonable price to pay for a product that is so effective and does what it claims. As there are many businesses that have featured on Shark Tank since Scrub Daddy founder Aaron Krause appeared on the series, it is possible that another company could exceed the success of Scrub Daddy in the future. However, it seems that the success of this company is deserved and is set to continue in future years.
Tell us what's wrong with this post? How could we improve it? :)
Let us improve this post!