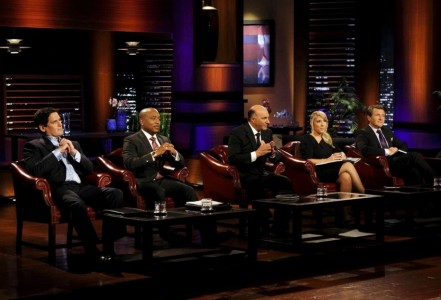 This week's episode of Shark Tank was filled with plenty of great ideas and cool creations. As usual, entrepreneurs from all over the country stood in front of the sharks in hopes of finding an investor to help finance their ideas. Unfortunately, everybody who finds themselves in the tank isn't able to swim with the sharks, and while some people saw their dreams come true, others found themselves feeling crushed. On the bright side; however, the exposure that comes with appearing on an episode often means a boost in sales, but without a deal, the future may not be looking bright. Unfortunately, tonight didn't go as well as some of the entrepreneurs planned, and while it's straight to the bank for some, it's back to the drawing board for others. Take a look at the products that appeared on tonight's episode, and find out just what they're all about.
SHEFIT $250K for 20% of the company
You gotta love when people come into the tank with a product that other people actually need. This "fully custom adjustable sports bra," created by a super fit mom named Sara, is something that a lot of active women would love, and it definitely got the sharks paying attention. With Lori being the only female shark, it made sense that she started off with asking the tough questions. Although everybody was clearly impressed, the number of sales didn't really wow any of the sharks, and it was clear that there were some eyebrows dropped when both entrepreneurs said that they're not focusing on SHEFIT first time. Robert bowed out first, as he wasn't convinced by the ambitious goals. Lori noted that the bras patent may eventually be challenged, and she bowed out next. Daymond made an offer, $250K for 33.3% and Sara and her husband promptly accepted. It's always nice when Shark Tank starts off with a decent deal.
Co.alition $200K 20% of the company
Technology is everywhere and thanks to these two techies, it's now in backpacks. These young entrepreneurs have designed a backpack that is not only capable of charging mobile devices, but it also features an onboard wireless hard drive. If you spend a lot of time on your phone or computer, this will certainly catch your attention. Seriously, how many times has your phone died when you were nowhere near an outlet?! With that being said, these bags seemed pretty cool at first, and they'll probably get a lot of sales, but of course, they didn't have a patent.
When the sharks started asking questions, it became clear that there was nothing unique about these bags. On top of that, their sales weren't impressive, and once the sharks stop being impressed – you can kiss your deal goodbye. Plus, the entrepreneurs made a mistake by mentioning that they also own another company, which left the sharks, particularly Mark, feeling uneasy about investing. Surprisingly, Mr. Wonderful gave them a chance to present "another idea," but it was clear that they had already blown their chance. Needless to say, these guys walked away deal-less.
Icy Breeze $50K for 5% of the company
Every once in a while, there's a product on Shark Tank that really makes you scratch your heads, and here's one of them. If you've ever wanted a portable cooler and air condition all-in-one (be honest, you've never even thought about this combination) then the Icy Breeze is for you. If you live in a cold place, you probably don't even want to think about AC right now, but there's nothing wrong with planning ahead.
The entrepreneurs' main selling point was that you can now have air conditioning outside, which seems a little pointless, but hey, everything isn't for everybody. On the show, the entrepreneurs said that the retail price was $349, but their website is currently listing the product at $199, so they must have taken the sharks' advice to lower the price. However, even with a lower price, it's kind of hard to believe that there are a bunch of people out there who would be willing to buy one of these things.
2400 Expert $250K for 10% of the company
With the price of college tuition rising all over the country, anybody working on a way to advance the field of education is probably on to something. The company's founder, Shaan Patel received a perfect score on the SAT, and now he's built a business on helping others by teaching test-prep classes online. He believes that his SAT score changed his life, which is probably true, but it seemed like he was kind of just babbling to make his product seem more effective. Of course, when other ideas like this appear on Shark Tank, they're usually not that well thought out from a business perspective, and this one isn't really different.
On top of that, Shaan didn't seem too-well prepared, Daymond bowed out, and several other sharks followed when they began to feel like Shaan wasn't fully committed to the business. Surprisingly, he got an offer from Mark, and the two were able to make a deal – but this was definitely one of the most bizarre exchanges of the season.
If there's one thing anyone going into the tank should know, it's that you better be fully invested in your business, or you can kiss an investment goodbye.
Tune into Shark Tank Friday nights at 9PM EST on ABC.
lead image via geek wire.com
Tell us what's wrong with this post? How could we improve it? :)
Let us improve this post!