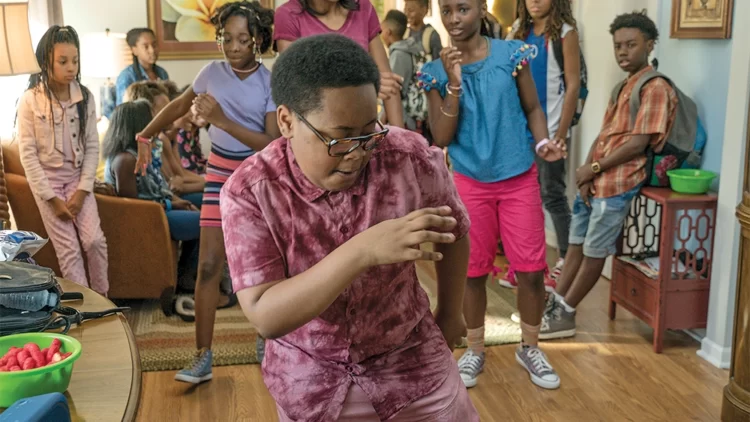 Shamon Brown Jr. is a name you may not have heard before, but if you're a fan of the Showtime series The Chi, you've seen his face. Brown, who plays Papa on the show, is a talented young actor who has won the love and respect of countless viewers thanks to his work on the show. While it's true that he doesn't have a lot of acting credits on his resume at this point in his career, Shamon has already proven that he has everything he needs to be a star. In the years to come, his growing fan base looks forward to seeing what other kinds of roles he takes on. Continue reading to learn 10 things you didn't know about Shamon Brown Jr.
1. He's From Chicago
Just like his character on The Chi, Shamon was born and raised in Chicago and is very proud of his roots. While New York City and Los Angeles are probably the first places that come to mind when people think of the acting industry, Chicago has become a hot spot for productions.
2. He's an Entrepreneur
Shamon has been focusing most of his attention on acting, but the creative side isn't the only thing he cares about. He is also a business-minded person, and he's already started his entrepreneurial journey. He is the founder of a clothing line called Shamonsta, and he is also the founder of Shamonsta LLC.
3. He Likes Fashion
Acting isn't the only way that Shamon likes to express himself. Fashion is another one of the ways he wants to share his personality with the world. Shamon has a great sense of style and knows how to put outfits together for every occasion. He isn't afraid to switch things up when it comes to patterns and colors.
4. He's a Musician
If you thought acting and fashion were Shamon's only creative talents, you should think again. Shamon also loves making music and has released singles over the last few years. His sound is a combination of hip hop and R&B. That said, it doesn't appear that he has yet put out a full-length project, and it's unclear if he plans to.
5. He Has a YouTube Channel
Being present on multiple platforms is very important, and that's something that Shamon fully understands. Shamon started a YouTube channel in 2014, where he uploads various content, including music videos, vlogs, and Q&As. He currently has nearly 4,000 subscribers, and his videos have more than 98,000 views.
6. He Was in a Music Video
Shamon's music videos aren't the only ones he's been a part of. According to his bio on the Showtime website, Shamon also appeared in the video for the song "American Nights." Unfortunately, though, we weren't able to find the video.
7. He's Very Private
Privacy is a hard thing to maintain when you work in the entertainment industry. Once you get thrust into the spotlight, many people become curious about your every move. However, Shamon has done an excellent job of maintaining a high level of privacy. Although he is active on social media, he doesn't post about his personal life.
8. He's 18 Year Old
Shamon was 12 years old when he started his journey on The Chi. Now at 18 years old, viewers have gotten the chance to see him grow up on their screens. Even though Shamon is slightly older than the character he plays on The Chi, he is still a lot younger than most of the people who play high school-age characters.
9. He Wishes He Has More Scenes with Jacob Lattimore
Even when actors are part of the same show, they don't always get the chance to work together. On The Chi, Shamon shares most of his scenes with Alex Hibbert (Kevin) and Michael Epps (Jake). In a Q&A video on his YouTube channel, Shamon shared that he would love to have more scenes with Jacob Lattimore, who plays Emmett on The Chi.
10. He Started Acting When He Was 5
If you look at Shamon's page on IMDB, you'll probably get the impression that he's new to the entertainment industry. That couldn't be further from the truth, though. He started his acting career when he was just five years old. He began doing print ads and commercials before making his TV debut. There's no doubt that his resume is going to grow even more in the coming years.