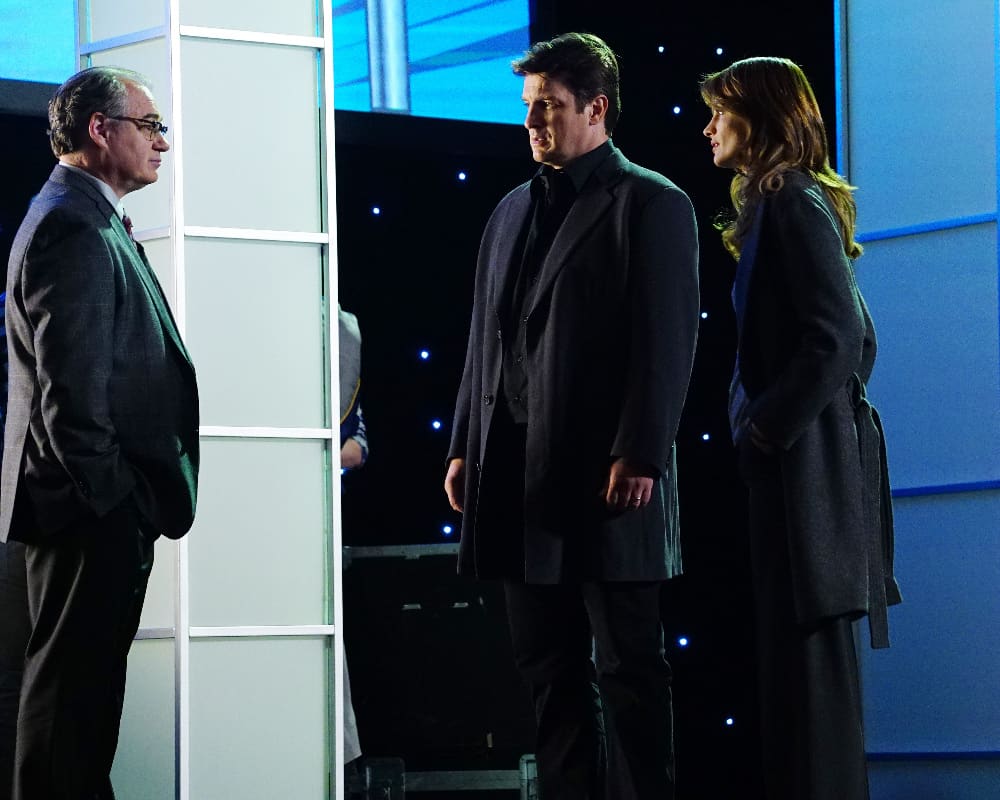 Castle Season 8 Episode 9, "Tone Death" will be airing February 9th at 10pm on ABC. As it's the first episode since the winter hiatus ABC is nice enough to send out screeners to reviewers. So, yes, I've seen the episode. I wish I could tell you all about it, but you know the drill: I can't give it away! What I can do is give you a few highlights you can look forward to:
The Murder.

Castle used to be about finding the body in quirky ways, not showing cold and brutal killings. I'm happy to see a return to the former!

Our former Captain Gates is mentioned!

Even though we don't see her I'm glad that the former Captain Victoria Gates (Penny Johnson Jerald) is still mentioned as being active and a part of Beckett's world. Beckett and Gates had a good mentor/mentee relationship. It was rocky at the start of season four first, but Gates always saw the greatness in Beckett. By the top of season five Gates told Beckett she hoped some day Beckett would respect her as much as Beckett had respected Captain Roy Montgomery (Ruben Santiago-Hudson). By season six it's fair to say they had a mutual respect. (Although it would take Gates longer to be remotely positive about "Mr. Castle.")

The case is connected to someone Martha Rogers knew.

Susan Sullivan (Martha Rogers) could read the phone book and make it a heartfelt dramatic monologue, so having a case that centers around some one she knew is a great move. Not only does it personalize the case for everyone, but the character is always a lot of fun, I've wanted more stories and scenes that involve Martha for a while!

M.E. Lanie Parish is in this one!

We haven't had a lot of Lanie (Tamala Jones) this season. It's lovely to have her at the crime scene!

The case itself is well-plotted & interesting.

There's much about this case that feel like a classic Castle episode. However, it's not like, "Punked" or "The Final Frontier" – think more about, "Undead Again." (Zombie Walking?) The other piece that feels classic is that in using the "unexpectedly dangerous world of competitive a capella" they do touch on some social issues. This is something which prior seasons have also regularly featured in episodes.

There's some great music!

There have been a few Castle episodes that feature singing it. Some of them are: season two's "Famous Last Words" – the story of Hayley Blue had a singer and her final song as the center of the mystery, "The Blue Butterfly in season four had Tamala Jones singing as a character in the 1940's while season five's "Swan Song" had some fun with the background music and the credits. "Tone Death" manages to do all three. Keep an ear out!

Castle No Longer Has to Chase Beckett

Remember how Castle was trying to win Beckett back and how sad Beckett was about having to be away from him? Well, Castle's bed is no longer cold and Beckett is no longer sad.
That's my list Castle fans! You can check back here after the episode airs for my full review!