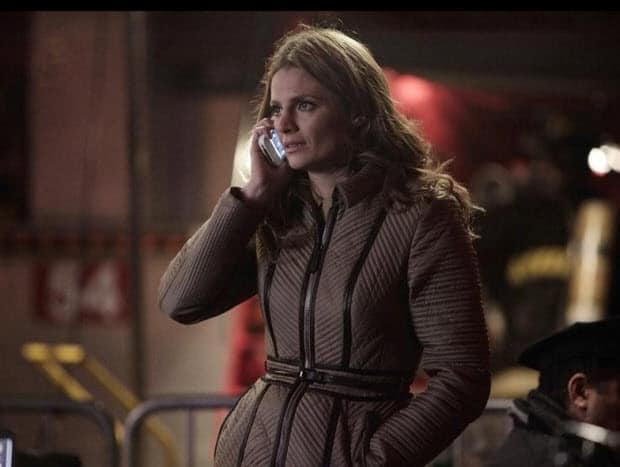 On last night's Castle, Jackson Hunt (or Anderson Cross or whatever name he's going by these days) returns and makes Castle look at what family really means.
Castle and Beckett are finally planning their wedding date! I love that we got so much Castle and Beckett relationship banter; usually we only get a snippet as they head to the crime scene. It seems Kate is more anxious to get married sooner than Castle is–I suppose it could be vague wedding jitters as it is his third one. But the early banter soon makes way for mystery and intrigue as a young hacker is murdered and left in his shower.
At the office of their first person of interest, Castle receives a mysterious call from his father telling him not to react, then he walks out of the office! Castle is his usual unsubtle self as he loudly whispers "dad!?" but "Anderson Cross" (reminds anyone of Rick's middle name Alexander and obviously his last name) pulls a serious dad tone: "Not a word." Castle slips into obedient son role as he hides his connection to Cross from Kate during their investigation. I kept yelling "stop lying to your fiancé Richard Castle!" but he didn't listen. Kate clearly knows something is up, but let's him stew in his nervousness. Castle ditches the investigation to Coney Island to meet up with his dad and find out what the heck he's doing in town.
Papa Castle isn't interested in Castle's emotions. There are lives at stake so he'd better tell him what the police have. Castle cowers to his fatherly tone and dishes all, only for him to return to the precinct and find out Hunt may not be what he seems. He's former CIA and on his way out of prison (!) for a wrong assassination, he killed three people. Castle is shaken and heads home to discuss with Martha. Martha, who hasn't seen Hunt since their one night all those years ago, wisely tells Castle to "lean on the people you trust." She's been hurt by Hunt before and doesn't want Castle to experience the same. But Castle is a trusting man and has wanted to know about his father his whole life, so he slips into the son role really easily. But his moment of reflection is cut short when Hunt arrives at his door bleeding!
Martha and Castle perform impromptu surgery on Hunt. "Do me a favor: try not to make my nose light up." They get the bullet out, but Castle seemed to forget that Beckett has a key. She arrives and is furious to meet her bleeding, former spy, potential murderer father-in-law. Kate's barely suppressed rage and distrust was wonderfully acted by Stana Katic–when Hunt is telling his story, she is drawn up in the chair, limbs pressed against her body, and hand covering her mouth.
Kate continues Martha's advice telling Castle, "He is not your father. He made that choice a long time ago." I love this dynamic they're building–a lot of other shows that feature an absentee parent returning have them immediately back in the family. Castle wants this to be the case, but Hunt isn't his dad, he's dedicated to his job and has never been interested in emotional attachments with Martha or Rick.
Beckett chooses to believe Hunt's story and agrees to go with Castle to a meeting point on his behalf (due to the whole being shot thing). Hunt hugs Castle and sends him off. Martha wants to know if they'll be alright and Hunt promises they will. "Forgive me, but your promises don't mean very much." You tell him, Martha! Castle and Beckett try to spot the murderer but get separated. When Castle runs into the him, Hunt shows up, still a bit bloody, and kills the man, right in front of Castle. Hunt used his "fatherly hug" to plant a tracer on Castle to find out where he was. Hunt uses every tool in his box to perform his mission. Castle is hurt because he was manipulated so many times by the man who is supposed to be his father, but it seems he finally realizes that he can't trust anyone and family is who he makes it. He looks at his fiancee and tells her, "I keep making the mistake of thinking he's family, but he's not. You are." They give each other twinkle eyes and decide that September will be the month for the wedding, screw Castle's book tour. Castle and Martha get a little closure, but it seems Hunt wants more.
I liked seeing this side of Castle, the vulnerable kid who didn't have a dad and aches for his approval. We got to see more Martha than we have in a while, and Kate's excitement for the wedding is fun to see (though I bet we get some cold feet moments in the future). A September wedding means a season 7 premiere wedding! I wonder what this means for the season finale?
[Photo via Nicole Wilder/ABC]