Seinfeld is a show unlike any other. Its unique premise of being a show about "nothing" is what made it revolutionary in its time. The show revolved around the everyday lives of four friends in New York, and it had no overarching plot, but it still managed to keep viewers engaged with its witty humor and quick banter.
Moreover, Seinfeld was one of the first shows to land a syndication deal, leading to its massive success and popularity even years after it ended. Additionally, the show featured a range of guest stars, many of whom were unknown at the time but later became huge celebrities in Hollywood. Seinfeld acted as a propeller board for many of these actors, giving them their first big break and making the show even more iconic. So, let's take a deep dive into the seven best supporting Seinfeld characters.
1. Wayne Knight as Newman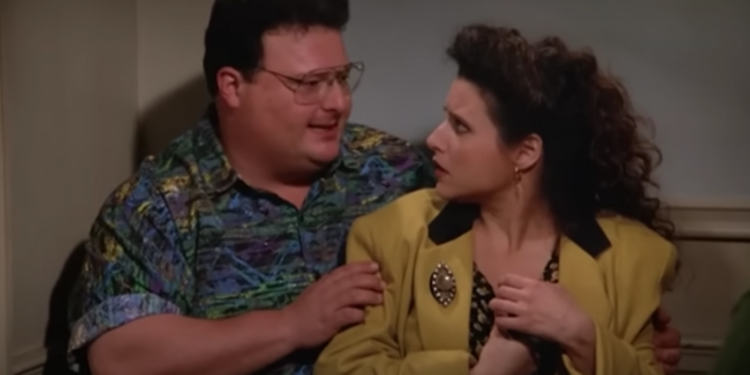 Wayne Knight is a talented American actor best known for his role as Newman on Seinfeld. Knight's character was one of the key supporting characters outside of the group of four best buds, and was often the foil to Jerry Seinfeld's character. He is portrayed as Jerry's eccentric neighbor and arch-nemesis who works as a postal worker. Newman is known for his infamous mail routes, which he frequently complains about. Furthemore, his constant scheming is a recurring theme in the show, which often lands him in trouble. Knight's performance on Seinfeld shot him to stardom and paved the way for him to star in movies such as Jurassic Park, and Space Jam.
2. Jerry Stiller as Frank Costanza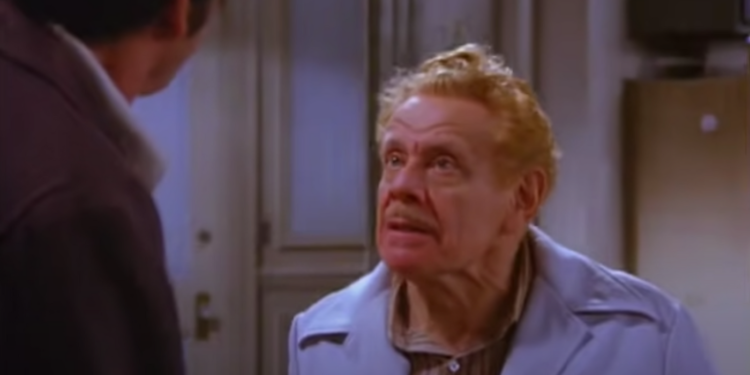 Frank Costanza was a beloved character on Seinfeld, brilliantly played by Jerry Stiller. As the father of George (Jason Alexander), Frank brought a quirky personality to the show, known for his tendency to shout and clash with Kramer (Michael Richards). Frank's outbursts and eccentric mannerisms were portrayed perfectly by Stiller, whose portrayal of the character shot him to new realms of fame. He starred in a total of 27 episodes across the show's successful run.
After his success on Seinfeld, Stiller went on to star in The King of Queens as another wacky and zany character, cementing his place as a legendary comedic talent in the entertainment industry. Overall, Frank Costanza is a fan-favorite, unforgettable character, and Stiller's portrayal of him was nothing short of brilliant.
3. Bryan Cranston as Tim Whatley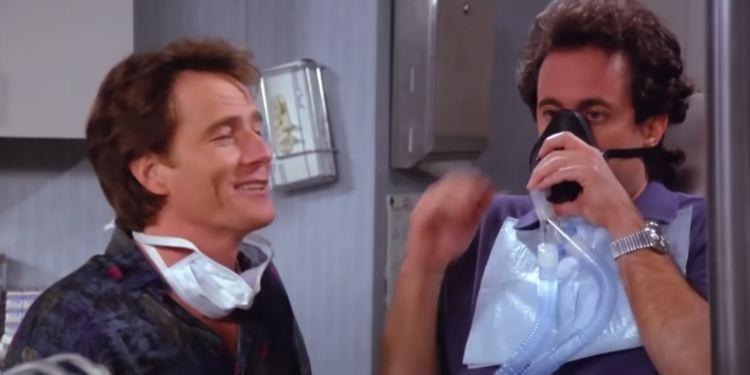 Bryan Cranston is one of many notable supporting characters on Seinfeld, and he is one that many fans of the show will likely still remember fondly today. Before the success of Breaking Bad, Cranston mostly starred in small roles in sitcoms and various TV shows. However, his performance in Seinfeld was a standout moment from his character actor days. He played Tim Whatley, a dentist who was one of Jerry's acquaintances in the show. Whatley was known for his odd behavior, inappropriate jokes, and tendency to re-gift. Despite his quirks, Cranston was able to bring a certain charm to the role that made audiences love him. In fact, he was so beloved that he re-teamed with Seinfeld co-creator, Larry David, for a role in Curb Your Enthusiasm.
4. Jennifer Coolidge as Jodi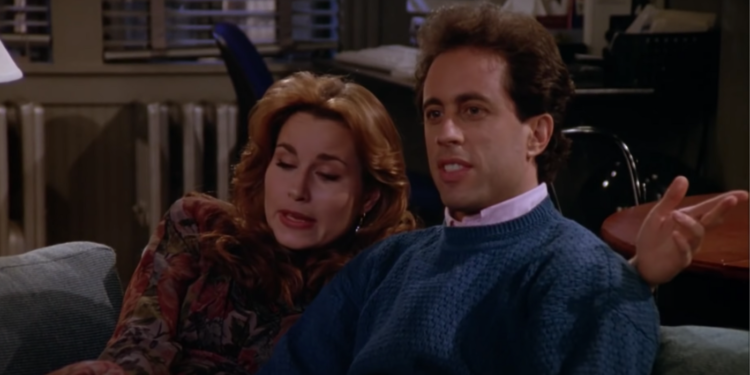 Long before her role as Stifler's Mom in American Pie, Jennifer Coolidge appeared in a side-splitting episode of Seinfeld as one of the supporting characters. In fact, her performance was her first ever appearance in TV or film. Despite only appearing in one episode, her rendition is still more than memorable to this day. In the episode, Coolidge plays Jodi, Jerry's girlfriend who takes a particular dislike for George. In typical George fashion, he begins to obsess over this, causing heaps of drama amongst the group.
However, as he always does with his girlfriends, Jerry looks for ways to break it off with Jodi. After discovering that she is a masseuse for a living, Jerry drops continuous hints for a massage. Fortunately, this doesn't work out in his favour, and he is spared with the burden of ending the relationship.
5. Brad Garrett as Tony Abado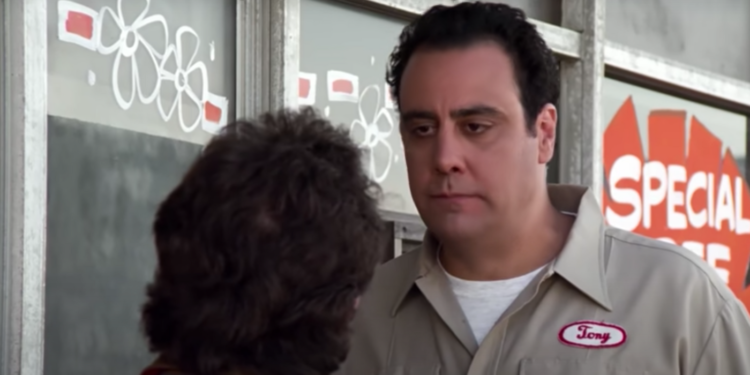 Brad Garrett is an American stand-up comedian, actor, and voice actor. He is most famous for his role as Robert Barone in the sitcom Everybody Loves Raymond, which aired from 1996 to 2005. However, Garrett's career has been varied and spans various genres. He has appeared in shows like Fargo, and The Crazy Ones.
In addition to TV shows, he has also lent his voice to various animation projects, including Finding Nemo, Ratatouille, and Tangled. Aside from his voice and TV work, Garrett has also made a notable appearance on Seinfeld, portraying Tony Abado. Despite only appearing once on the show, his character has maintained a presence in the minds of Seinfeld fans as one of the series' most memorable characters. In the highly praised episode, Garrett's character is a menacing car mechanic who becomes obsessed with Jerry's car when he thinks Jerry isn't taking good care of it.
6. Maggie Wheeler as Cynthia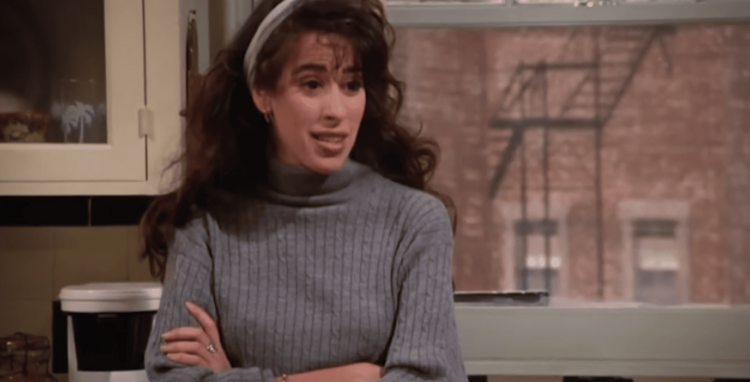 Two years before she delivered her trademark ear-splitting voice and laugh on the hit show, Friends, Maggie Wheeler starred as Elaine's friend Cynthia in the episode "The Fixup". After hearing her complain about single life, Jerry and Elaine attempt to set Cynthia up with George. Despite being turned off by the fact that George is unemployed and balding, Cynthia still agrees to go ahead with the date. However, she soon finds herself repulsed by his general personality and lack of table manners.
7. Bob Odenkirk as Ben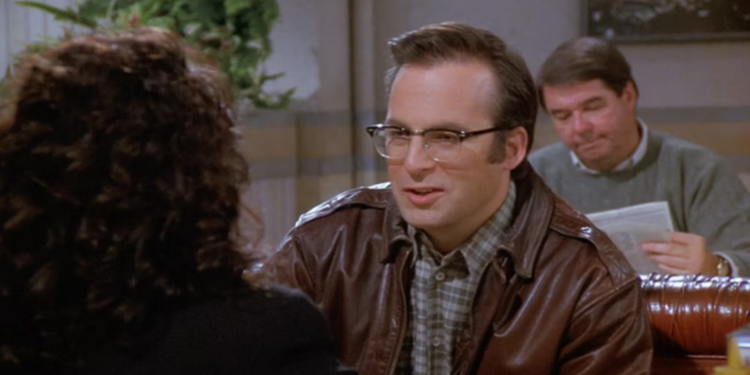 Before he was the cocky and manipulative Saul Goodman in Breaking Bad, Bob Odenkirk spent years in comedy. As a writer and actor on Saturday Night Live, Odenkirk drew the attention of Larry David and Jerry Seinfeld. As a result, he was cast in Seinfeld. Odenkirk is one of many supporting guest characters who made an impact on Seinfeld in just one episode. In the episode, Odenkirk plays incompetent medical student, Ben, a love interest of Elaine.
As the episode unveils, it appears that Elaine is clinging on to the fact that Ben is a soon-to-be doctor, declaring his title to everyone she comes across. However, this proves too much pressure for Ben, who actually failed his medical exam three times. This is evidently demonstrated when a man collapses at the diner, and Ben has no clue what to do. So, in typical Seinfeld fashion, a love found is a love soon lost.