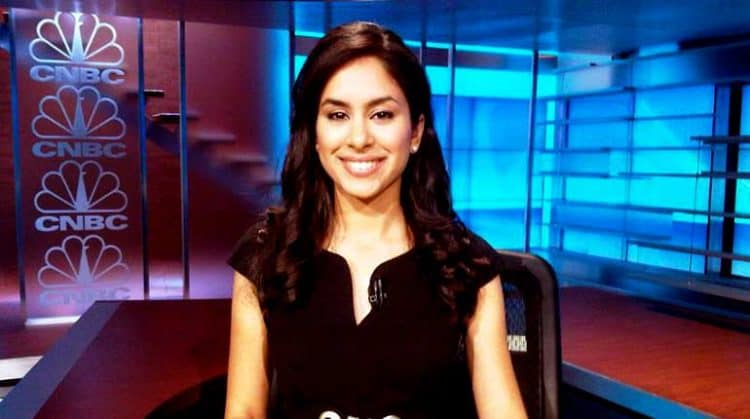 Seema Mody has been on CNBC since 2011 after gaining experience in Mumbai in CNBC-TV18. Her broad knowledge of foreign policy has also seen her become a member of the Council of Foreign Relations, a nonprofit that specializes in foreign policy and international relations. Her achievements are numerous, including being the first South-Asian on CNBC as an on-air news personality. Here is your chance to learn more about the woman who has also been said to be among the sexiest and most fashionable women anchors.
1. She wanted to be a doctor
When Seema talked to Valley Catholic High School class of 2018 as they graduated, she revealed that back when she was a student in the same school, she had acne. Therefore as young as she was, Seema wanted to grow up and provide solutions for those with similar problems by becoming a dermatologist. She was serious about it because, in college, she studied biological sciences, but after graduating from the University of Washington, Seema realized a career in medicine was not for her.
2. She once prepped for an audition in a restroom
Going for a job interview demands you are at your best, and since first looks count, then as a woman, your makeup and dress code have to be perfect. However, circumstances beyond Seema's control resulted in her preparing for the audition in a restroom. As published by Pamplin Media, Seema arrived at Mumbai at 3 am for an interview with CNBC-TV18, but her room was not ready. She had only a couple of hours to prepare; hence she headed to the bathroom and later went to the studio.
3. She does not pass on any opportunity
Someone once said that if you are offered the chance to do something, yet you have no idea how to do it, accept the opportunity, and learn how to do it later. Seema seems to subscribe to this school of thought because even if she had no idea about the topics she was assigned, she still accepted them. Therefore the little knowledgeable Seema took on challenging issues such as global trade and Bitcoin yet did an impressive job.
4. Her first experience working in India
Seema had always been to India to visit with her family at least once a year. However, for business reasons, she only visited the country when she was a junior in college. At the time, she got a job at Biocon, a biotech firm in Bangalore, and for Seema, it was also the first time being without her family. From the business perspective, the experience helped her see the possibilities of India becoming a superpower, and the first-hand experience was fun for her.
5. She considered herself a dork when she was in school
Having made such significant strides in her career, Seema is one person who has always been focused on her goal since she was young. Even in school, she did not waste time in anything that would deter her from achieving her dreams. Apart from studying for her biology degree, her interest in the financial world also ensured that she took a few business classes to deepen her knowledge in the subject. Besides concentrating on her studies, Seema also made time to participate in extracurricular activities. In college, she was so good at Indian classical dances that she participated in competitions, as she told Asiance Magazine.
6. Her regrets in high school
Seema is grateful for all the teachers who impacted her life while she was in high school. She fondly remembers Ed Braun, who taught her to respect all religions, Kathy Johnson, who inspired her to take journalism and Sister Julian, whose music lessons are still applicable to Seema in her public-speaking. In spite of all these positive things she had to say about her former high school teachers, Seema still wishes that someone had taught her about Wall Street and basic finances.
7. She prefers a private life
Finding anything about Seema is like searching for a needle in a haystack; the woman is so secretive about her life that her Instagram account is set to private. There is, therefore, hardly anything about her family; apart from knowing that she was born in Oregon but grew up in Portland among two siblings whose names are undisclosed, her background remains blurry. As for her love life, Seema has always been rumored to be dating Jeff Macke. However, neither of them has ever confirmed to be in a relationship.
8. How studying biology helps her in journalism
You might be wondering how a degree in biology can relate to journalism, but Seema feels she has made it work out for the best. Perhaps the experience of dissecting animals and plants and looking at them under a microscope is what connects biology to journalism. She said that the science subject taught her how to dig through fine detail to find underlying trends.
9. She believes her Indian heritage built a solid foundation for her
Some celebrities have been known to be ashamed of their ethnicity, while others proudly stood by theirs. For instance, the late Fredi Washington could have easily passed for a white woman due to her hair and eye color, yet she advocated for better treatment of the black community. On the other hand, Merle Oberon was born in India to an Anglo father and Indian mother, but she was so ashamed of her mother that she passed her off as a servant. Seema is cut from a different cloth from Merle because she is proud of her heritage. She even says that being Indian has helped her in her career as well as private life. She also wrote her college application essay on the issue of being Indian-American, according to The Daily of the University of Washington.
10. Her first job after graduating
For a long time, Seema was conflicted between pursuing biology and business; hence she found a way to strike a balance through consulting. When she was still in school, Seema spent the semester studying biology, but during summer breaks, she would do internships focused on business. Her first job at Accenture Consulting, therefore, enabled her to combine her passions.