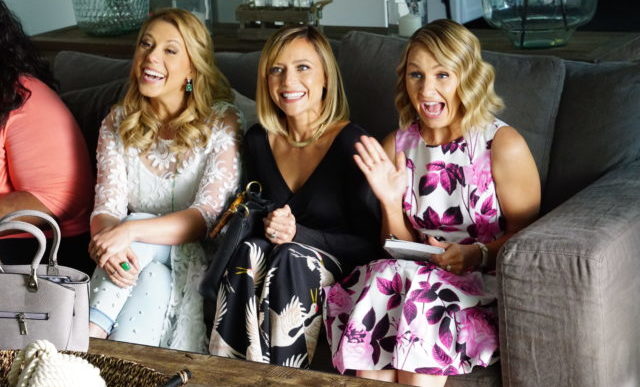 Season 2 of Hollywood Darlings starts Wednesday, April 18th, on the Pop network It stars 90's sitcom child stars Jodie Sweetin (Full House), Beverley Mitchell (Seventh Heaven) and Christine Lakin (Step by Step). The three women play exaggerated versions of themselves, and season 1 was a lot of fun!
This season though, it will be ramping up the shenanigans even more – because it's gotten a heavy dose of girl power! The stars are now all executive producers and Hanna Lopatin has moved up to supervising producer. The duo of director & executive producer Sammi Cohen and co-executive producer Kourtney Gleason were then brought on board. Together they've come together for a whole new take on Hollywood Darlings!
Meet Kourtney Gleason: Co-Executive Producer for Season 2 of Hollywood Darlings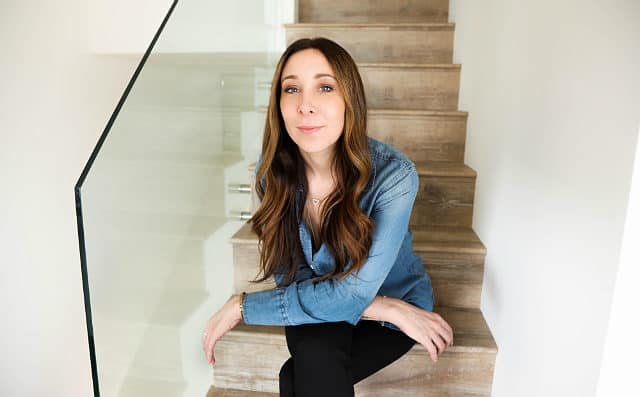 Gleason is the daughter of actress Lynne Randall and the late Michael Gleason — who was a television screenwriter and producer for over 30 years. However, he's probably best known for being the co-creator and executive producer of the 1980's hit Remington Steele.
I had a chance to talk with Gleason about her road to joining the Hollywood Darlings team and what to expect for the new season. One of my first questions was about how she decided on producing as a career track.
D'Angelo: Your Dad created Remington Steele. He did a lot of other things after that, but he basically created a new subgenre of television. And, your mom, Lynne Randall, was an actress. So, how did you get to producing as your track?
Gleason: It's funny. I always knew that I wanted to do… something, in entertainment, but I wasn't really sure what that something was. …There was a minute when I thought it was acting, and then I went on an audition and I was like, "Well, I don't want to ever do that again." (laughs) That was one audition too many. …Then, I kind of fell into it. I went to college…I was a bartender for a while, and I thought, maybe this is my life and I going to open a restaurant. But then I realized that I always wanted to make television, make movies. It's always been the thing that like when you close your eyes and you dream about what would be the best future, I always think of television. I think it was just in me. How I kind of fell into it was a friend of mine knew the director of Crank, Brian Taylor, and he was looking for an assistant. I met with him, and he ended up giving me a job as a P.A. That was my first production job, and I kind of loved it. …Then I just ended up climbing, P.A.'ing for a very long time, working at a production company, and then working up the ranks until finally, I decided I could produce on my own. I felt like I could do it.
Of course, one look at Gleason's resume shows that she's worked hard to get to where she's at now. The self-proclaimed, "baby producer" has a ton of producing projects under her belt. They include commercials and a slew of music videos – including the MTV Music Awards 2016 winner for Best Rock Video: Twenty One Pilots' song Heathens.
Despite her resume though, one of the first things she let me know is this.
Commercials and music videos are a completely different world from television and movies. You can't just jump over.
Why? Because having connections in the former area does not transfer into the latter.
Gleason On Being a Woman in Hollywood
Gleason: So, now I'm kind of like a baby producer in the long-form, whereas, I've been doing this for ten years now, And I'm still trying to, you know, trying to get my name out there and say like, "Hi, I know what I'm doing. I know I'm a girl, and, I know what I'm doing.
D'Angelo: It's so interesting that you said that, "I know I'm a girl." There's been a big shift and focus this year and focus that women are in Hollywood, and, surprise, they work, and they think.
Gleason: Yeah, man, you don't realize…I always hated to be, to fall on any gender-blaming thing, especially coming up (in the business). I felt that there was a very specific way that people spoke to me as I was coming up in production – mostly men. (Gleason noted that at one point on her journey she'd also been in "mean girl" environment.)
Gleason: This shift is starting to feel really good. And I forever would…I would never lean on the fact that "I didn't get that job because I'm a girl," or "they don't like me because I'm a girl," or " they talk to me that way. I'd always try to figure out other reasons, but now, hindsight, hindsight's 20/20 and I'm like, "No, no, no, that's why they spoke to me that way. That's why they, when I would make a decision, they would check with someone that lower than me, that's a man, to make sure I knew what I was talking about. You know, there was a lot of that going on – which is no fun.
How She Came on Board for Season 2 of
Hollywood Darlings
Gleason's most recent long-form project couldn't have been more perfect to prepare her for season 2 of Hollywood Darlings. She was the line producer & post-production supervisor for the documentary film Becoming Bond. In fact, it's how the Pop Network found her.
Gleason: They wanted to make a change. The network, Pop, wanted to go in a more scripted feel. (…) I think After Schitt's Creek they really got on this comedy vibe. So they (the production company) had to bring in more narrative people. They found me because the executive in charge saw Becoming Bond. He literally found me saying, "I want the person who did that to do our show." Being a kid from the nineties, I was already a fan of Jodie, Beverley, and Christine, and you know, I was like, "this is really cool."
The film (which you can see on Hulu) has a top critics and audience score of 86 percent on Rotten Tomatoes. If you haven't seen it, the first line in their description of Becoming Bond explains why Gleason is a perfect fit for season 2 of Hollywood Darlings.
A unique documentary/narrative hybrid chronicling the stranger-than-fiction true story of George Lazenby, a poor Australian car mechanic who, through an unbelievable set of circumstances, landed the role of James Bond in "On Her Majesty's Secret Service" (1969), despite having never acted a day in his life.
"A unique documentary/narrative hybrid" could very well describe Hollywood Darlings. It's not a reality show, as the actresses are playing larger than life versions of themselves. Yet, the show is about them. In a similar vein, Becoming Bond falls under both the comedy and documentary genres.
Kourtney Gleason Shares About Her Father
In case you didn't notice, what's not in Gleason's story is help from her father. I did ask her about that. Her response was insightful about her path to producing. In the process, it also tells us a little bit about her to her father.
Gleason: My dad didn't like to ask anyone for anything, ever. He was not the kind of guy who was like the connector, or like, "I want you to meet my daughter, she's going be great for this, that, or the other." He just never wanted to put anyone in a weird position, and so he just never did that. And, honestly, I feel like I'm a better producer because I had to like, work my ass off to figure out how to do it. I didn't just get to walk on set and go, "I'ma making a movie!"
What's New for Season 2 of
Hollywood Darlings
? A Whole Lot!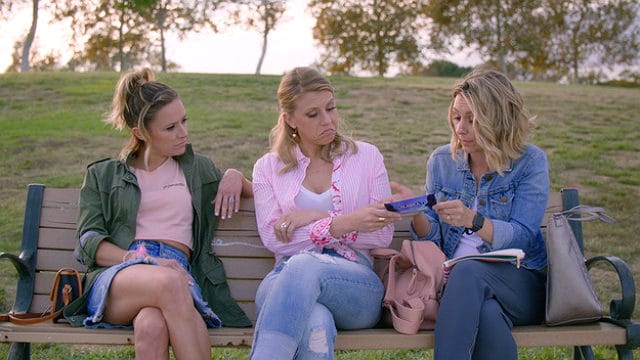 If you thought last season was funny, Gleason promises that season 2 of Hollywood Darlings is even more so. Here's some of what she told me about what to expect for season 2 of Hollywood Darlings.
Gleason: This year, it (season 2) we've made it, it reads as a scripted comedy. It's beautifully shot. We've got an amazing team, so visually it's a lot more stylized. We have, like, great storylines, fantastic. Like, we have an episode where we throw the girls back to when they first became friends, which was, you know, 1999, New Year's Eve, Y2K. So we have like a Y2K flashback episode.
(We both laugh. D'Angelo: "Wow…okay, I remember Y2K.")
It's really fun. We got to have a lot of fun. We did an episode that kind of parodies Big Little Lies, so we shot it in the vein of Big Little Lies. Each episode has kind of has the girls getting into a bit of, you know, a comedy of errors, a little, "Curb Your Enthusiasm" kind of style, and then they kind of come out on top. One episode, Jodie starts a rumor that Christine Lakin dies in a boating accident, in order to get her more followers on Twitter. (We both laugh.) There's a lot of fun stuff. And we talk about, you know, things that are real, but we really take it to the next level in the comedy aspect. It's really funny, it's really fun, I love it!
D'Angelo: It sounds like it's more scripted. So they're not just doing improv scenes? Or is it still working with that improv style?
Gleason: We all outlined what each episode was going to be. We knew what we were doing every day. But, Sammi and I were able to give them (the stars) the ability to improvise within the scenes. I believe last year was fully improvised, where they were on 18 hours days. We were on 12 hour days and the girls knew exactly what they were doing. We had beats and everything, and everything was really detailed. There's no reality feel to it. This will feel like a nice 30 minute scripted comedy.
D'Angelo: Nice! It sounds like you all were able to be on the same page.
Gleason: It was so cool! It was like nothing I've ever experienced. Thinking about it, like, we wrapped in December, and this is the first time I've really been talking about it and it just brings a huge smile to my face. It really was something special. We hustled man! We got in there and we really worked fast and smart, and I do think it was because we had a lot of women, like, keeping everyone in shape, you know? There was no drama, no, like, cattiness, no clicks, no emotional chaos. Everyone was just there for each other in a way that, to this day, I'm still blown away.
The Wrap Up: Season 2 of Hollywood Darlings
After my interview with Gleason, I can tell that season 2 of Hollywood Darlings is going to be a blast! (Check out the promo!) It premieres Wednesday, April 18th at 8 pm ET on the Pop network. So, don't forget to mark your calendars, and prepare yourself for a lot of laughter!