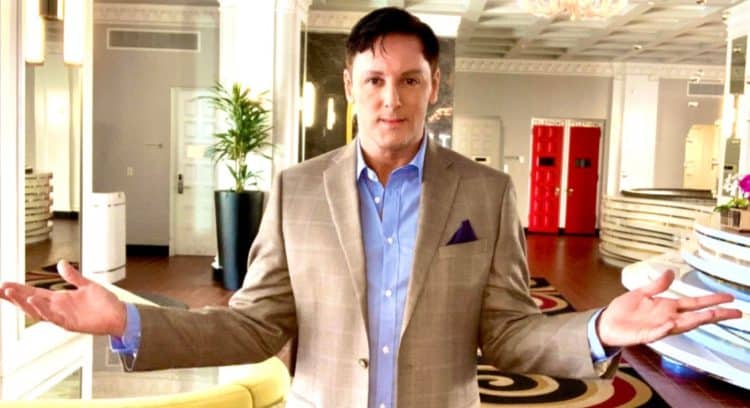 Sean is an interesting character who began his career in show business back in 1981 when he attended singing, dancing, and drama classes at the Sylvia Young Theater School in London. He quickly established himself as someone to know even at 12-years-old; Sean was someone who always knew someone, friends would say. He always knew the right people. Even at such a young age, many of Sean's friends growing up were well-known performers on British Television.
The entertainment personality is probably best known for his work on the FOX 11 news show "TMZ on TV." He appeared in the newsroom daily, and being British, his voiceover that featured on many of the biggest breaking stories on the series, was one the most recognized on the show to date. As we delve into his history, we found out some fascinating facts about Sean's life and his long career behind and in front of the camera that we thought you would be interested to know.
For example, how he considers Palm Springs as his home, Sean fell in love with the city so much he bought a house there in 2012 and now splits his time between LA and the desert. Kim Kardashian taught him how to take perfect selfie pics probably is one of the stranger things to know about him; he once made Hilary Clinton laugh at a 2016 campaign fundraiser.
So let's get better acquainted with Sean Borg.
1. Sean appeared on the popular BBC TV's children's hit drama series Grange Hill
One of the first professional jobs Sean had on television was in 1982 when he was a featured extra on one of the biggest British children's drama series – Grange Hill. The series began in 1978. After 30 years, the show was canceled in 2008. Sean said he did a lot of walking up and down corridors and in and out school gates, but learned a lot for the experience of being on a film set at aged 11.
2. Sean attended Live Aid at Wembley Stadium on Saturday 13 July 1985
Live Aid was one of the biggest ever benefit concerts held, that raised funds for relief of the ongoing Ethiopian famine. At aged 16, Sean had VIP guest passes to the event and sat four rows behind the Prince and Princess of Wales – Charles and Diana.
3. Aged 18 Sean appeared on the Front Page of a British Newspaper – The Sun
Sean's first-ever article was published in a British national newspaper when he was 17-years-old, however, when he was 18, a story about him appeared on the front page of the Sun Newspaper. The article stated that Sean had a relationship with a well-known soap actress. He denied the story, but from that day on, he had figured out how the tabloid press operated.
4. The first production company Sean worked for was called Planet 24
Sean landed his first job behind the camera for a company called Planet 24. It was co-own by Sir Bob Geldof, the former lead vocalist of The Boomtown Rats and the man responsible for Live Aid.
5.Sean moved to Los Angeles full-time in 1995 and lived with British Film Producer Julia Verdin
Though Sean had visited LA many times during the late eighties and early nineties, it wasn't until 1995 that Sean moved to the states permanently. His first home was on Kings road above Sunset Boulevard. The house was dubbed "party central" by the media. Many Hollywood A-listers frequented the home, including Robert DeNiro, Harvey Keitel, Hugh Grant, Sir John Hurt, Robert Downey Jnr, and even British actress Elizabeth Hurley had once live there.
6. Sean had many jobs in Hollywood, he once worked for the famous Hollywood manager Sandy Gallin
In 1996, Sean landed an assistants position at Sandy Gallin and Jim Morey Associates. At the time, Sean hadn't passed his California driving test and took taxis to and from the office, then based at Maple Plaza in Beverly Hills. One day, when his boss asked him to deliver a script to Dolly Parton's home, Sean had to call a cab to do the job. When the office manager found out, he was taxiing everywhere; not surprisingly, he was "let go" from the post.
7. Sean Lived with pop singer Nathan Moore of Brother Beyond and Worlds Apart fame
Sean allegedly had an on-off relationship with an international pop star in the mid-eighties, which he refuses to name. He also lived with pop singer Nathan Moore of Brother Beyond and Worlds Apart fame. The pair owned a home in Islington, north London, and was "close" friends for over sixteen years.
8. He Worked at TMZ.com and Fox News Show TMZ on TV
In 2007 Harvey Levin personally offered Sean a job at TMZ. Sean featured on the show daily pitching Harvey stories from the newsroom floor. His voice became one of the more notable parts of the earlier shows because of its "posh" British delivery. One of the more memorable voiceover's Sean did on the show was on the infamous Ray J and Kim Kardashian sex-tape scandal, among many more breaking news stories.
9. Hollywood Icon Elizabeth Taylor gave Sean her phone number in 1996
He met the late actress Elizabeth Taylor at a posh party in Nice, France, in 1996; they even posed for pictures together. Elizabeth found Sean so utterly charming that she gave him her personal telephone number, and the pair kept in touch for years.
10. He appeared in an advertisement for the hotel-booking platform "Trivago"
Sean is a Trivago guy! His theater school skills came in very handy when he featured in a commercial for the popular hotel booking website earlier this year. Sean's advertisement has since proved a favorite among fans of the international corporate brand who love his dapper Britishness.
Tell us what's wrong with this post? How could we improve it? :)
Let us improve this post!