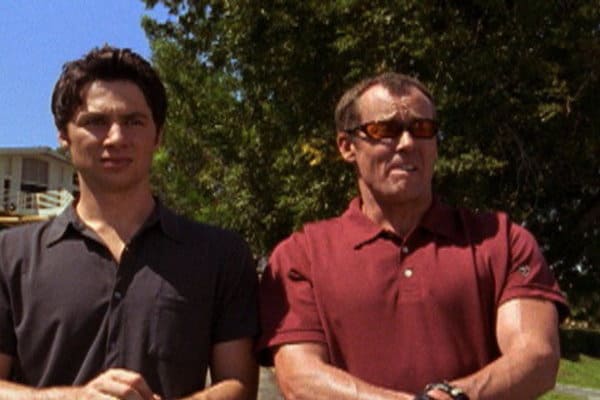 Though there are definitive stories for J.D., Turk, and Elliot in "My Two Dads", they are mostly revolving around one of Scrubs' central conflicts, between the business sensibilities of hospital administrator Bob Kelso, and the overwhelming dedication to his patients that Dr. Cox embodies on a daily basis. These two ideologies come in direct conflict with each other, usually over money: Cox wants to do a procedure, Kelso shuts it down in the name of profit and the vague guise of "keeping the hospital afloat." Each character has their empathetic traits, and each has their dark sides. "My Two Dads" would not be the first nor the last episode to explore this – and considering its haphazard focus, is unsurprisingly neither the best, nor worst, of these instances.
The problem with "My Two Dads" is the balance it tries to strike between its three main stories; there is a strong secondary plot with Carla and Turk that's limited to the deepest recesses of the episode's background, a fun little story that strengthens their relationship, while not falling victim to the same rhythms and cliches that other young TV couples have (how Carla addresses them not sleeping together feels a little preachy, but it's another strong monologue from Judy Reyes). But that is relegated to C-story status, in favor of a story where Elliot realizes she'll do anything for a patient because she shows her breasts to a few of them with positive results.
Wait… what?
Yes, that's correct: "My Two Dads" unfortunately features one of the weirdest, illogical Elliot plots of the series. Of the show's many attempts to play off the beauty of Sarah Chalke to engage its audience, this might be the least effective one of them all; there's nothing in this episode that tries to explain Elliot's dedication to her patients, except the fact that she shows her breasts to two of them. There are allusions of a deeper story at play, but these are only given to us in the final moments of the episode. There isn't any investment made on the cases Elliot is working on, which doesn't give it an opportunity to show us how dedicated (and by the same token, desperate) she is to healing her patients. It's assumed that every doctor feels this way, of course, but with such a moral debate going on between Kelso and Cox, Elliot's story was an opportunity to embody that journey through someone else besides J.D., and reducing it to boob-flashing is a quick way to rob anything interesting out of the story.
Thankfully, even this story feels a bit tossed-in; it isn't really relevant until the final moments, when J.D.'s realization about his own priorities as a doctor align him with Elliot's own (which establishes that her story is really just acting in service of J.D.'s, which is a bit of a letdown). With J.D., however, the conflict is much more established: with Cox and Kelso both trying to lure J.D. into their philosophies, "My Two Dads" places J.D. in the center of a moral conflict he thought he'd never have to face as a doctor. But it turns out healing people comes at a price, and privately-owned hospitals aren't trying to compromise their goals in the good name of keeping people healthy. Ultimately, it's that distinction that helps J.D. make a key decision about his own development, one that Cox gently guides him to in the way all great mentors do, by letting him survey the situation himself and make a decision (either way, he was going to do the procedure that gets him into trouble, with J.D.'s help or not; as he states, he was just seeing "what team he was playing for").
The pathos in that final scene is strong, propelled by the hilarious parallel Scrubs makes to Star Wars in that moment (bonus points for making Janitor Chewbacca; it's just so fitting). But is it enough to elevate it past the other underdeveloped elements of the episode? Five episodes in, it's pretty easy for viewers to dismiss these secondary stories as placeholders for future development; it's not like investment in characters is deep enough to the point any viewer unfamiliar with the show would feel robbed of character development, without the understanding of watching future seasons and how well Scrubs is able to both broaden and deepen its central ensemble. "My Two Dads" is an attempt to do this; but with such a heavy focus on one-quarter of its central foursome, it leaves large pieces of the episode feeling out of place, or simply undercooked in the pursuit of something more meaningful (in turn, demeaning the already-weaker material surrounding it). Not a complete misfire, but a sign that Scrubs still has some kinks to work out, even in the wake of last week's masterpiece.
Other thoughts/observations:
– It's too bad we won't see much more of Dr. Steadman: here, he humps Kelso's leg, takes a golf ball to the face, and gets denied a tasty treat (which would've been his second of the episode) by J.D..
– The "Once every…" recurring jokes are supremely awkward; this show's grasp of VO early on is much rougher than I remembered.
– Todd High Five Count: Only one, though three were attempted – two were denied by Elliot, with her gracefully granting the Prince of Skin Slapping a generous gift upon his third attempt.
– SO. MANY. WHIP. FX. The amount on the golf course alone was more than the entire series ever needed.
– Steadman, to Kelso: "Would you like a tee, or some tea, sir? I brought both!"
– The Family Feud cutaway is great: "Show me boobs!"
[Photo via NBC]
Tell us what's wrong with this post? How could we improve it? :)
Let us improve this post!