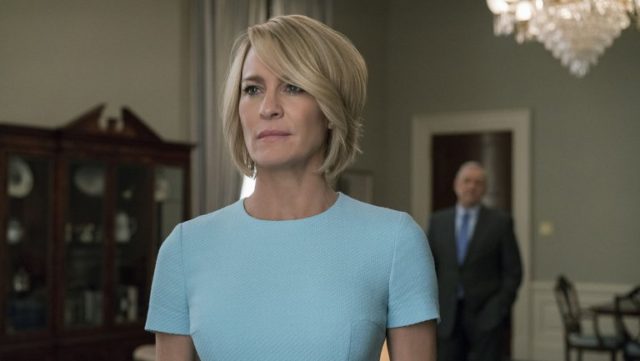 There doesn't seem to be any reason why Robin Wright couldn't carry House of Cards on her own, but then again she was busily playing second string to Kevin Spacey for the last few seasons. She's been a powerful figure all on her own but maybe now it's time for her to come out and show that she does have the chops to be the top woman and undo some of the damage that Frank managed to stir up during the course of the show. Claire isn't weak by any means and if she does show some measure of frailty it's quickly shored up before the episode is over. So perhaps having a female president on the show will stir people to accept her and admit that it might be about time.
It'd be nice to say that this is because of the simple progression of the show and Frank Underwood has had his time, but the truth of it is that Kevin Spacey is in a bit of trouble with a sexual harassment allegation. The show has unceremoniously cut him as it's been revealed, no doubt wanting to put some distance between themselves and Spacey for the time being until everything is sorted out. Even then it's not for certain that Spacey could be coming back since the show is supposed to be ending with its sixth season. But with Claire Underwood at the top spot it could at least end on an interesting note.
Robin Wright has what it takes to assume the lead role and be the surprising, out of nowhere character that suddenly takes control. Whether she will be any better than Frank however is left to be seen. But cancelling the show simply because of one individual's indiscretions seems a far more laborious undertaking than simply altering the show to reflect the absence of one character. After all it's not just the public and the cast that are bound to miss out on the experience of a sixth season, it would be the crew that are depending on the work as well. That's a lot of man hours that are bound to be lost and a good deal of work that could support a large number of people that could be lost.
So really it makes more sense to let Claire Underwood have her shot at running the country in her fictional position in an attempt to perhaps undo some of the damage that her husband Frank has done. She certainly couldn't do any worse when it comes to stirring the pot and could possibly turn things around. Many people have already expressed the notion that a female president might one day create a much more peaceful and well-ordered country that could find a way to enjoy a reasonable relation with the many different nations of the world.
To be honest I won't really say much about that except for 'good luck'. Male or female, the president of the United States is the person that has to make some of the hardest compromises in the world. So yes, let's let Robin Wright take the reins, but let's not stretch the boundaries of reality THAT far.