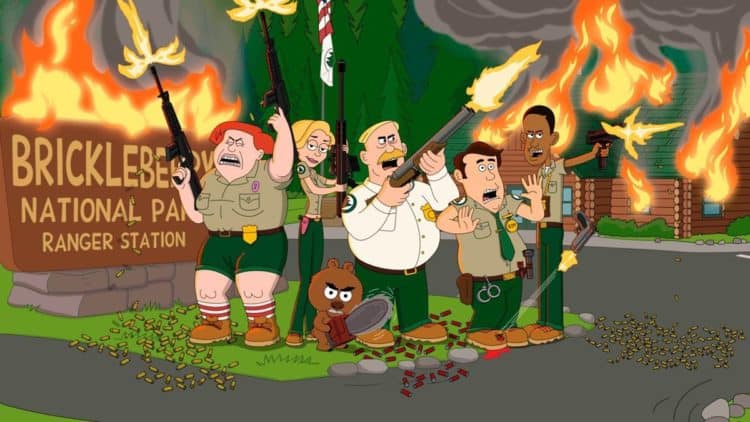 Netflix has a history of creating some incredible, memorable and creative shows, regardless of how strange or adult-oriented they might be, and "Paradise P.D." was a perfect example of that as the show was beyond raunchy and hilarious as it was surprisingly creative at times. Overall the show will forever be referred to as a carbon copy of "Brickleberry", the first animated show from Roger Black and Waco O'Guin. Personally, I'd say that there were enough major differences from "Paradise P.D." and Brickleberry that made each character from the respective show separate from their counterpart but considering most of the main cast was present for both shows and the overall similarities, opposing opinions are understandable. Below, we've gone into detail on the already released animated comedies to come from the twisted minds of Black and O'Guin, as well as their upcoming Netflix animated sci-fi comedy "Farzar" set for a 2022 release, which is part of their new deal with Netflix.
Roger Black and Waco O'Guin
Roger Black and Waco O'Guin together make a ridiculous comedy duo but even individually they also make for creative, risky, and smart comedians and writers. Roger Black may be known to most for his role in the popular internet videos of Yucko the Clown. Yucko the Clown was an extremely vulgar and rude clown that would often be seen going to public places such as boardwalks and harassing people with relentless, mean comedy. Waco O'Guin could be recognized most from his co-creation and other work on "Brickleberry" but also his co-creation of a variety of comedic programming.
Brickleberry
Of all of the shows mentioned, "Brickleberry" may have been more than just the most interesting but also the most creative and outrageous as often as possible. "Brickleberry" was the only show of the trio of shows created under Roger Black and Waco O'Guin that featured comedian and host Daniel Tosh. Daniel Tosh played the diabolical and curious bear cub Malloy, and while he was without a doubt one of the most interesting characters on the show, there were plenty of other familiar and creative voices as well. Other voices featured on the show was Tom Kenny, Roger Black, David Herman, Kaitlin Olsen, Natasha Leggero, and some others but the most recognizable names are present here and we've gone over where you could recognize the name or the voice from. Tommy Kenny may be the most famous voice of all as the voice of everyone's favorite sponge, Spongebob Squarepants while Roger Black and Waco O'Guin, who are the creators of the show, voice several characters in Brickleberry but also some you may not have recognized. One of the more interesting voice situations on "Brickleberry" was the change in voice actress for Ethel from Kaitlin Olsen, of Always Sunny fame, in season one to comedian Natasha Leggero for the rest of the series. David Herman may have been another of the most interesting, and strangely familiar, voices from Brickleberry was the voice actor was a large part of "Futurama", another adult animated comedy focused toward sci-fi, much like the upcoming Netflix animated comedy, "Farzar", slated for 2022 from Roger Black and Waco O'Guin.
Paradise P.D.
Much like with "Brickleberry", Roger Black and Waco O'Guin voiced several characters throughout "Paradise P.D.", some more main characters than others but most of their characters are extremely obscene. If you've never seen "Paradise P.D." for whatever reason or just couldn't get into it although you were a fan of "Brickleberry", I recommend giving it another go as "Paradise P.D." broke the fourth wall more often than "Brickleberry" and the show became very much aware of the similarities. However, as mentioned above, "Paradise P.D." was also often referred to as a carbon copy of "Brickleberry" for its massive similarities. While the characters from "Paradise P.D." were made entirely different characters, for the most part, some of their appearances as well as minor characteristics made their counterparts instantly recognizable. One key difference with the show, outside of the actual places of work, was actually the voices behind the characters missing from "Brickleberry" to "Paradise P.D.". Voices that carried on from one show to the next was Tom Kenny playing a role similar to Woody from "Brickleberry" as a cop instead of a park ranger. In "Paradise P.D." Tom Kenny's character had a son who's played by the same actor that portrayed another park ranger under the supervision of Kenny's character, marking a difference in characters. As of right now, it is believed that the upcoming Netflix sci-fi animated comedy "Farzar" slated for 2022 will feature a much less carbon copy version of Black and O'Guin's characters.
Netflix Sci-fi Comedy Farzar
While very little was announced so far regarding Farzar and what the show might entail, outside of its creators and the stand they have for much fewer carbon copy versions of pre-existing characters created by Roger Black and Waco O'Guin. Right now, Farzar was stated to be in the sci-fi comedy genre, standing with very similar animation as "Brickleberry" and "Paradise P.D.". When referred to the poster for the upcoming Netflix comedy from Black and O'Guin, the characters were clearly seen as different from currently known characters from shows created by the comedy duo. Overall, the show appeared to some to take inspiration from "Masters of the Universe", but the comedy duo could easily create another carbon copy in a newer setting, I'd be a fan as the comedic talent brought together should make the sci-fi animated comedy "Farzar", on Netflix in 2022 a sure hit among existing fans at the very least.
Tell us what's wrong with this post? How could we improve it? :)
Let us improve this post!