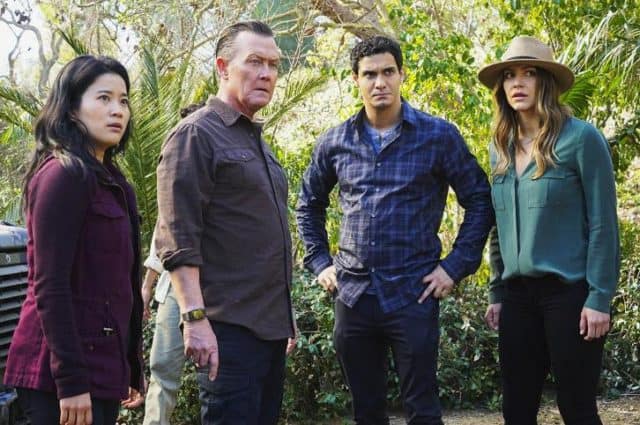 There's a reason that environmentalists call the Amazon the Green Hell. Everything in it is deadly and can kill you if they want to. In this week's episode of Scorpion, the team has no choice but to venture into it. Why? So they can find a cure for the Marari virus.
The scene where Toby did the mating dance to attract the white-headed Capuchin monkey made me laugh. That's what you get for accidentally covering yourself with Ptychopetalum (or Muira Puama) scent, Tobias! At least he ended up bonding with the monkey. Shame the little guy isn't the cure for the virus. The part where Happy put a backpack over Toby's head in an attempt to catch the monkey amused me as well. That and the scene where Toby walked into the tent pole and got zapped by Happy when a spider was crawling up his chest had me tearing up with laughter. Did I tell you how much I love you, show?
While we're on the subject, I am surprised, for lack of a better word, that Happy took Toby to see Dr. Cecil Rizzuto (guest star Penn Jillette). Thought that counseling comes after marriage, not before. On the other hand, there have been cases where a couple will seek counsel before spending the rest of their lives together. I don't know anyone in my circle of friends who have done this, but it's not uncommon. Quick sidebar, the Bicker Clicker that Dr. Rizzuto gave Toby and Happy looks like a good idea. Maybe I should get myself one of those in the future. That or something similar.
This episode also brought up the fact that the Amazon rainforest is in danger. Excessive logging results in loss of habitat for the animals that live there. I get that lumber from the Amazon equals a big payday for construction companies, but there has to be a balance between humans and nature. We can't just keep taking what we want and not care about the consequences. If karma is any indication, what goes around will come around to bite us in the butt.
The interaction between Sylvester and Ralph in this episode offered up an interesting insight. After being bitten by a green caterpillar, the human calculator started having severe allergic reactions to it. At first, I thought that it might turn into something serious, but Ralph pointed out (after testing Sylvester's reflexes) that it's all in his head. Least now, the human calculator will learn to face his fears rather than letting them control him. Oh, and Ralph, nice haircut! You look good! Get me a copy of that hairstyle changing software, will you?
My heart went out to Agent Gallo as I watched the episode. The Homeland agent is still hung up on Allie post-breakup. His relationship came to a screeching halt before it even began. I'd feel depressed too if that ever happened to me. I applauded Walter for being there for Agent Gallo towards the end of the episode. The genius is learning how to empathize with people as he has also been through heartbreak when Paige was in a relationship with Tim. One can only hope that someday, Waige can get back to normal.
Quick sidebar again, the von von tree fruit that Team Scorpion got looks familiar. When I saw the pieces of the fruit, I recognized it as dragon fruit. Since when is dragon fruit a cure for a deadly viral disease? It's good for you sure, and can fight against diabetes, but I don't think that it can cure diseases caused by a virus. Good one, show. Good one. Also, the Rhondonian Wandering Spiders creep me out. Yay for Walter and Happy for thinking to shock the spiders with electricity.
Photo via CBS
Scorpion Season 3 Episode 19 Review: "Monkey See, Monkey Poo"
Summary
Team Scorpion head to the Amazon Rainforest to find a cure for a deadly viral disease. Ralph helps Sylvester face his fears in this week's episode of Scorpion.