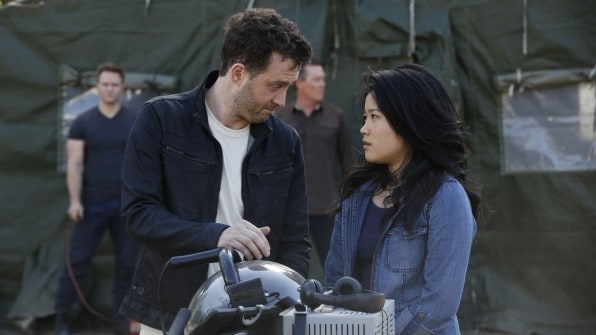 The two greatest forces are about to face off in this week's episode of Scorpion. The team goes to Vietnam to recover the remains of the Marines that fought during the war. Mother Nature, let me introduce you to your adversary: Science!
I found the concept of using dry ice to cool down the tornado's temperature was ingenious. Too bad it won't work on the flat plains of Kansas or Oklahoma. When Walter and Paige were almost sucked into the tornado after it picked up the first two loads of dry ice, I was curious to see how Walter would react if Paige were to get sucked into the deadly tornado like an epic wailing of Paige's name as Walter stretched out his arm, watching helplessly as Paige is sucked into the tornado. Suffice it to say that this Twister-esque fantasy sequence of mine never happened as the tornado died down to a severe windstorm.
The scene where Sylvester was at Ralph's school wearing a custom made t-shirt with the words "Go Ralph" in gold bubble letters made me smile at the fact that Scorpion has really become Ralph's surrogate family. Only family can think of ways like this to embarrass their loved ones at important events like recitals, plays or presentations. It's okay to be embarrassed, Ralph, it's what family does. Someday you will look back on it and laugh.
I was as furious as Ralph was when the young genius discovered that his professor failed him for his software idea only to steal it and pass it off as his own. What kind of educated professional steals from other people and from a child no less? If I were in that professor's shoes, I would've been impressed with Ralph's idea and maybe suggest a collaboration of sorts. Stealing something is bad enough, but to pass it off as one's own work is just despicable. I'm sure that there's a section in Hell for people like that slimy, idea-stealing professor.
Alright, personal ranting aside, my favourite scene in this episode is the opening scene where Tim is playing the Proton Arnold arcade video game with practised finesse. The former soldier revealed to Sylvester that he used to play the game when he was a kid and managed to beat Walter's high score. History has been made and we are all witnesses. Well, us and Toby and Sylvester. I would love to see Walter try and beat Tim's high score as I'm sure the genius will attempt to do towards the end of the episode.
It was also interesting to see Walter and Paige try to move on after surviving being almost sucked in by a tornado. Walter called up Linda to set up a date (albeit awkwardly in true Walter O'Brien fashion) and Paige got asked out to dinner by Tim. As much as I want Paige to get together with Tim, I want her to get together with Walter more because these two already have deep feelings for one another. Maybe if things doesn't work out with Linda, she can perhaps give Tim a shot assuming the same doesn't work out with Paige. Hey, a fan girl can dream, right?
In the end, the mission was a success and Pandova's mother finally got the closure she needed along with the families of the other missing Marines. Toby's comment about Happy thinking about a possible marriage made me think that the resident shrink might propose to the engineering prodigy sometime soon. Are there going to be Scorpion wedding bells ringing again in the future? Let's wait and see what happens! I'm also curious to find out if Heywood will be able to help Ralph with his case about the thieving professor. That and where else Toby hid his back-up hats in the garage. Guesses anyone?
Photo via CBS
Scorpion Season 2 Episode 21 Review: "Twist and Shout"
Summary
It's Nature vs. Science as Team Scorpion tracks down the remains of deceased Marines in this week's great episode of Scorpion.