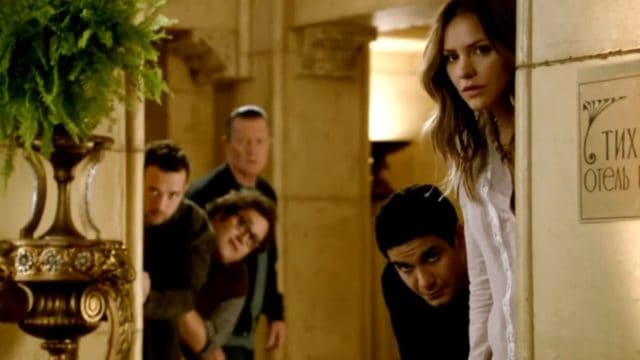 Hundreds of methane fissures with no way to plug them up. What do you do? Steal a Russian military helicopter and make it snow! That's what Team Scorpion did in this week's episode of Scorpion. Oh, and Mark Collins is a traitorous jerk as he screws everyone over by escaping.
This week's case is enjoyable to an extent. The team snuck into a fancy Russian hotel resort to obtain potassium iodide and silver nitrate. They then used these elements, along with the moisture in the clouds, to create snow that would cover up the methane fissures. Seeing Happy trying to figure out how to fly the Russian military helicopter was a bit confusing. Yes, the controls are in Russian, but she should have been able to figure out the general scope of it and not accidentally make Russia declare war on Norway.
Now let's talk about Collins for a bit, shall we? The guy played mind games with everyone once again. He orchestrated his ankle injury and pushing Toby into the ice hole in the previous episode just to get the spare keys to the truck. It's true that he is somewhat useful in assisting with the case, but he is still a "crafty sociopath" like Toby said. I hope they can apprehend Collins soon and lock him up somewhere where he can't see the light of day.
The thing that surprised me, to an extent, about this episode is the language skills that Collins and Paige has. The former can speak fluent Russian while the latter Spanish. I'm sure that they can't converse in their respective foreign languages in real life, but hey, at least they pronounced everything correctly.
My heart went out to Agent Gallo while watching the episode. The sports cheer bit did not go too well, and the Homeland agent got himself arrested for letting Collins escape. Walter offered to take the heat for it given he was the one who suggested that Agent Gallo should take off Collins' ankle bracelet. Hope things will work out for the agent. I'd hate to see a good man go to jail. I also sympathize with Sylvester. He doesn't have true love in his life anymore since he lost Megan, but Toby's right, the human calculator, will find love again. Don't give up hope, Sylvester Dodd!
Side Notes:
Toby wearing a neon green Speedo. Can't unsee that. Ever. Also, him peeing in the pool? Gross. Then again, it's not like we hadn't done it when we were children.
Happy made Sylvester a new ring with his old Band-Aid ring layered inside. Aww…
Paige taking all the car keys in the key cupboard thing? Genius!
I agree with Happy that she and Toby don't need a marital creed to keep their marriage together. They've been through a lot while working with Collins and they survived it. They'll be okay without PANNS and SCABOBI. However, I don't condone her lying to her husband about seeing him in the green Speedo.
Walter and Paige trying each other's favorite foods (or drink, in Paige's case). Good effort. Love the make-out session that followed.
Photo via CBS
Scorpion Season 4 Episode 2 Review: "More Extinction"