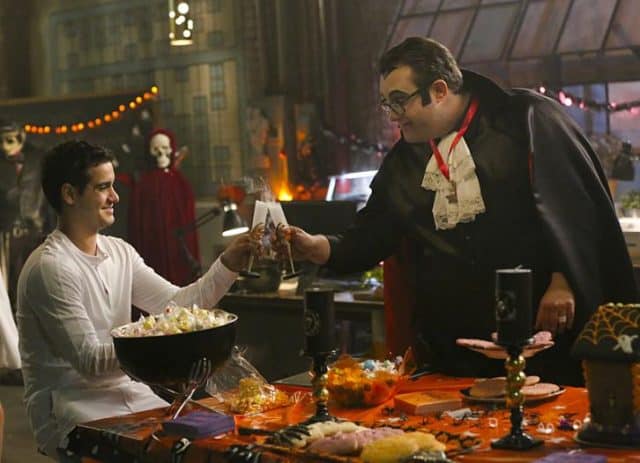 Team Scorpion goes batty in this week's episode of Scorpion, metaphorically, of course. A husband and wife zoologist team hired Scorpion to help save a colony of bats suffering from White Nose Syndrome. I felt sorry for Sylvester as the human calculator is not too fond of bats. He needs to stop watching horror movies if it's going to give him nothing but nightmares.
As the team worked to save the bats and the trapped zoologists, Happy stayed behind to navigate them through the cave. The mechanical prodigy also has to look after Ralph, who is stuffing his face with candy, doing outrageous/borderline dangerous things. You are going to be a mother soon, Happy. Looking after Ralph might be good practice for you.
The part where Ralph tried to blow up four pumpkins at once with a syringe of chemicals made me facepalm. He may be a genius, but he's still a trouble-making little boy. Though I chuckled when Ralph danced with the skeleton model and said that "She's teaching me how to tango." Oh, Ralphy-boy. You never cease to amuse me, now do you?
Things then took a turn for the worst. The rest of Team Scorpion found Bryce, one of the missing zoologists. Only to discover that he is coming down with rabies from the bat attack he and his wife endured. Toby volunteered to take him to the nearest hospital but ended up at a clinic when the truck broke down. Seeing the resident shrink kick down the locked door of the clinic like a boss was awesome. That and the team using echolocation to find their way around the cave.
It was interesting to find out a little bit about Paige's childhood in this episode. At first, the liaison lied about what her family does on Halloween but came clean about it when Walter brought it up in the cave. I understood why she lied, but she is dealing with a group of geniuses. She should know better by now that they would see right through it.
Back to the mission, Walter and Paige managed to find the wife, Jody and got out of the cave with a makeshift bomb of bat poop, candy corn, and flares. Both husband and wife (and Sylvester, who unfortunately got bit by a bat) were cured of the rabies virus. The team then gathered in the garage for a fun Halloween party. Ralph thanked Happy for looking after him (as per Paige's instructions) and kissed her on the cheek. Toby made Happy a nice rocking chair for when the baby comes. Such a warm, fuzzy moment. Oh, and Ralph, don't ever eat too much candy ever again unless you want history to repeat itself! I'm also shocked that Agent Gallo was able to guess everyone's Halloween costumes (well, except Toby's).
As the episode ended, Walter was about to offer to go trick-or-treating with Ralph and Paige when the liaison announced that Tim was returning from his conference early. So much for a Waige moment. Though we got a glimpse of it, Walter tweaked Paige's Halloween story when he spoke to the Immigration lady. Emotions may be a difficult thing for the genius to handle, but when it comes to Paige, he can turn the emotions on like a switch. Kind of like how Lucifer would do anything for Detective Decker.
Photo via CBS
Scorpion Season 3 Episode 6 Review: "Bat Poop Crazy"
Summary
Team Scorpion works to save a colony of bats and Happy stays behind to babysit Ralph in this batty episode of Scorpion.