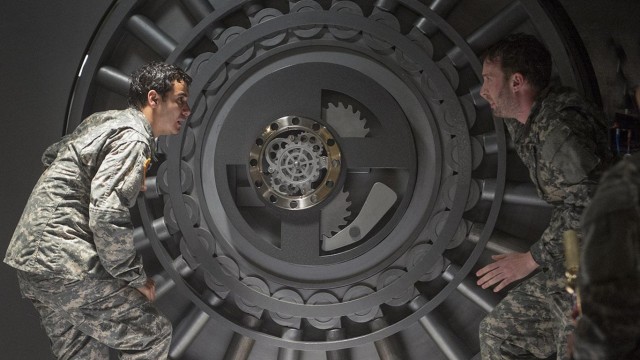 Fort Knox, the infamous gold and priceless artifact depository in the United States and Team Scorpion is going to break into it in this week's episode of Scorpion. Oh, and Ralph is going to defend his case against the thieving professor who failed him and stole the young geniuses' work with Heywood as his lawyer.
When Tim came into the garage with Agent Cook from the Department of Defense during the beginning of the episode, I had a sinking feeling that something was afoot after hearing that the latter wanted Team Scorpion to break into Fort Knox off the books. I figured that the break-in mission was a precursor to a grander scheme. I had hoped that I would be wrong but unfortunately, I was proven right after the team found out the truth about Agent Cook's motives in hiring them to break into Fort Knox to test its security measures. The Department of Defense agent obtained a small tube of Polonium, which, if fallen into the wrong hands, could kill millions of lives. I don't like it when a show gets predictable but it feels good to say "I knew it" at the TV screen.
The one facepalm-worthy scene in this episode was when Toby was second-guessing Happy's toolbox for scepter switcheroo idea. The resident shrink then mentioned that a certain fedora-wearing, whip-wielding archeology professor tried the same tactic and almost got flattened by a giant boulder. Walter then asked who Indiana Jones was and thought that he was a Senator, hence the facepalm part. Walter O'Brien, if I had my way, I would make you watch every single Indiana Jones movie till you get it!
Back to the mission, there were a few close calls for the team both before and after they broke into the underground vault. I thought that they were done for when they got caught by the guard. That and the part where Agent Gallo and Tim drove to the artillery range to stall the testing of the mortar launchers. I agreed with Agent Gallo when he said that someday Team Scorpion is going to give him a heart attack. At least, they were able to stop Agent Cook from leaving the base with the scepter and the Polonium thanks to Toby's pickpocketing skills. Score one for Team Scorpion!
Meanwhile, Heywood managed to win Ralph's case after the young genius looked through his code and found the bookmarks that he had put in as a failsafe of sorts in case something like this happens. When Heywood messed up the first time, I almost wished that Harvey Specter would swoop in and show him how it's done but beggars can't be choosers. My eyes were close to tearing up as I listened to Ralph talk about the meanings of the dates that he had put into his code. I don't cry easily when watching emotional moments in television or film so it takes a lot to make me shed actual tears.
Speaking of emotional moments, the ending scene on the garage roof was great. Toby and Sylvester are working together to get Happy's ring size which means there might be wedding bells in the future for Quintis, that is, if Happy says yes to Toby's proposal. Not to put a damper on anyone's hopes, but there is a chance that the mechanical prodigy will refuse the proposal should she feel that her and Toby are not at that stage in their relationship yet to even start thinking about settling down.
Walter finally got Linda to tell him the truth about her feelings toward him and the two decided to remain friends. Paige, on the other hand, got asked out on a potential dinner date by Tim, who is going to Seattle to see a specialist about his injured back. Should be interesting to see how Walter would react to the news. Maybe the genius will finally come to his senses about his feelings for the team liaison. You never know!
Photo via CBS
Scorpion Season 2 Episode 22 Review: "Hard Knox"
Summary
Team Scorpion breaks into Fort Knox in this week's great episode of Scorpion. Let's hope nothing goes wrong.