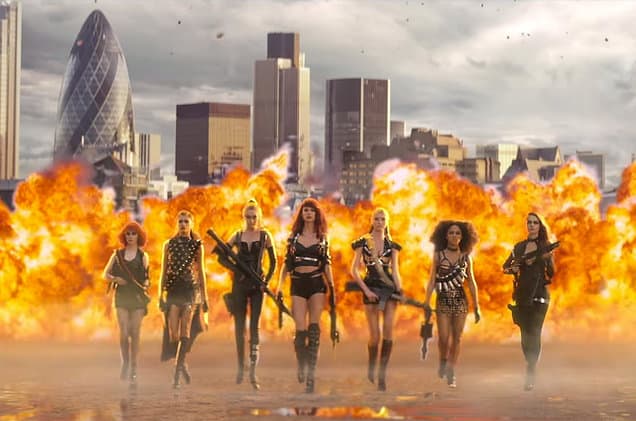 You don't want to just up and attack films for one reason or another unless those reasons happen to be sound and are agreed upon by a wide number of people. But some movies are just flat out bad, without redeeming qualities to speak of and no chance to ever make a comeback. Worse than this, if the musical score and/or soundtrack doesn't manage to lift the piece up at all then many people tend to stop watching after about halfway through if they get that far. Bad films can be lifted up at least a little by a killer soundtrack, but if the sound isn't there then there's nothing to be done for it.
Pairing a weak soundtrack with a bad movie is like dumping jet fuel on a raging dumpster fire. 'Nuff said.
5. Cool As Ice
Vanilla Ice was on a roll in the early 1990's and kept going for as long as he could milk the sound that drove people wild. Once he started getting into movies though one could kind of feel that the Ice had started to melt just a bit. This eventually revealed the former bouncer and lack of any real talent that Vanilla Ice really had. He cashed in early on the type of fame that would make him noteworthy and insure that his legacy survived, but the popularity that was supposed to go along with it faded out around the same time as the big paychecks he used to enjoy.
4. Justin Bieber: Never Say Never
No, really, we should all say never to this one. Bieber rode high on a wave of fame for so long that a lot of people had to wonder just what was going to happen when he finally crashed. Somehow he's still riding that wave, but it's gotten noticeably lower as it seems to be coming closer and closer to shore with each passing year. When he actually seemed like a wholesome teenager with an insane giggle and haircut that drove girls wild he was on top. As he got older though the innocent act kind of faded away to reveal the guy that had been banking on that act for so long.
3. Queen of The Damned
Are we seeing kind of a trend here? Musicians that wanted the spotlight a little too much started making the mistake of thinking that they would make awesome actors and could use that transition to boost their popularity. I'm not going to speak ill of the deceased, but Aaliyah absolutely rocked the scene when she was doing little more than music videos. Even her role in Romeo Must Die wasn't that bad. But her part in this horror flop was kind of regrettable considering that it seemed a little overplayed. The music didn't help the sinking ship that was this movie, and in fact might have just buried it a little deeper for good measure.
2. Crossroads
And the trend continues. Brittney Spears was a teenage icon for a number of years, and in fact she still resonated largely with teens even after she stopped being one. This film however suffered from a couple of major setbacks. One was that she did a lot of the soundtrack on her own. Two was that the movie was even made. It had a decent story and plot, but it was so overdone that you could likely fit all the fans that watched it into a single auditorium and might still seem empty.
1. Leprechaun In Tha Hood
How many different ways can we say no to this one? The first Leprechaun was ridiculous but it had the good fortune of not being seen before, so it was entirely forgivable. It worked as a campy horror film and actually sparked a couple of careers into being, but as far as Warwick Davis laying down a rap, um, no.
As bad as a movie can get sometimes, it's bound to get worse if the soundtrack isn't up to snuff.