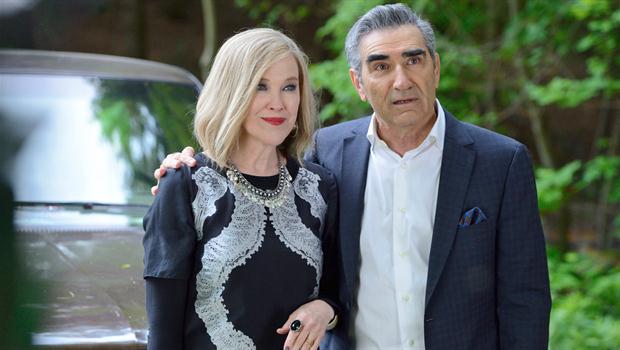 As boredom sets in for the Rose family in Schitt's Creek, the patterns each character expects from everyday life are falling away, and turning the family – whose love for each other already seemed pretty delicate – against each other. We've seen these familiar beats before on Schitt's Creek; but "The Cabin" is really the first that feels like it's building a bridge between who these people were and who they are, building out two of the family's central relationship in amusing, revelatory fashion.
What I really enjoy about Schitt's Creek is how honest the Rose family is with each other, and everyone else in the world: in that way, it's very much the polar opposite of Arrested Development, a show many critics (including myself) have compared Schitt's too. These people hold no punches and close no doors – the latter a literal phrase, which kicks off the plot of the episode when Daniel walks in on his parents trying out a daring new "position" at 8 a.m. in the morning (which is just incredulous to Daniel; his reaction is a riot). This sends the parents in search of a quiet place to enjoy each other for an evening, and the children in search of entertainment, both of which lead to hilarious results.
Most of Schitt's Creek has isolated characters on their own adventures to this point, and that has robbed Schitt's Creek of an important part of its premise: the idea of a family forcing itself to be close again in light of horrendous life circumstances. "The Cabin" dives into this head-on, best seen with Daniel and Alexis, whose clashing, though endlessly similar personalities, make for a hilarious "game night" that consists of Alexis inviting random guys over so maybe she can make out with one, and Daniel constantly losing his temper over the weirdos Stevie invited (and Twila and Mutt!), pushing the two incessantly selfish children together, and watching how badly things turn out when they (surprise!) can't get along or agree about anything.
Not only does it show the begrudging attachment the two siblings have for each other, but it gives "The Cabin" room to build out the budding friendship of Stevie and Daniel, two people who've bonded over how much they hate the place they live – though Stevie still sees the comedic value in it, ironically. Her attempts to coax Daniel out of bed are endearing in a way Schitt's Creek has never been, bringing to the light the one thing Daniel's avoided that might make his time in Schitt's Creek worthy: human connection. He's as reluctant to the idea as Alexis is overly embracing it, trying to find some hot bearded guy to make out with, and continuing to fail, despite the fact she's the prettiest, best-dressed girl in town, and it finally brings their dynamic to light in a more poignant, meaningful way than previous episodes have.
The real highlights, however, are with the parents, of course. Johnny and Moira's foray to the wrong cabin isn't as rewarding narratively their children's plot – but thanks to the chemistry between Eugene Levy and Catherine O'Hara, these scenes are absolute comedic knockouts. Arguably the best moment comes at the episode's closing tag, when Alexis breaks down the bolt Johnny just put on the door between hotel rooms (without even noticing its existence, I might add), immediately shattering the blossoming role play happening between the parents. Their nonchalant reactions – particularly O'Hara's – are classic, and how the two fall right back into their role play after (even though the erotic angle is completely removed at this point) closes the episode on a comedic high note, tapping into the dedication of the two to enjoy their time in Schitt's Creek, a newfound resolve that can't be dampened by their children's bad attitudes, or the mayor of the town who won't stop making assumptions about their love life.
Like previous episodes, the first two acts of "The Cabin" are so slight, they drag a bit, landlocked by their absence of any kind of narrative or metaphorical thrust. The third act doesn't try to shed this persona so much as it tries to enhance it, slowly drawing out meaningful moments between characters, a subtle touch that doesn't quite turn "The Cabin" into some revered classic, instead setting the stage for Schitt's Creek to do some more exploratory storytelling (on a character level; every episode is about discovering a weird new angle of the town) as it continues its first season, hopefully giving the show a small touch of the dramatic momentum it deliberately (but unfortunately) lacks through its first five episodes.
[Photo via Pop TV]