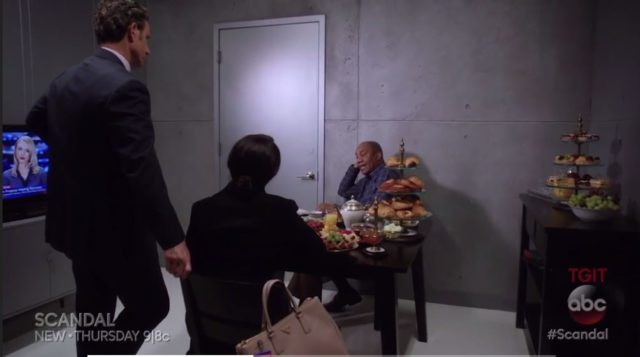 ABC has released a sneak peek for the upcoming episode entitled "Mercy." In it we see Liv and Rowan having dinner, before Fitz coming in and interrupting. Rowan isn't happy about being stuck in his room. He wants to leave, disappear. No one will find him in Zanzibar. After all, they didn't find Liv there either. Rowan also calls taking on Peus and Mystery Woman a suicide mission. He just wants out.
Some things that are worth noting in this sneak peek:
When Fitz gives Liv a kiss, it looks a little forced. Liv definitely did not look happy with it. Was it because they were in front of Rowan? Did they have an argument earlier in the episode? Or perhaps, did Fitz use the kiss to show Rowan Liv is on his side? Also, side note, based on the fact that there was a kiss, does that mean Liv and FItz are officially back together?
Initially, the room Rowan is staying in looks pretty nice. There's a bed, a TV, and a ton of brightly colored foods in front of him and Liv. However, if you look around, you'll see that the entire room is made out of concrete. There are no windows or any form of connection to the outside world, other than the TV. When he tries to leave, it's revealed that there are two security guards outside his door. He might as well be in prison. No wonder he wants to run and never come back.
There is obviously a lot of tension between Fitz and Rowan. Some of it is because Fitz has Rowan locked up in his room, but other parts are because of how Rowan sees Fitz. He's weak. He's not good enough for Olivia Pope.
Will Liv get Rowan to agree to take on Peus and Mystery Woman? Find out tomorrow.
Save