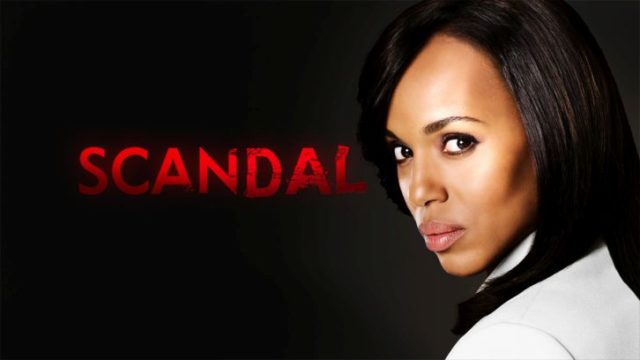 Conjecture and guessing games seem to be the order of the day when it comes to gripping TV shows any longer. Don't get me wrong, this is an interesting practice and gives the fans plenty of time to theorize and come up with their own unique and innovative theories concerning one of their favorite shows. Scandal is about to enter it's final season, a fact which many viewers lament but cannot halt at this point, and the change in Olivia is definitely one that some people might have seen coming but still were not prepared to deal with. Olivia is in the process of going dark, something you might not have expected but surely saw as a possibility.
What else can we glean from the image below?
The white hat.
The white hat is traditionally used to denote the hero in any film or TV show. It's been a mainstay for so many generations that putting a white hat on a villain is considered a major faux pas when it happens, even though it's been done intentionally several times. The white hat is meant to indicate the good, the role of justice, and the need for order and decency in a chaotic climate. But it can also be a cover, a fashion statement, and many other things that defy the conventional and traditional roles. In this case it could be construed that Olivia is still capable of turning herself away from the darker aspect of her nature, at least in theory.
The large purse.
What do purses hold? Well, let's not get into that. The idea is that they hold secrets, the unknown, and the very real probability of danger that could possibly alter the course of a life in an instant. Of course it could just be a common purse and the creators could be messing with us. But come on, after six seasons do you really think that's the case? It would be ironic indeed if the purse as innocent and not the opposing side to Olivia's possible redemption. Remember, she's had to be dark and secretive for her job, and last season she went very dark to make things happen.
The moonlight, the monument, and the bench.
The soft repose in the moonlight overlooking the Washington monument could be a testament to the fact that the season is ending and it's time for a bit of reflection. It could be Olivia's moment in which she comes to understand just what it is she is doing, and the reason behind the path she will choose to take. Washington DC is known for politicians and other individuals that enter the capital with the best intentions. One compromise after another however they slowly end up becoming the very thing they once railed against. Olivia could easily be wondering just how far she will go to obtain whatever it is that she wants. Power has a way of turning even the most noble of hearts.
The final season of Scandal will be here on October 5th.
You want @ScandalABC's final season key art, we have it! The 7th season premieres Oct. 5 at 9pm. #TCA17 #itshandled pic.twitter.com/A2ZGiZTyun

— ABC Publicity (@ABC_Publicity) August 6, 2017
Save
Tell us what's wrong with this post? How could we improve it? :)
Let us improve this post!