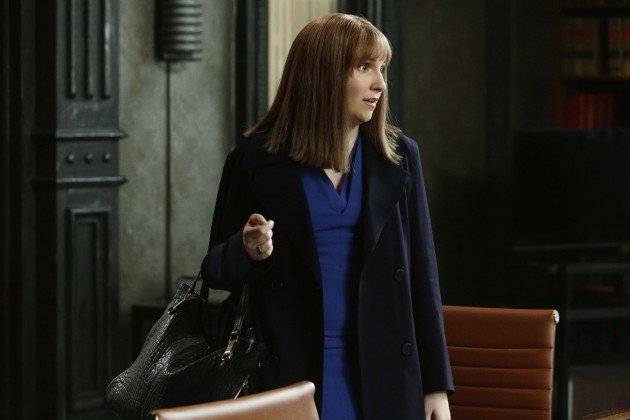 After much speculation and debate about a wig, Lena Dunham's episode of Scandal finally aired, and the audience was treated to an excellent and bold hour of storytelling.
Scandal's latest installment begins with Abby retaining OPA's services. As it turns out, she needs to help her paramore, Leo, whose escapades with a woman, "Kinky Sue," are about to be published in a memoir she wrote. The catch is that alongside Leo, there are other powerful men who might be involved in the scandal waiting to happen. Not giving it a second thought and sticking her neck out to help her friend, Olivia pays a visit to Sue (Dunham and the wig) and proceeds to basically scare the life out of the expose author.
The scene has many rich layers to it. To start with, as soon as Sue sees Olivia she has a "fangirl moment," which is both meta and adorable. Then, Liv's oratory in order to persuade Sue to remain silent is very reminiscent to Season 1, when Olivia employed her scare tactics with Amanda Tanner, and we all remember how that ended up, right? Amanda went from terrified person to client, to dead body. From the get go, after seeing the crisis manager and the writer's encounter, my fear was that the pattern could repeat.
While DC's favorite fixer believes to have handled Kinky Sue, other subplots get some minor, yet consistent development. For instance, Jake and Fitz seem to be bro-ing it up at the Oval office, after the POTUS has given Ballard the task to spy on Liv. It is cute to see both men sipping whiskey and discussing the woman they are both in love with. It is also a little bit cheeky. In parallel, Mellie has decided to run for Virginia's Senate position, in spite of Cyrus's disapproval. I know this is wishful thinking, but every time Mellie's arc is brought up, I, in vain, hope at some point there will be a mention of Argentina's current president, who, like Mellie, used to be the First Lady.
Before Liv and co. move on to another case, Sue pays a visit to OPA, where she not only announces that she will move forward in her efforts to publish her X-rated tell-all (unless she is paid $3 million), but also schools Olivia, when the protagonist tries to shame the author. Seeing Lena Dunham's Sue take a stand and put the crisis manager in her place was delightful. Also, I don't think anyone has ever called Ms. Pope a "dried-up prude." As much as I love Olivia, Sue was absolutely right, not to mention that the crisis manager's approach was patronizing, and not a word short of bullying. I believe a big part of the viewership felt the urge to high-five Sue. I, for one, did.
Having to find a way to do damage control and neutralize the threat that Sue represents, Olivia and the Gladiators first steal the memoir's manuscript, with the help of unlikely ally, Charlie, and subsequently try to decode what men are mentioned. What comes as a twist is that even David Rosen made the cut, which has many implications, the most vital being that the D.A.'s career would never survive the scandal. Considering the current developments, that would also mean that Abby's former flame would not be able to go after B613, let alone grant Huck immunity. Zippers can be more dangerous than guns.
The men from the book are summoned at OPA, where their power and alpha-male qualities are worth absolutely nothing. They are all scrambling and scratching their heads restlessly, which, I'll admit, was sublime to watch. Leo is up for taking the easy road and paying Sue to keep her mouth shut; however, some men claim not to be liquid enough. Ultimately, it is David, who wears the whitest hat, tells everyone that they are being blackmailed, which is illegal, and that they can't go along with it. Somehow, they collectively decide not to kill the book, which, I have to admit, was very hard to believe.
While Olivia and the Gladiators decide to find another way to approach Sue, Abby, who knows for a fact that her partner's scandal might smear her career more than his, delivers one of the episode's best speeches, and probably Abby's best. She is right on-point when she mentions that all her accomplishments are somewhat cheapened by being some man's girlfriend. Shonda Rhimes and her writing staff once again nail the social commentary about the world's current state.
After not giving up, Liv, Huck, and Quinn find a new angle that might help them convince Sue to not publish her soon-to-be best-seller. They dig up her employment history and discover that she was sexually harassed by her former boss, fired after filing a complaint, and subsequently blacklisted, which left her with no chances of getting employment. Olivia offers Sue her help so that she get justice in exchange of the memoir being buried. Sue agrees; however, the result is too good to be true, and as Quinn and Huck go see the author, they find one of the men she almost exposed holding a knife to her throat. The Gladiators save her, but when the almost killer leaves, Huck slashes Sue's neck. It's game over. Quinn is initially shocked, although when Huck tells her that he needs his immunity and that killing the woman was a preemptive measure since she would eventually talk, she decides to cover for him. Even when Olivia confronts her, she asks her boss to let go of the situation in order to protect their family.
"It's Good to Be Kink" was another well-rounded episode in Scandal Season 4. However, it is easy to foresee that there will inevitably be some backlash in regards of Huck's actions.
Highlights:
– Taking advice from Sue, Olivia decides to take command of herself as a sexual being. Though a bit rushed, the arc is bringing back the sexy element that made Scandal so enticing from the get go.
– Cyrus trying to buy the book with the excuse of helping Abby almost fooled me, and I still choose to believe that he holds affection towards the redhead. However, his ulterior motives of having dirt on powerful men were exquisite. The Chief of Staff rarely misses a beat, and we love him for it.
[Photo via ABC]