If each week has a different case front and certain, I would almost certainly put Olivia Pope and Associates as the main mention. I know that the case of the weak was the South American dictator whose wife was thought to be kidnapped, but compared to everything else that was going on, his story was C-line at best.
We open up with a chaotic Liv calling Stephen to her apartment at wine with 3 AM. She has forced multiple pregnancies upon Amanda and as suspected, they were all positive. I loved Stephen's unblinkingly loyalty to Olivia that he would drop everything and show up in the middle of the night. However, I really thought he knew about her affair with the President. Perhaps he does know, but won't say it outloud until Liv does?
This is the second time he has made a mention of how this case is too close to home for Olivia to take on. It seems as if he is more clued in than the others. The conversation couldn't go much further because Quinn called and said there was an army at the office.
I'm not sure exactly why Olivia would choose to take on work from a man like the dictator, but I suppose there was a history and there are reasons. Liv is nothing without her reasons. One of the defining moments of this episode was when Abby stepped in and told Olivia she was making the wrong decision to not get involved and help the wife get out of a bad marriage.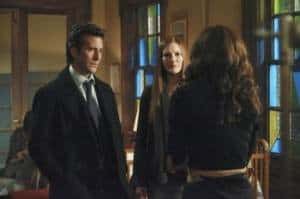 What I loved the most about this episode was the background we finally got on the crew at Olivia Pope and Associates. It was done in a clever way, with Cyrus declaring war on Olivia's staff and his staff digging up everything they could. Also with Abby's speech and eagerness to help the dictator's wife, we learned that she ended up with Olivia by way of an abusive divorce.
Last week I couldn't really understand why Cyrus was being so harsh on Olivia, but now I think I can. As he was quoted saying in one of the first episodes, they created a President together. Now she is about to take on some random White House Aide's case seemingly as a revenge point against President Fitz. Her case could wreak all sorts of havoc and why is her loyalty suddenly to anyone but him?
Well we know why, but for Cyrus who was in the dark about the affair he was furious. Cyrus's rant to the President was another awesome speech that happened in the course of "Enemy Of The State."
As Olivia's office prepared for battle, Amanda Tanner prepared for a batter of her own. After a shady phone call to an unknown recipient in which she declared she couldn't lie to Olivia anymore, Amanda was abducted from Olivia's apartment. Who took her and why? Tune in to next week's all new episode of ABC's Scandal.
Tell us what's wrong with this post? How could we improve it? :)
Let us improve this post!