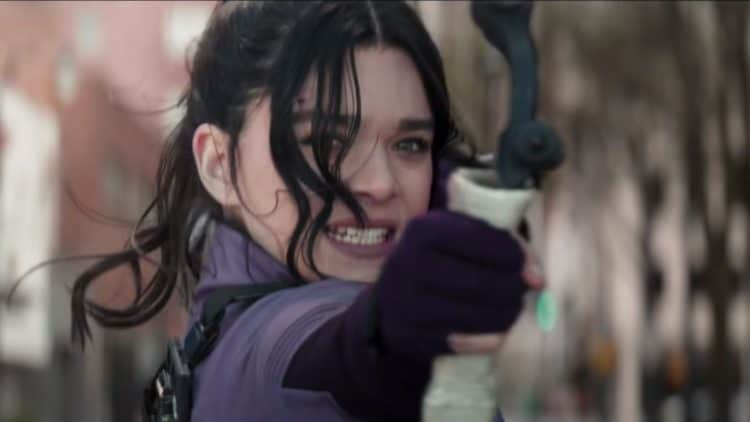 Out with the old and in with the new. That's where Marvel is going with Clint Barton and Kate Bishop. I still remember seeing Jeremy Renner debut as the character back in 2011 when Thor came out. It was quite the surprise and he's been killing it as the Avengers' eagle-eyed archer ever since. Now in the first Avengers, he unfortunately spent half of his screen time under the spell of Loki. I wasn't too bothered by it, especially since we got to see the true extent of his skillset in the final Battle of New York. He was cool, he was highly skilled, and he served as the team's human element. And of course, his ability to deliver quick comebacks in just about every situation was just hilarious. Even with his questionable character development in The Avengers, Clint Barton quickly became a fan-favorite. Needless to say, Clint Barton is one of the founding members of the Avengers and has been around since the beginning. So, it will be possibly be very heartbreaking to see how his journey ends. I mean, we've seen what has happened with the other founding members of the Avengers, and so far, Clint and Bruce Banner are the only active members remaining on Earth. Well, the Hawkeye series on Disney+ is right around the corner and will feature the debut of Clint Barton's protege, Kate Bishop.
Now just who is Kate Bishop? When I first saw her in Marvel Comics, she was on the side of the anti-registration heroes in the Civil War series. Her role was minor, but she served as a suitable replacement for Hawkeye. And just what was Clint Barton up to? Oh, just operating behind the scenes as the ninja-looking vigilante known as Ronin. Endgame vibes, anyone? If you want to see more of Kate Bishop, check out the Young Avengers: Children's Crusade story and you'll see her interact with other young heroes. But that's just it, she's a pivotal member of the Younger Avengers team. Speaking of which, it looks like the Marvel Cinematic Universe is building up to that team, very similar to what they did with The Avengers. They already started with Speed and Wiccan, the two sons of Wanda Maximoff and Vision. Are they even real? I guess we'll find out when the Doctor Strange sequel releases next year. But Marvel took a step further by low-key debuting Elijah Bradley in The Falcon and The Winter Soldier. That young man is known as Patriot, who is basically the teenage African-American Captain America.
Again, that was just low-key, but I'm sure Marvel will do more with him in the near-future. By more, I do mean the Young Avengers. The biggest step they're taking to go in this direction is the debut of Kate Bishop, who often acts as the second-in-command behind Patriot. Why her? Well, I'm sure we'll find out when the Hawkeye show premieres, but if you've seen her in the comics, you'll know full well. Kate Bishop debuted in Marvel Comics back in April of 2005, and soon took up the Hawkeye mantle after Clint Barton was killed. Of course, the death of Clint Barton didn't last too long, but it didn't stop Kate Bishop from earning her bow and arrow and the Hawkeye name. She quickly became one of the original members of the Young Avengers, but she stood out among the rest. This was due to her independency, her quick and sarcastic wit, and her rebellious attitude. The best example of that is when she actually told off Captain America to his face after he refused to train them.
As noted to her by her therapist, the very familiar Jessica Jones, the only other person to do that is her mentor, Clint Barton. This is what cemented Kate Bishop's status as a worthy candidate for the Young Avengers. Heck, it's actually why she's often the driving force of the team and pushes them to make the right decisions. She truly is a remarkable character and there's a reason why she has such a close bond with Clint Barton. This is everything we need to see in the Hawkeye series, on top of it being a worthy send-off for Clint Barton. The man has his family he wants to get back to, so retirement is an option for him that makes sense. As for the casting of Hailee Steinfeld, I do think it's a very good casting choice. My only concern is that I haven't really seen her act in a manner similar to the Kate Bishop I'm familiar with. She often plays the young and innocent girl who often ends up in the wrong place at the wrong time, but I can see that in her performance just by watching the trailer.
Granted, this is a rookie Kate Bishop who is operating solely out of naïveté and hero worship. We can already tell by the trailer that she is reckless, inexperienced, and has the over-achiever mindset. That's all good, because that's exactly how Kate Bishop thinks. Since this is a fledgling vigilante operating to honor her hero, she certainly means well and does have crazy archery skills. However, as Luke Skywalker said to the Mandalorian, "Talent without training is nothing." That's a phrase that should stick with everyone. With Clint Barton coming in to help Kate Bishop hone her archery skills, she is slowly getting ready to take up the Hawkeye mantle. What I'm most interested in for her character is seeing her become the quick-witted rebel she is in the comics. That's what makes her such a cool character and precisely why she can lead the Young Avengers. Speaking of that, she is also good friends with her fellow teammate, Cassie Lang, better known as Stature. We all know she'll be making her debut in the third Ant-Man movie and she'll become Stature. That's good news, because it heavily implies that the Young Avengers in the MCU are on their way. If they indeed are, then Kate Bishop is an ideal candidate to lead them and be their voice of convincing to be heroes.
Tell us what's wrong with this post? How could we improve it? :)
Let us improve this post!