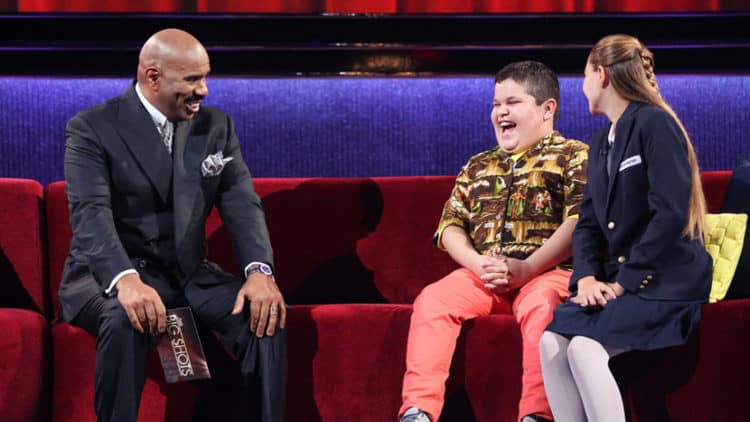 Our kids are the future. Little Big Shots is an American TV show featuring impressively talented children. Created and produced by Steve Harvey and Ellen DeGeneres, Little Big Shots premiered in 2015, and the fourth season premieres on February 24, 2020 with Melissa McCarthy as the new host. Watch the next generation of extraordinary young people from across the country and the world show off their talents and share their stories. Then celebrate optimism and resilience while laughing your head off with but not at these charming kids. Authentic, unpredictable reactions make the best kind of television. The show may be mostly about kids, but their wisdom goes far beyond their years.
What is Little Big Shots?
Little Big Shots on NBC is an unscripted television series dedicated to featuring children to show off their special talents. There are no judges or prizes, just a clever host surrounded by talented kids. Each seasons consists of a series of one-hour episodes that feature the "most inspiring and hilarious kids from all corners of the globe" according to NBC (https://www.nbc.com/little-big-shots). The host showcases each young musician, dancer, or artist of any kinds, then goes head to head with them in conversations, interviews, and games.
Who are the kids competing on Little Big Shots?
When you hear about the talent on Little Big Shots, you might think the kids are older. Actually, they're quite tiny and quite young, but their talents–and their hearts–are huge. Expect to find extraordinarily talented musicians, artists, and scholars. From young experts in subjects like geography, anatomy, or Shakespeare to pint-sized cowboys, snail whisperers, and professional animal callers (some of the second season's special acts), no two kids are the same.
Believe it or not, these kids are undeniably talented. Little Big Shots is famous for unforgettable performances. Some of the most notable exhibitions so far include Evinka, the eight-year-old boxer from Kazahstan, who showed off her impressive strength regime on air–206 punches in 30 seconds, and Han Jiaying, the five-year-old animal hypnotist, who hails from China and came on Little Big Shots to make unruly animals fall asleep with nothing but her words. Or take a look at Trick Shot Titus, the four-year-old who can shoot hoops from all kinds of crazy distances and boasts his own Youtube channel.
Notable season three acts included a pint-sized aerialist, golf prodigy, soap bubble artist and experts in astronomy, archaeology, and mathematics. The show also featured all kinds of musically gifted children showcasing everything from pop to opera.
Little Big Shots on NBC: Reviews and Ratings
Little Big Shots is a popular family show and has been impressing viewers with its humor and inspiring stories told by these little kids for three years now. As a platform for talented kids to express their hidden–or not so hidden–talents, Little Big Shots has something for everyone and is guaranteed to produce a good laugh.
Co-creator and host Steve Harvey was nominated for an Emmy–Outstanding Host for a Reality or Reality-Competition Program–in 2016. The show won Top Television Series at the ASCAP Film and Television Music Awards in 2017, and has been nominated for a selection of other awards including "Most Inspiring TV Program" (MovieGuide Awards) and "Outstanding Reality Program (NAACP Image Awards).
Little Big Shots has been a big success for NBC. The show performed particularly well during its first season on air, beating out most every other show on The Peacock Network and only falling behind NBC's The Voice. NBC wasted no time renewing the show for each season thereafter, and the show performed similarly well during the second season. Even though the third season was down in ratings from the previous two seasons, NBC still picked up the show for another season. With host of three years Steve Harvey out and new host Melissa McCarthy in, the new season promises new and exciting changes.
A New Host is Here on Little Big Shots for Season Four
With a constantly changing lineup of kids, Little Big Shots never really gets old. The upcoming season also marks the introduction of a new host: Melissa McCarthy. McCarthy will replace Steve Harvey as emcee for the talent show. Harvey co-created and produced the show alongside Ellen Degeneres, in addition to hosting the past three seasons of the show with a very positive reception. He received an Emmy nomination for the series in 2016. Producers hope that McCarthy, an incredibly accomplished performer and comedian in her own right, will follow in Harvey's successful footsteps while bring her own style and unique perspective to the show.
NBC has shut down any rumors of bad blood with Steve Harvey, speaking only to the excitement of having someone new on the show. "Everyone around here is just incredibly excited to have [McCarthy] at NBC," NBC Entertainment co-chairman Paul Telegdy told reporters in 2019 when the decision to change hosts was first announced. McCarthy will appear at the start on season four in early 2020.
Little Big Shots is Fun for the Whole Family
Little Big Shots is always a fun, family show. The kids are the true stars of the show. Whether you're watching with the whole family or by yourself to unwind after a long day, Little Big Shots is a safe choice. The kids on Little Big Shots are sure to be not only talented but also fabulous and very funny. From promising singers and dancers to youngsters with encyclopedic knowledge of US presidents and everything in between, you just have to watch Little Big Shots to experience the magic.
Season 4 on Little Big Shots promises more incredible talent and heartwarming inspiration from these extraordinary kids on Little Big Shots. Watch Little Big Shots on Mondays at 10/9c on NBC. Little Big Shots shows us that you don't have to be big to be a big deal.