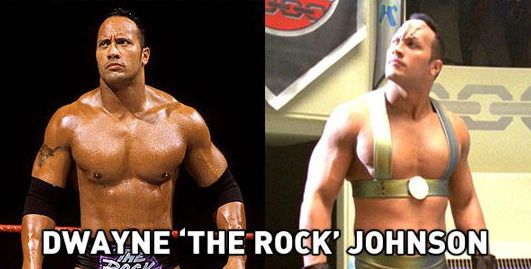 Remember how the other day we shared a video of Dwayne Johnson reflecting on his first movie performance in The Scorpion King? He's able to laugh at it now because he's a huge star and looking back is certainly humorous. However when you talk "embarrassing roles" that's pale in comparison to the picture you see above. I'll bet most of you didn't know that "The Rock" appeared in Star Trek on television.
As it turns out there are a lot more famous people out there who had appearances on Star Trek. There are a handful of photos that show actors whose careers are clearly just starting out. However, there are also a number of appearances where you can 100% tell that the famous actor appearing must have been thinking "I have to be in at least on Star Trek episode, how could I not?"
Either way it's amusing to see this collection of famous actors who at one time appeared on Star Trek. It's hard to pick a favorite here but I'm pretty sure that when I see Iggy Pop in anything on television or on the big screen I get a kick out of it. Seeing him as an alien in Star Trek? That's tough to beat.
Check out the photos below: