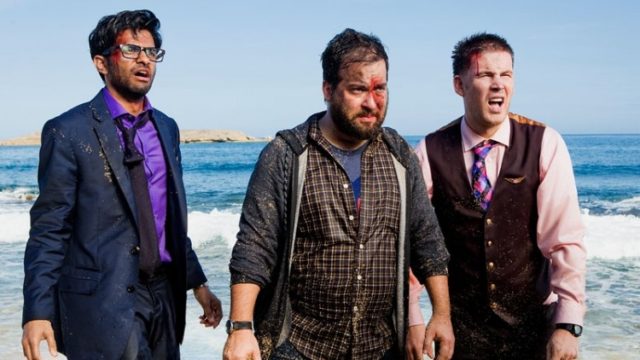 Many people assume that comedians are able to easily transition to shows and films given their ability to perform and entertain audiences. However, few comedians have the acting ability to make it in high profile productions. One comedian who has seen incredible success in both industries is the talented and unique Asif Ali.
With a distinct storytelling comedy style, Ali has earned thousands of fans around the world for his stand-up. He has also begun to make a name for himself on television and in film. Currently, he can be seen starring in the new hit show Wrecked. Given his relative inexperience as a professional actor, many may wonder about Ali's background. Here are five of the most interesting facts about this talented performer.
5. He has appeared in some of today's biggest shows
Naturally, a distinguished comedian like Ali is accustomed to performing in front of large audiences. This may have prepared him for appearing on massive productions like Modern Family and Agents of S.H.I.E.L.D. With his role on Wrecked, Ali is proving once again that despite having much more experience as a comedian, he is confident and capable enough to perform in television's biggest productions.
4. He has performed all over the world
While many successful comedians are content with touring their country, Ali has taken his skills to many different parts of the world. His routines are so hilarious and popular that he has been able to travel the world doing comedy. Some of the places he has worked in include South Africa, England, Canada, and the Middle East. While he is just now emerging as a television star, Ali has already entertained thousands of fans around the world with his unique brand of stand-up.
3. He created a popular web series
Ali may be best known for his stand-up, but he has also used his talents online. Together with Fahim Anwar, Aristotle Athiras, and Hasan Minhaj, he created a popular sketch comedy web series called Goatface Comedy. Clips from Goatface Comedy have been featured in some of the most prestigious and notable publications in the US. These include the LA Times, Huffington Post, NY Post, and Funny or Die.
2. He uses his talents to help others
Although Ali is a highly successful comedian and actor, he still manages to find time to help others. One of the most notable examples of this is coming up later in June. Ali will be performing at the first "Comedy for a Cause" event in LA. This event has gathered successful and generous comedians like Ali to perform in a charity event which is raising funds for education programs. These programs will help support women's education in countries like Nepal, Sri Lanka, and Tanzania. Despite his status as a rising star, Ali remains grounded and aware that there are many people who need help.
1. His upbringing informed his comedy
Comedians are able to shine a spotlight on many things which are otherwise difficult to talk about. Ali's comedy, for example, was developed through years of attempting to explain his family's background to his friends. Growing up as an East Indian in Arizona, he developed an incredible sense of humor when trying to explain his heritage to others. While his humor is accessible and hilarious for everyone, it initially emerged because of how difficult it can be to discuss serious matters. He is a perfect example of how diversity, humor, and education can be wrapped up into a single performer.
Final Thoughts
Asif Ali has had a long and distinguished career as a stand-up comedian. Lately, he has made a name for himself as a talented actor, appearing on some of television's biggest shows. Despite his ever-growing fame, he remains humble and generous enough to perform in charity events. With his role on Wrecked, Ali is sure to remain in the spotlight, entertaining fans for years to come.
Tell us what's wrong with this post? How could we improve it? :)
Let us improve this post!