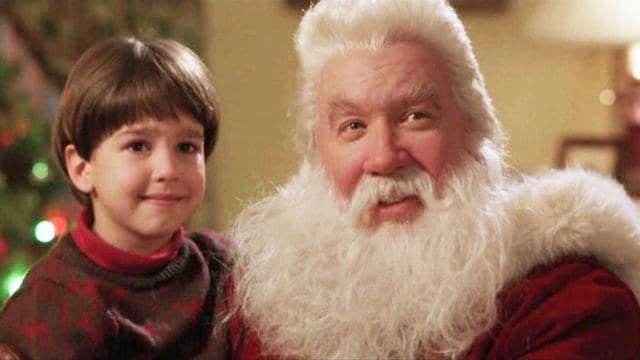 You simply knew it had to come down to this since it's Christmas and The Santa Clause has come to exemplify the holiday since it's release. The Honest Trailers folks have targeted this Tim Allen classic and now it's just a matter of seeing what they have to say about it. And I'm back and I'm laughing because the only other option is to pull away from The Santa Clause in disgust thank to the Honest Trailer and how it tends to expose every little thing that might be flawed with a movie. Laughter seems a lot healthier at this moment since it allows me to think that while the people that make these might not really have an issue with the movies they certainly know how to pick them apart at the seams and unravel them like a favorite sweater.
Sigh, so where to start?
Yes, there are a lot of jerks in this movie and unfortunately a lot of them are leading characters. Charlie unfortunately doesn't have much of a choice since he's kind of caught between his parents, and Neil of course. Scott and his ex are like cats going at it half the time no matter who's in the right and Neil is, well, Neil is just Neil. He's kind of there to fill a spot despite the fact that the actor is one of the more well-known faces in the movie. It's not the first time he's been cast in the role of a jerk though so it's not entirely awful to see him in such a position. Of course he becomes a little redemptive throughout the movie and by the sequel and the third movie he's pretty much become the goofy nice guy. But moving on.
Can it really be called murder of any type if Scott just yelled at the guy on his roof before he tumbled down to the ground? I mean calling the cops might have been a good idea, but then the suit would have been as empty as Kenobi's robes by the time they got there. Plus Scott might have had a child endangerment charge levied on him by allowing Charlie to go racing up the ladder (how else could he have gotten up there so fast?) and approaching a pack of animals that had no earthly business being on a person's roof. So yeah, maybe not calling the cops and going to inspect on his own was the better idea.
But then getting in the sleigh and eventually putting on the suit makes no sense considering that it could have been crawling with anything or had the funk of the last owner still in it. You see where this Honest Trailer is going? Plus entering someone else's house, almost assaulting their child, and then throwing a toy at the tree and frightening the poor kid seems a little beyond Disney standards, but since it's Tim Allen it must be comical.
Sigh and double sigh. Honest Trailers make a lot of sense but they sure suck the fun out of movies sometimes.