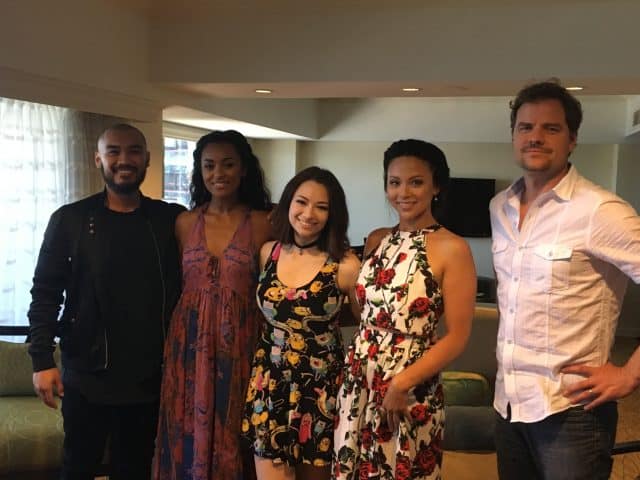 I had the fantastic privilege of spending five days last week at San Diego Comic Con. It was my first time attending the convention, and I had an absolute blast. During my time there, I got to speak with some of the cast and crew of SyFy's Dark Matter. If you haven't heard of it, it's an awesome science-fiction show, set in space, now in its second season, that you should definitely be checking out.
I was able to sit down with Dark Matter cast members Melissa O'Neil (Two), Anthony Lemke (Three), Alex Mallari Jr. (Four), Jodelle Ferland (Five), Melanie Liburd (Nyx), and Executive Producer Jay Firestone to chat all things Dark Matter. They were all extremely fun, kind people, and I gleaned lots of insights about working on the show.
One of the main things I wanted to know is how the cast was affected or change by the loss of (Spoiler Alert) One in the Season 2 premiere. "Marc Bendavid is playing the new Captain America, so there was a scheduling conflict", Anthony Lemke joked. Executive Producer Jay Firestone had a little more information about what went into the decision. He said, "Season One I wanted to kill one of the characters, and they were all great, and they were all discovering who they were…so we didn't kill anyone Season One."
"In season 2," Firestone continued, "I said 'I'm doing it in episode one.'" But what went into it? "It was really just going through what arc all the characters had and which [death] was more necessary for the show. In the end [One] was the easier character to lose."
"But we spent a lot more time on the other characters as a result, which was a great thing," Firestone added.
It sounds like, though it was necessary for the show, One (and Marc Bendavid) will be missed. "He's the person that brings people together," Liburd said. Of course, fans shouldn't forget that Jace Corso, also played by Bendavid, is still very much in play.
After talking about losing One, I asked them how the dynamic has shifted with the cast shuffling. "The dynamic is a little different because people are different," Lemke said. However, they all insist that the environment on the show has stayed true to what it's always been: Fun. "It's a blast working on Dark Matter," said Melissa O'Neil. From my brief time hanging out with them, that's certainly the impression I got. It made ME want to work on the show.
Jay Firestone added:"We have a bunch of directors who pick our show over other things. In fact, I wont say who, but one of our important crew heads was offered [the CBS Reboot of] Star Trek. He said 'If I go on Star Trek there are going to be five people telling me what to do.' He said 'You give me a lot of freedom, you give me a lot of independence, and that's why I'm here.' And I think that's why the show is good."
Everyone seems to appreciate the freedom given to the cast and crew on set. Shooting Dark Matter has a lot of key differences from other shows in their day to day operation. On that, Lemke said, "16 hour days never happen. People yelling at each other never happens". Mallari chimed in also, saying "We're constantly rooting for each other on set". Their dynamic of 'freedom' allows the cast to improvise, and work collaboratively to improve their own characters, each other's characters, and the show. "There's no other show that has that freedom", said Firestone.
It seems that the freedom and relaxed nature of the show is conducive to organic writing, too. "When there's a chemistry…we start writing to that", Firestone said.
Of course, before I lost them, I needed to find out what was coming next on the show. Here are a few insights that I gleaned about a few of the characters, straight from the actors themselves:
Nyx: "At the moment she is kind of trying to integrate her way on to the ship, and kind of build allies, for reasons that initially change. Nyx has secrets," Melanie Liburd said. She added: "You'll find about Nyx's backstory in Episode 2.06". So make sure to be prepared to find that out, fans!
Two: "We get to see a bit of her origin story," O'Neil said. "We get to see a little bit more of Portia Lin, which we saw a little bit of in episode 3." "The arc for Two isn't so different than what we saw from her in Season 1…but the details, the minutia. There's stuff that you can't miss if you want to understand how the cogs work."
Five: Five has to deal with all of the changes since the end of season one, which results in a lot mistrust of other characters. Jodelle Ferland had this to say: "In the second season, you see her trying to deal with the betrayal from Six. I think at the end of the first season, she pretty much considered him to be her best friend." But Five, as those who have watched the show alongside me have seen, is really having a breakout year. "She's come so far. She just keeps getting stronger", Ferland said. She also shared that her favorite part of the season (so far) was her role reversal with Two, which was also my favorite episode of the season.
Melissa O'Neil also shared one of the key differences between the previous season and the current one: "The biggest difference from last year is that last year we had a lot of ensemble episodes. This year we see a lot of solo adventuring, lots of duos, and trios, splitting off and doing their own things. We're not coming together as frequently as we were."
For fun, before we ran out of time, I asked the ladies what panel they would attend if they were attending Comic-Con as a fan. Jodelle said Doctor Who, Melanie went with Game of Thrones, and Melissa said Orphan Black, Big Bang Theory, or anything with Patrick Stewart.
The cast of Dark Matter was extremely fun to talk to, and they were all extremely kind to me in my first ever Comic-Con press event. The insights provided me really have enhanced my viewing experience, and hopefully they do the same for you. If you have not checked out Dark Matter yet, I highly recommend that you do so. It's a really fun, complex show, and makes for great Friday night viewing.
Oh and if you're already a fan, don't worry. There was plenty of optimism in the interview room about a Season 3!
That's all for now. Be sure to check out Dark Matter, airing Friday nights at 10pm Eastern on SyFy.
Tell us what's wrong with this post? How could we improve it? :)
Let us improve this post!