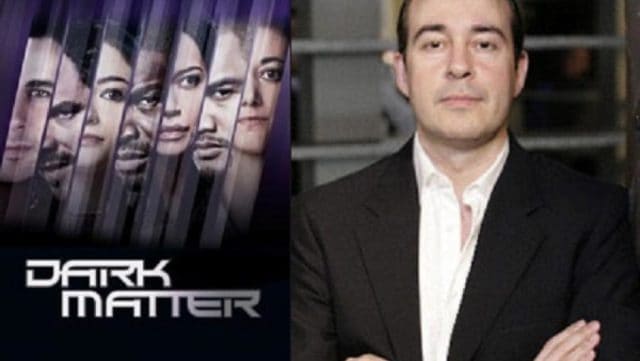 Dark Matter Season 3 "is a great jumping on point for new fans," showrunner Joseph Mallozzi told Syfy Wire last week. Mr. Mallozzi is best known for his prior work on all three shows in the Stargate television franchise. "…We have a couple very funny episodes. And just in terms of coming in new… to the series, those are the types of episodes I think really win over first timers." Dark Matter is a show about starting over. In the pilot, six crew members awake on the apparently derelict starship Raza, retaining their skills, but no memories of who they are or how they got aboard the ship.
"At the end of the day it's a fun show." said Mr Mallozzi. "It's a show with a sense of humor. It's a show with distinct characters who you like for different reasons… This is a show where there are six or seven very distinct characters. Different people have their favorites, just because the characters are so different." One might say this is a show with something for everyone.
Along the way in the first two seasons we found out the Raza crew used to be criminals and mercenaries. In their present, even though the crew choose to act nobly and heroically, their past misdeeds often nip at their heels like wolves pursuing prey. Season 2's finale cliffhanger showed the crew of the Raza attempting to prevent a war among the interstellar corporations. In Season 3 that corporate war forms the backdrop for the adventures.
In the foreground of Season 3 is the Raza crew's new enemy: former crewmate Four. "Thematically, at the heart of Season 3 is this notion that their former ally and friend is now their fiercest enemy," Mr Millozzi said. How would you feel if your fiercest rival knew your next move before you did? Or at least, seeing your chosen course of action, your rival knew how you would go about it, and could easily sabotage or defeat you? "In the case of Ryo Ishida [formerly Crewmember 4 of the Raza] what's very interesting is that he knows them better than they know themselves." Mr Mallozzi continued. "He knows what they were like before the mind wipes." It would be kind of like having your exwife, exhusband or exlover competing against you in a business deal.
In the case of the Raza crew, their situation is actually worse. They only know Ishida as Four; they only know him for the last two seasons of adventures. Apparently Four/Ishida has recovered his past, his memories and his status as emperor of a planet. And the Raza crew don't know anything of who he was before they woke up in the pilot, or the resources now at his command. So, Four/Emperor Ishida has his former crewmates at a decided disadvantage.
"He [4/Emperor Ishida] knows things about them [the crew of the Raza] and that's something that going to figure in later in the season. He'll confront them armed with these secrets and some of these secrets are surprises. Some of them are huge revelations, sometimes ugly revelations, that our characters wish they hadn't heard." Mr Mallozzi said. It sounds like this Emperor Ishida is going to hit the heroes below the belt emotionally and physically. He'll hit them in ways that can hurt them and perhaps turn them against each other. Perhaps Four/Ishida will use his detailed knowledge to turn other parties and forces in the show against the Raza.
It will be interesting to see the challenges, Four/Ishida sets before the heroes and even more exciting to see how they rise to overcome them. Or don't. The principle characters in this show tend to act like anti-heroes, as well as heroes. Much like James Bond or Han Solo, sometimes they'll shoot first. They don't always rise to overcome challenges. Sometimes they're devious, not going straight at a problem. Sometimes they go around, slantwise or under. And, as we saw in the Season 3 premier, they don't always overcome.
"Three is a perfect year to come on board for Dark Matter. Action adventure. Twists and turns. Our trade mark shocks and surprises. Plenty of revelations." Mr Mallozzi promises surprizes for everyone — current fans, and new viewers alike.
Dark Matter's new episodes air Friday nights on Syfy, so check with your cable or satellite television provider. Recent episodes stream on Syfy.com, for the cord-cutters in our audience. Past seasons are available on iTunes and Amazon video. And of course we, here at TVoverMind, will continue to provide coverage.
Save
Tell us what's wrong with this post? How could we improve it? :)
Let us improve this post!