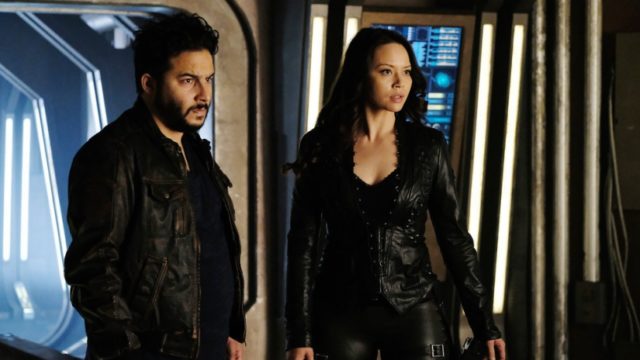 The season finale of "Dark Matter" season three aired on August 25, 2017. The episode titled "Nowhere to Go" showed us precisely what the writers are capable of and it was a mind blowing experience. Just when you thought you'd seen the best that they could dish out, they pull out all of the stops and leave us feeling a bit readjusted when leaving us for the long stretch in between now and the next season. Here are five things that we learned in the finale that will have to hold us over til season 4.
1. Ryo is alive
Some fans refused to believe that Ryo was really done on the series. It's tough to accept the fact that your favorite is not coming back, but those who believed that anything is possible were correct in their assumptions. Ryo Ishida still has a lot of story left to tell. Two was actually moving forward with the results of the vote that demanded the execution of Ryo, but Six came in and saved the day. This was a huge relief for Two as well as for fans who were on the edge of their seats.
2. Two brings out the big guns
Two is responsible for bring in in Commander Truffault and Mikkei to help in the effort to bring Ferris down. Mikkei has made some useful connections and formed strong allies out of previous enemies. Her use of a double agent that has been implanted within Ferris Corp is also going to make things go more in their favor as they attempt to rid themselves of Ferris once and for all.
3. Tralgaut is a dirty rat
After Three, Six and Two are captured, the new ally that Mikkei thought was a good bet turns out to be a mistake. Tralgaut betrays every single one of them. As the team attempts to deliver a powerful bomb to the shipyard, it turns out that Tralgaut had set them up from the beginning. What looks like an exciting venture with a high potential for taking down the entire structure, ends in bitter disappointment. Tralgaut had gone to Ferris Corp ahead of them and made them aware of the plan. The next dirty trick that he pulled is to give them a dud bomb that doesn't explode. We're thinking that Truffault has a lot to answer for. If it wasn't for Tralgaut's double agent turning out to be on the right side of the scuffle, they wouldn't have escaped.
4. Ryo is edging towards redemption
There are a few scenes that show Two and Ryo conducting the necessary banter that lays the foundation for amends. He's even more adamant about taking down Ferris, and he's doing all of the right things to get back to good. We're getting used to twists and turns and at this point in time, we've learned not to be surprised by anything that happens.
5. The numbers don't always add up
Well, perhaps this is a bit of a pun, but the series has taken quite a few twists and turns. There are more alliances and betrayals that we can keep track of. Six rescues Two, but then pulls a gun on her. There were a few theories that he'd been brainwashed again, but as it turned out, he just wanted to make sure that Two was actually Two instead of Portia Lin.