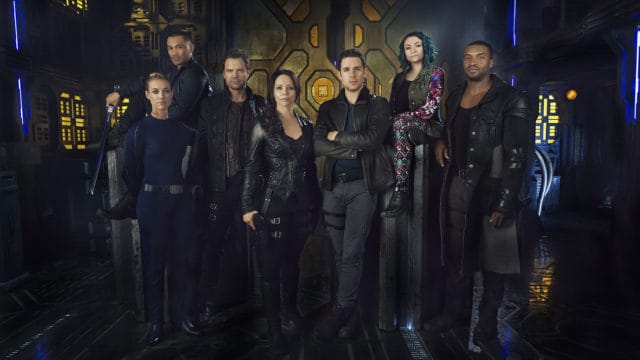 Edginess is something that sells. After all, there are a lot of people who are interested in edgier interpretations of their favorite genres, whether because they like the particular style or because of misconceptions about edgier being synonymous with increased maturity. Whatever the case, there can be no doubt about the popularity of edginess, though it is important to note that the term is so wide-ranging in nature that one person's interpretation can see significant differences from another person's interpretation. As a result, it is not unknown for people to have disagreements about whether a particular media project should be considered an example of edginess or not while making frequent use of similar media projects to make whatever point that they might be interested in making.
Is Dark Matter an Edgier Version of Star Wars Rebels?
For example, some people have suggested that Dark Matter should be seen as an edgier version of Star Wars Rebels, which is the sort of statement that other people like to challenge as a matter of personal entertainment if nothing else. First, it seems safe to say that Dark Matter is aimed at an older audience than Star Wars Rebels, seeing as how it is broadcast on Space and Syfy whereas its counterpart is broadcast on Disney XD. However, the issue of whether Dark Matter should be considered an example of edginess or not is dependent on a person's particular interpretation of the term. For example, people who see it as an intent to look so cool that it becomes ridiculous might be sympathetic to the claim, seeing as how the TV show is stuffed full of cliches meant to look cool, with examples ranging from the tough but beautiful captain with a no-nonsense attitude to the brash, gun-loving soldier-for-hire and the enigmatic Asian man who is excellent at hand-to-hand combat while holding onto a moral code.
With that said, it is important to note that while there are some similarities in the setting as well as the characters of the two TV shows, said similarities are superficial at most. For example, both of the casts operate out of a ship, but that is not uncommon for sci-fi TV shows. Likewise, there are superpowers in Dark Matter as there are in Star Wars Rebels, but once again, superpowers are not exactly uncommon in the genre as a whole. Furthermore, it should be said that Dark Matter takes its sci-fi tropes in a different direction than Star Wars Rebels, as shown by amnesia plot that dominates much of its narrative as well as philosophical issues such as free will versus determinism and whether the self is no more than a collection of memories.
Summed up, while there are clear similarities between Dark Matter and Star Wars Rebels, it is an exaggeration to say that the former is an edgier version of the latter. After all, the shared roots of science fiction mean that superficial similarities are not uncommon in sci-fi media. Furthermore, there are more than sufficient differences between the two to distinguish one from the other, meaning that there is a limit to how far their similarities can be stretched. As a result, while comparisons can be made, too close a comparison is giving neither Dark Matter nor Star Wars Rebels full credit.