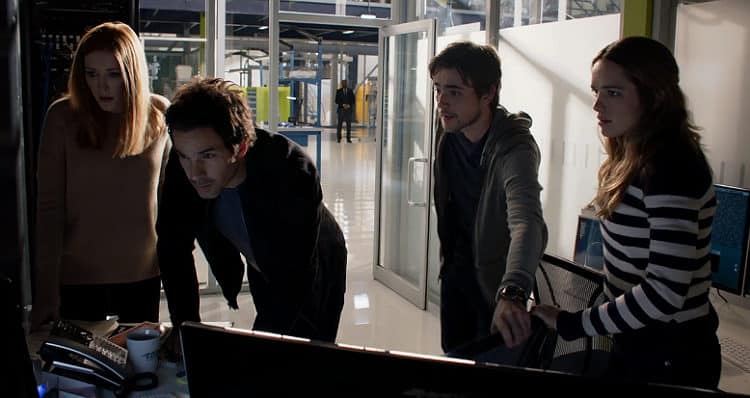 The Salvation season 2 premiere has the show off to a good start. It's always a positive sign when a season premiere picks up pretty much where the last season ended. Why is this a good sign? It suggests that the writers had an inkling of where the story was going before they sat down to start the next season. This usually helps shows avoid tangles that high concept shows can fall into that lead to awful endings. (See: The X-Files past season 5, or Lost.)
Salvation is a show that admittedly had some bumps in its rollout last season. It nevertheless proved able to succeed in creating a complex yet entertaining summer series. The Salvation season 2 premiere is a lot better than the pilot was, so there's reason to think this season will be even better.
Salvation Has Something For Everyone
There are two lenses to consider CBS's Salvation through. The first is that of a sci-fi soap-opera about what happens when a giant asteroid is set to hit the earth and wipe out humanity. The second is as a political thriller. Finally, there's the huge overarching metaphor about the fate of humanity and what we need to survive. All three are addressed in the season 2 premiere.
The Salvation Season 2 Premiere As Sci-Fi Soap-Opera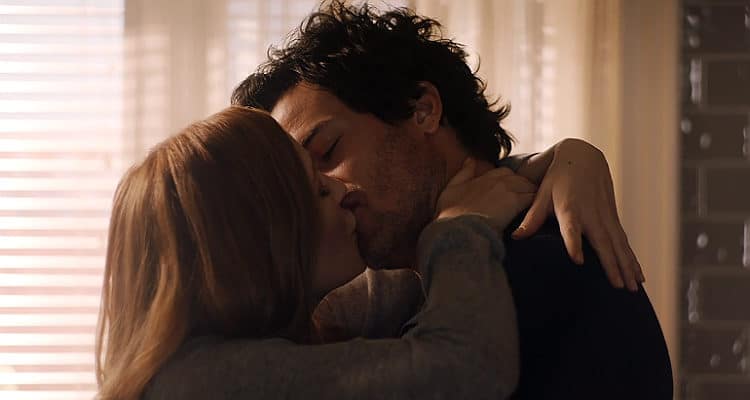 The Salvation season 2 premiere, "Fall Out," led with romantic intrigue. Pentagon press secretary Grace Barrows (Jennifer Finnigan) woke up from a dream in her own bed. She went downstairs and found tech entrepreneur Darius Tanz ( Santiago Cabrera) in her kitchen making pancakes.
Sci-fi fans like me appreciated that it was 47 seconds until these pancakes would be ready. It also clued us in that something was up. Sure enough, this entire sequence was actually just Grace's dream.
Thank goodness! Finding out the whole ending of season 1 was a dream would have been a horrible cop-out. (See: X-Files season 11). Instead, Grace's scene with Darius falls apart to reveal she was actually choking on poisoned oxygen on the floor of the Salvation bunker with the other 160 occupants.
Romance On Hold: The Pros and Cons
Like all TV romances, Salvation has set up roadblocks to Grace and Darius. Darius has been named Vice-President of the United States. (We'll get to that.) Between that and trying to save the world from Samson he's overwhelmed. As such he later tells Grace he has no space for a relationship.
After pouring her heart out the way she did in the season 1 finale, she's pretty mad. You can tell Darius regrets it as soon as the words left his mouth. The thing is, he's not entirely wrong. I mean, the world is at stake. It's not the time for emotional distractions. He says to her (in his speech to the nation).
Perhaps, some of our dreams are on hold for the moment. Make no mistake. We will prevail.
Why Darius May Be Wrong About This
Oh, Darius, it doesn't have to be that complicated. Look at your protege Liam Cole (Charlie Rowe) and his writer girlfriend Jillian Hayes (Jacqueline Byers) He's been whisked away – forced to work with the hacker/terrorist group "Resist" – while she's become Darius's assistant. Gillian's now moved in with Grace but left Liam a note when she left.
Until we meet again, and we will, stay safe.
Gillian gets that not being together physically doesn't mean she's got to end their relationship. It just means it can't be the focus. They've both got to what's theirs to do.
Then there's how the secretary of defense, Harris Edwards (Ian Anthony Dale) deals with things. Harris's new love (lust) interest mysteriously turned up in the Salvation bunker. Apparently, Fiona ( Taylor Cole) is a grad-school level scientist, not just a bartender.
Gillian says the Fionaa is one of the original 160 cleared to go to Mars. We all have doubts that she's going to turn out to be legit, right? Who else thinks Fiona had something to do with sabotaging the oxygen and this poor guy's murder?
https://youtu.be/mPMWfNKHSJU
Harris may have some suspicions about her. They don't keep him from showing up at her place for a sexual rendezvous.
Darius's all or nothing attitude doesn't seem like it's going to serve him well. How long do you think this pause between Darius and Grace will last? Unlike Liam and Gillian, Darius and Grace are going to be around each other a lot. President McKenize has made Grace her official advisor.
The World's About to End! What a Great Time for A Coup?
Last season we learned that Vice President Bennett (Sasha Roiz) and White House Advisor Claire Rayburn (Erica Luttrell) plotted to murder President MacKenzie (Tovah Feldshuh). Their plan was to have the asteroid hit Russia in the hopes of saving the continental U.S. (Yes, it's a stupid plan).
The two thought they'd succeeded. MacKenzie however, wasn't dead, had Bennett arrested and took back the government. Unfortunately, he escaped. At the end of the Salvation season 2 premiere, we learned that he's now planning a second coup and has loyalists to him in the military!
Incidentally, when Liam reported for duty at Tanz/Resist headquarters, guess who's back? His traitorous professor, Dr. Malcolm Croft (Dennis Boutsikaris). Liam thought he'd killed him – but we knew he didn't. He also supposedly got killed in Russia, but we suspected not. ( The cardinal rule of television: unless the body is pronounced dead onscreen, they can always come back.) Since the man is a brilliant weasel, you have to wonder what his place in all this is.
Resist "Resist"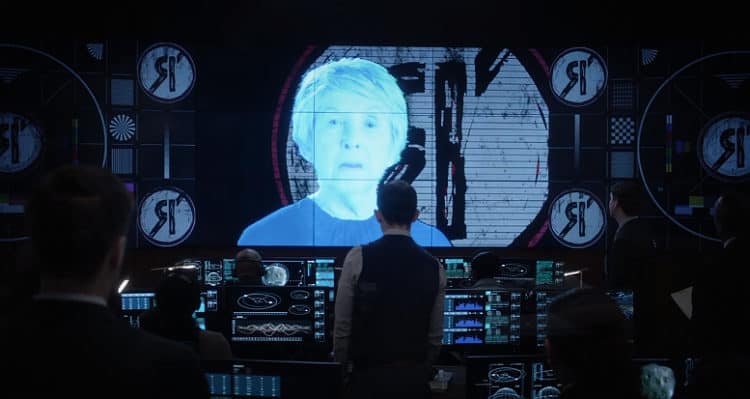 Bennett's escape wasn't the only bad news. Resist is back, and worse than ever. To be clear, Resist is a terrorist group of hackers bent on world domination. Maybe that's not what the group started out as, but it is now.
It was bad enough that they'd forced Darius to turn over his beloved supercomputer Tess in exchange for control of the gravity tractor meant to save the world. They used Tess to pit the U.S. against Russia. How? They hijacked and launched nuclear weapons so that each side though the other was attacking!
Resist in the Salvation Season 2 Premiere
This season, despite the U.S. and Russia figuring it out, Resist was still able to control a nuclear missile and have it hit a secluded part the U.S. They then claimed to the public that they actually were the ones that stopped Russia and the U.S. from attacking each other – a total lie! After that came the reveal to the world about the asteroid hurling towards earth.
Resist made every country culpable for keeping Sampson a secret. To be fair, we know MacKenzie had made two different attempts to tell the American people the truth. It's one reason why the V.P. planned that coup.
Resist has demanded that every country give up their top scientist – based on a list by Resist. Interestingly enough, they asked for Liam, not Darius. With them controlling 13 nuclear warheads, who's gonna refuse. Finally, they demanded that Darius hand over his headquarters to house these scientists! He was furious!
My personal theory is that Resist got taken over by Darius's rich uncle, Nicholas Tanz (John Noble). He hates Darius and has vowed to take everything Darius loves. Tess, the company, Liam… It makes some practical sense, but it also seems very personal. Thoughts?
Even Dead, Clarie is a Problem!
Last season Grace killed Claire to save Harris's life. Despite having more than just cause, Grace is literally haunted by it. She keeps seeing Claire everywhere, and the "ghost" never has anything good to say.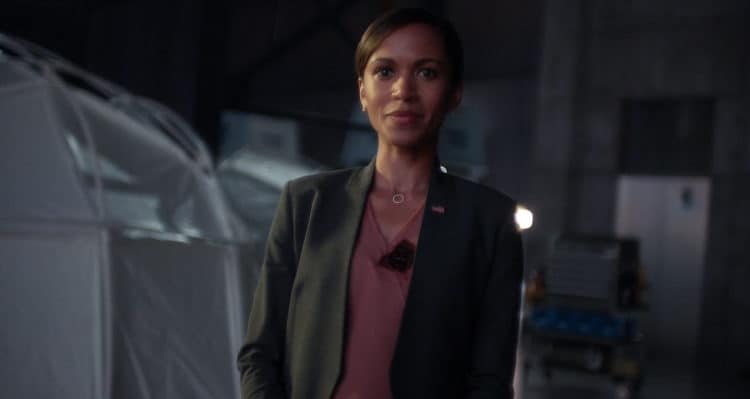 Even worse, Harris convinces her they can't tell anyone that she killed Claire. For one, Hugh Keating (Mark Moses) – Grace's uber cool CIA and God-knows-what-else dad – got rid of Claire's body. Harris says that telling anyone, including the president will launch an investigation that just causes problems for them and her father. Plus, anyone they tell will be made an accessory.
Hasn't Harris learned anything? He means well on this, but as usual, he's wrong. MacKenzie is now very big on no more secrets. These things always come out. Besides that, how stupid does he think MacKenzie is? If Grace fessed up now and says it was done in self-defense, that'd be the end of it. No one is launching an investigation into the death of traitor while in the middle of managing an international crisis and trying to stop an asteroid from destroying the earth! Now though, look for this to become a problem down the line.
Vice President Darius Tanz
How did Darius become the U.S. President? Well, some of it is because of this.
https://youtu.be/I_VJ9lQ2mVc
President MacKenzie realizes she needs Darius to help keep people calm. Resist. She promises Darius access to all of the military's computer processing power and technology to work on the problems of Sampson and bringing down Resist.
The Salvation Season 2 Premiere Wrap Up
The Salvation season 2 premiere gives the season a great start. It's full of political intrigue, personal angst, and an over-arching dilemma that makes the first point seem trite. Really, a giant asteroid is hurtling towards earth and people are concerned about taking over the world?
Sadly, the reaction in this fictional tale doesn't seem too far-fetched. It sounds a bit like how some people are dealing with climate change.
Here's the positive side of Salvation. Despite all the people out for themselves, the series imagines that there are people who really just want to save the world. It asks us all to appeal to our better angels in times of crisis.
The question is, will the good guys win? This preview (SPOILER) of next week's Salvation episode says we can expect one heck of a fight in them trying! Furthermore, it looks like politics could get everyone killed before the apocalyptic asteroid even hits!
https://youtu.be/DieE9jS4rpU
Watching CBS's Salvation viewers can't help but ask themselves about the world we currently live in, and the kind of people we want to be. Will you be tuning in see how it all turns out? Leave a comment about what you thought about the premiere!
Tell us what's wrong with this post? How could we improve it? :)
Let us improve this post!