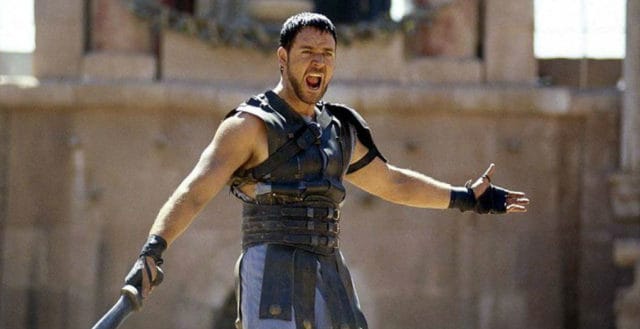 It's a very bizarre divorce auction indeed when Russel Crowe can fetch upwards of $150k for his movie memorabilia. The kind of things he's selling include his many different props from the movie Gladiator, which would include a wooden sword, an aluminum sword, and even the chariot and prop horses. The amount that each item went for is simply mind-boggling since it seems easy to imagine that they didn't cost even a fraction of what they went for to make. It's kind of like realizing those toys you picked up from the store for an insane price took only cents on the dollar to create. But collector's items tend to go for top dollar a lot of times so it's not too hard to think that there are people out there with way too much money that will go ahead and try to get their hands one whatever they can in order to feel as though they're holding a piece of movie memorabilia that will be worth something in the future, be it for the sake of nostalgia or just for something that will appreciate.
Doing this as a result of getting a divorce though is kind of odd really, not exactly as cathartic as it might seem to others. Divorce is not something that would seem all that cathartic unless the marriage was that bad or until enough time had gone by that it would seem like a blessing that took a while to be realized. Getting rid of this much stuff and making this kind of profit seems like it would be a small thing to a man in Russell Crowe's position, as he's had the kind of money and trappings throughout his life that have been seen as both extravagant and ultimately extraneous. In other words it really seems like he and his wife should have either sought counseling or he should be getting over this in an entirely different way. But if selling these things is one of those ways that he's seeking to do it then it's not really up to anyone else to tell him what's what.
Still, the price that some of the items are going for seems kind of crazy no matter if a person is a collector or just someone that wants to own a piece of movie history. One would hope that a certificate of authenticity would come with each piece just so people wouldn't feel like they were getting robbed. Of course the type of people that want to buy this stuff would either be those that are meticulous enough to check over everything or wouldn't care so long as someone told them just who the item belonged to in the first place. It's all a bit crazy if you look at the prices and figure that what some of them are going for would be enough to buy a brand new car or put a down payment on a really nice home.
It's a different world in Hollywood, that much is obvious.