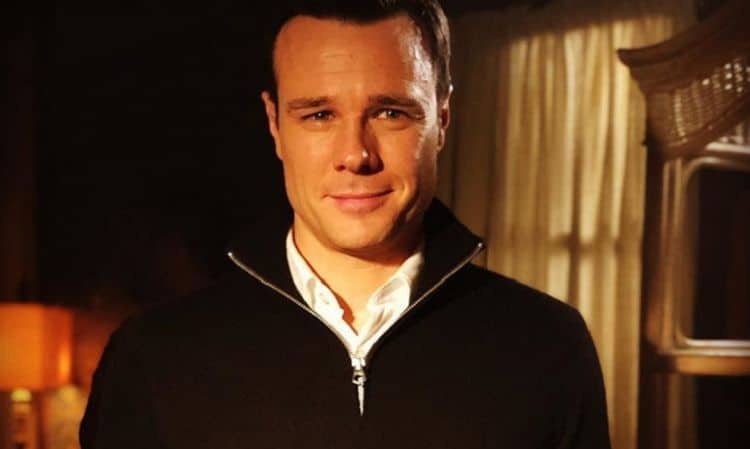 Rupert Evans was born in Staffordshire and raised on a farm along with his two younger brothers. He had an adventurous childhood playing by Sher Brook where he and his friends would float down paper boats and race each other. The acting bug bit him in his teenage years, and since then he has never looked back. The actor is now known from his roles on "Charmed" and "The Man in The High Castle." The latter is Amazon's most-watched series and was nominated for three Emmy awards in 2017. Rupert has managed to keep his personal life away from the media, but we still have a few facts to help you know more about him.
1. He uses technology to help learn his lines
Meryl Streep is known for how well she can speak in various accents, but some actors like Rupert Evans need a little help with that. Therefore Rupert goes on YouTube to learn accents by looking for videos with people from a particular place and listening to how they speak. As for memorizing, the actor sometimes engages the app, Line Learner.
2. He was addicted to a couple of computer games
Five years ago, Rupert admitted to having been addicted to Tiger Woods Golf, and he would stay up until 3 am playing the game. Unfortunately, it also ruined his life though he did not divulge in what sense. It seems like the actor did not learn his lesson about staying away from computer games because he soon was obsessed with Chess. He would play against two or three friends and his girlfriend at the time hated the sound of any chess moving pieces. Therefore to keep his secret, Rupert always put his phone on silent mode while he played.
3. His idea of paradise
Rupert's job as an actor has the perks of traveling around the world, but of the places he has ever been to, nothing beats Scotland's highlands. He said that whenever he needs some alone time away from all the noise that technology tags along, then that is his place of choice. His ideal way of going from Eustis to Mallaig is by taking a sleeper train to Fort William and then connect from there. A boat to Knoydart will allow you to enjoy the scenery surrounding the hills before you alight and take a walk, thereby soaking the view as you go.
4. He realized he could become an actor during his A-levels
In school, Rupert was cast in a production of "The Wizard of Oz" as Dorothy and being on stage alone and showing off his acting skills remains memorable. He was also excited to share his experience with others, and that must have enticed him to think about acting. Therefore in his A-levels, Rupert decided that acting was a career worth pursuing. Consequently, after his sixth form, Rupert sought professional training from the best of the best institutions, the Weber Douglas Academy of Dramatic Art in London. The actor was successful in his auditions and later graduated to join the list of famous alumni that include Minnie Driver.
5. He has scars to show how accident-prone he is
They say scars are tattoos with better stories and confirm that you have survived the worst. Well, it is true for Rupert whose scars show what an adventurous little boy he was. He proudly showed off his stitches in his interview with Evening Standard. One was from falling off a wall, another from falling through a window and yet another after patting a lion's head and it chased him.
6. He hated his name
Rupert was comfortable with everything else he had except his own name. Whoever said "what is in a name" probably should have talked to young Rupert and convince him there was nothing with his. However, the young boy thought it did not show how masculine he was and therefore lied to his friends that he was Jack. Later on, Rupert matured enough to know that he is who is he is regardless of the name. He nevertheless enjoyed the nickname "Doops" because it made him sound like a rapper.
7. He hopes to do more plays
Rupert's family loved the theater, and they would go to Birmingham to catch a play or movie. He reveals the first time he was on stage and the thrill of being up there is something he wants to relive. Therefore in his interview with Squaremile, the actor disclosed that he would love to do more plays possibly in Honolulu. He hoped to do one in 2019, but it looks like his aspirations did not come to fruition.
8. He fell in love with his "Juliet."
Falling in love on set is nothing new; Blake Lively and Ryan Reynolds met on "Green Lantern" and went on to get married. Rupert was cast as Romeo at the Royal Shakespeare Company, and Morven Christie played Juliet. The two fell head over heels in love with each other but still kept it a secret from the director who only knew of the romance when the play was in motion. By 2009, Rupert and Morven had been together for three months, but with the secrecy surrounding his love life, it is hard to tell how long they were a couple.
9. He believes the film and television industry in Britain is not diverse
Most actors have moved from their home countries to the United States in the hopes of making their acting careers more prosperous. Emily Blunt had to move from England while Salma Hayek felt Mexico was not going to make her dreams come true. Rupert also believes that the British entertainment industry is yet to offer its actors diversity; he cites David Harewood as one of the many who had to move to the United States for greener pastures. He thinks that the country is yet to create artwork that fully represents their diversity.
10. He was not allowed to drink coca-cola as a child
Rupert was born a hyperactive child and was lucky to have grown up on a farm where he could utilize his excessive energy running around with friends. As a young boy, his parents did not allow him to drink coca-cola since the beverage's sugar would have increased his hyperactivity.