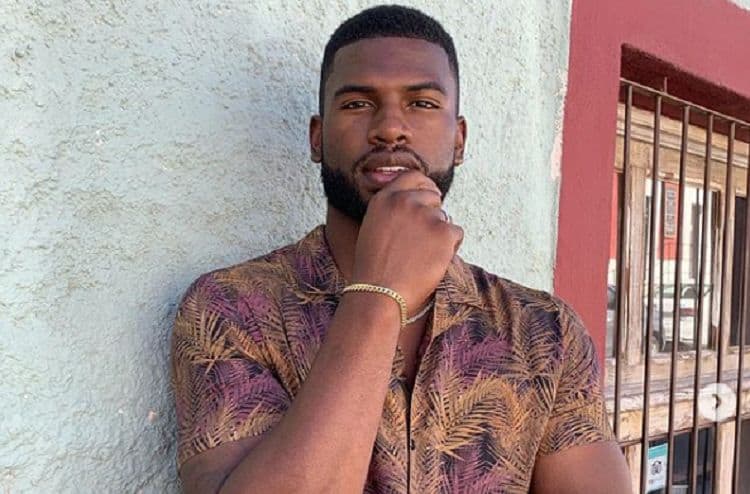 Broderick Hunter is a model and actor who was born in California on January 3, 1991. He began his career as a model in 2011 and then began to transition into a career in acting in 2017. Broderick is now becoming an increasingly high-profile figure across both the fashion and entertainment industries. Despite being a relatively well-known personality, there are many things that people do not know about him. Here are 10 interesting facts that you probably didn't know about Broderick Hunter.
1. He Wanted to Become a Basketball Player
Modeling and acting were not Broderick Hunter's first choice of careers. Initially, he wanted to become a professional basketball player. Not only was he passionate about this sport, but he was also a very talented player. When he was a student at Etiwanda High School, he was on the basketball team. It was his skills as a basketball player that earned him the scholarship for the University of Central Florida.
2. He Has Featured in Three Music Videos
Something that has helped Broderick Hunter make the transition from being a model to becoming an actor is appearing in three music videos. The first of these was in 2011 when he appeared in the music video for 'Warzone' by 'The Wanted'. The following year, he was in Ciara's music video for her single 'Sorry'. The most recent video in which he appeared was Mystery Skulls' video for their single 'Music' in 2017.
3. A Direct Message to Issa Rae Transformed His Career
One thing that completely transformed Hunter's career was sending a direct message to Issa Rae. In an interview with WWD, Hunter said that he had been watching season one of 'Insecure' and wrote a comment on one of her posts saying that he had enjoyed the series. She liked the comment and followed Hunter back. He later sent her a direct message praising her work. During the second season of 'Insecure', Rae responded to his message. She hadn't seen it at first but responded by saying that she was a fan of his work, too. She wanted him on the series and encouraged him to audition. This landed him a small acting role in the comedy-drama series in 2017.
4. His Dream is to Play a Superhero
Hunter's biggest dream is that he will play a superhero before he dies. He said that he has always wanted to become a superhero, and he even has a scar on his cheek from when he was pretending he was a Power Ranger and jumping off a bed at the age of six. Ideally, he would like to play a superhero within the next ten years.
5. He Wants to Take Fashion to Nigeria
Some places around the world are known for fashion, such as the United States, the UK, France, and Italy. On the other hand, fashion is not a big priority in many other countries. One such country is Nigeria, and Broderick Hunter is hoping that this is something that he can change. Although he is from California, his cultural heritage is Nigerian. He has already visited Nigeria to get involved in charity work. Now, he is partnering with several agencies to take fashion to the country.
6. Hunter "Champions" Black Women
In an interview with XO NECOLE. Broderick Hunter revealed that he likes to champion black women. This is because black women have played such a huge role in shaping the man he has become today. He has always adored and celebrated the black women who were a part of his upbringing, so it came as a surprise to him when he entered the world of work to discover that not everyone celebrates them in the same way as he does. Due to his profession, he now feels like he has a voice that he can use to champion black women at every opportunity.
7. He Wants to Meet a Humble Woman
In terms of relationships, Hunter has said that looks are only a part of the initial attraction. He hopes to meet a woman who is humble and interested in him for himself rather than his celebrity so that they can build something together. Hunter wants a woman who can hold her own, treats other people well and has a good sense of fashion. He also joked that a woman who can cook is a bonus.
8. Hunter Believes in Surrounding Himself with People Who Value Him
Broderick Hunter has attributed some of his success to surrounding himself with people who value him. He has advised others to do the same as it is important to have people around you who will build you up rather than knock you down. He has said in an interview with Melan Mag that it is important that the people in your life are proud of your accomplishments and not jealous.
9. He Believes in Setting Goals
Another reason that Broderick Hunter gives for his success is setting himself goals. He finds that setting goals give him something to work towards and keeps him motivated. First, he sets himself short term goals in relation to where he wants to be in different areas of his life. Then, he extends these goals to the long-term.
10. Broderick Hunter Has a Huge Social Media Following
Broderick Hunter is selective about what he reveals on social media. He shares just enough to keep his fans interested in him, but not so much that social media becomes invasive to his personal life. Despite limiting his posts, he has developed a huge social media following. On his Twitter account, he has 75.8 thousand followers. He has an even larger following on his Instagram account as he has 279 thousand followers. On both his accounts, he posts mainly work-related photographs and comments.
Tell us what's wrong with this post? How could we improve it? :)
Let us improve this post!