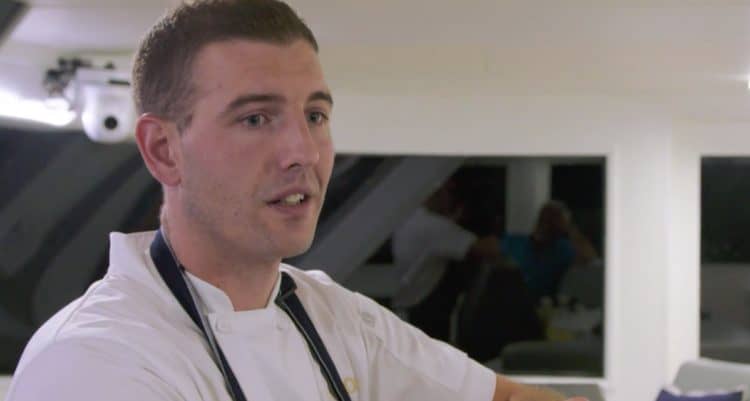 Below Deck, fans have seen plenty of drama. However, there's never quite been so much as they have this season with Kevin Dobson. The handsome chef has talent in the kitchen, but his people skills seem to be lacking, which has been a point of contention all season. He's had more than one 'dust-up' so far, and things aren't going so great for the chef. We love watching the guests and crew on BD, but this season has been unusually tense, so we decided to dig a little deeper and see what we could learn about Chef Dobson. Here are ten things you didn't know about Kevin Dobson.
1. Cooking on a Ship Isn't Easy
A kitchen is a kitchen, right? Not really. Cooking on board any boat or ship comes with some unique challenges. Obviously, technology has come a long way, and modern yachts and ships have stabilizers that help minimize the pitching around. That certainly makes cooking safer, but it's not without other challenges. Cooking while sailing away into the sunset might seem like a dream job, but Chefs like Kevin Dobson, who work on the ocean, can't run out to the shop or order materials delivered. They have to work with what they have on hand no matter what the circumstances.
2. Rugby Fan
Kevin isn't 'all' about cooking. Like most of us, he has a life outside his work. When he's not busy making scrumptious meals or arguing with his co-stars on Below Deck, Kevin enjoys sports. Specifically, he's a supporter of New Zealand's Rugby team. Rugby is a tough sport. For those not familiar with the sport, it's a lot more like American Football (without pads) than the sport the rest of the world refers to as 'football,' which we call soccer.
3. Early Inspiration
Kevin was just twelve years old when he got his first paying job in a kitchen. He worked at a local bakery learning the secrets of making great bread. Clearly, those formative experiences helped bake him into the man he would later become. There's something delightful about the scent of freshly baked bread. It makes people happy with its hearty smell and reminds many people of time spent at home as children when an older relative was making bread in the kitchen. There's nothing quite as satisfying as a still-warm slice of good hand made bread with a little butter or jam on top.
4. Daddy Issues
It wasn't Kevin Dobson's dream to become a private chef for yachts. Though he always wanted to work in a kitchen, this chef had very different plans until he met a very special girl. We're referring, of course, to his daughter. When Kevin became a father, he resolved to go where the money was in his profession so he can provide the life his little girl deserves. For all his ego and attitude, Kevin is doing what he loves the best way he can to make a life for his family. We can get behind that wholeheartedly.
5. Young & Motivated
Some people don't begin to figure out where they want to go in life until they're forty or fifty years old. There's nothing wrong with that. However, some of us know exactly what we want to be when we grow up. Kevin Dobson is one of the latter, lucky people who was sure of his path at an early age. Traditional school wasn't where young Kevin wanted to be, so at just fourteen years old, he headed off to culinary school. Following your passion is the best way to make sure you get where you truly want to be, and Chef Dobson is headed in the right direction.
6. A Less than Stellar Start
While lots of people start their time onboard ships with a touch of seasickness, Kevin also got off to a rough start, but in a different way. For most of the first episode, the chef was stuck in the bathroom. We want to say he was lucky because he didn't have trouble with his sea legs, but his stomach was giving him trouble just the same. It wasn't a fantastic way to impress his new crewmates. Poor guy. We've all been there, but most of us didn't have that problem on national TV.
7. Other Troubles
His relationships with other staff on the ship have never been stellar. Unfortunately, this led to some speculation that Chef Kevin might not make it the whole season. In the end, he didn't get fired, but there were concerns that his mannerisms and egotistical attitude might lead to an abrupt termination. Though we wouldn't say, he's beloved, at least things seem to have worked out well enough for him to finish the season.
8. Web Presence
In addition to his Instagram page, Kevin has a YouTube channel and a website where you can keep up with his journeys and career. Kevin shares his unique perspective and lots of tasty recipes with his fans. While it won't give you his years of experience, home cooking enthusiasts can make some of Kevin's easy recipes for their families. Lay out a beautiful table, put on some ocean waves for white noise, and serve up something that will inspire your culinary side while letting you daydream of being on a yacht where Kevin is doing the meal prep.
9. Unique Art
Being a chef is an art form all on its own. The flavors, scents, and textures are a treat for the senses. Creating a beautiful plate that allows people to eat with their eyes before they ever savor a bite is a skill and a talent. In addition to his own creativity, Kevin enjoys seeing others' artwork. He occasionally posts pictures on his Instagram that include art he particularly enjoyed.
10. Where it All Began
Spending time at home in the kitchen is something most people recall as children. Fr Kevin that meant his parents home at scenic Lake Tekapo in New Zealand. Though he's traveled the world and moved on to the larger markets and resultant larger paychecks to be found in the US and Australia, this small-town boy was first inspired by the smells and tastes of home, and he's never lost touch with that.
Final Thoughts
Whatever we, and the Captain, think of Chef Kevin Dobson as a person, there's no doubt he's good in the kitchen. We admit we've enjoyed watching the tensions on the show this season, even though we'd never want to work in that environment. Learning more about the emballed chef has been enlightening, to say the least. There's always something new to learn about people, and we love knowing all we can about the stars on our favorite Reality TV shows. Do you know any fun Chef Kevin facts? Share them with us in the comments section below.
Tell us what's wrong with this post? How could we improve it? :)
Let us improve this post!